Once again I must apologise for the lack of posting here, and warn you of the inevitably huge number of photos for your perusal!
Before I get onto my knitting I want to take this oppurtunity to boast of my target practice here. At Lowther (the game fair there), I always go in the rifle shooting competition every year. I have a shotgun but not a rifle so I've had no practice ;) and below are my results which I'm rather proud of!
Sadly I didn't win, two blokes got every one dead on the centre (well done to them too), but I was chuffed to bits for being entered anyway!
The other thing at Lowther I want to show you is Lorenzo the Flying Horseman. He's been there a few times and I've seen him and met him a few times, and he gets better every year.
If you look closely you'll see he has no reins on the horses, just a couple of dressage whips. He is immensely talented. Until this year he had reins and would gallop about but this year was less dramatic, but more skillful.
And if you look below you'll see fresh air between his feet and the horses' backs - he jumped over the top bar while they jumped over the bottom one and as they landed he landed on them! Wow!
Ok, now down to the knitting.
First a pair of fingerless mitts from the Arctic Lace book, which I'd highly recommend. They are knit with Rowanspun 4 ply in a tan colour, with wee bobbles of colour in it. I have worn them and they are successful! Yey!


Next is the big one - the shoalwater. I actually gave up after two and a half repeats, because it was sucking my will to knit. But nevertheless it's still huge, and I'm very very happy with it. I totally love the colour, and have 5 more balls of the Kaalund left! It's beautifully soft and fine :)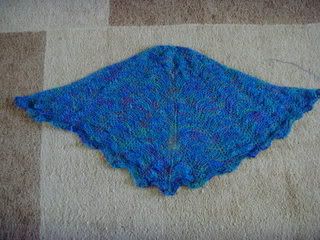 This is it blocked, looking a little less like a dishcloth -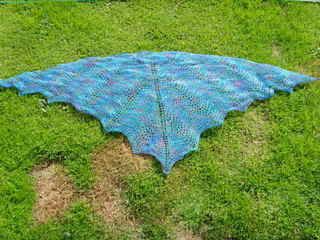 The obligatory closeup:
Last week I was in Dundee for my resits, and so knitted a couple of things, this is my Alpaca Forest Canopy ready for Venice tomorrow. It's really big, and very warm, and quite heavy. It'll be perfect for when I pretend to be posh in the evenings and need to keep warm ;)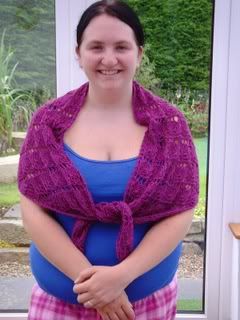 (Must apologise for the dazed look, it was shortly after a hospital visit which left me zombie-like).
Here it is on the floor. As you can see, it doesn't have the spikey edging. That's because I ran out of yarn on the chart B bit, and did only 6 rows of it, not 8. But never mind! It makes it unique!
Now for the bags. This is Rowan's Pop Bag, from the Felted collection book. The pattern was really really unclear, so it was not very successful. Plus I don't actually like orange! But it's a big bag (felted now), and carries like a basket, so is perfect for carrying about knitting I guess.
This is my next bag, which was infinitely more successful. It's the Andi Messenger bag, highly recommended, from the same book by Rowan. It's knitted in Wendy Fusion, colour Mace. I did a short strap because I didn't want it accross my body.
I love the buttons, they are heavy copper coloured ones, that look medievel. (spelling doesn't look right there)
It's not felted that well because mum made me use the 60 degree wash, rather than the 90 degree one. So when I go back up to my flat I might put it in at 90 degrees in my machine and see what happens. It'll definitely have to be lined though. I'm very happy with it, it's very neat and a big improvement in my finishing off.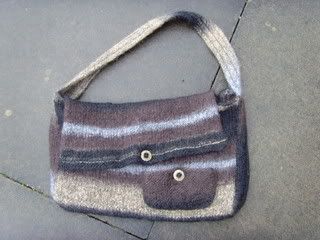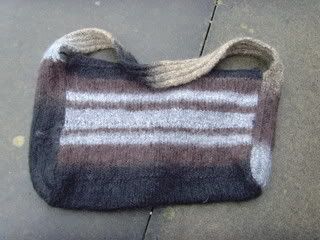 Now this is an interesting bag. Years ago I bought a bright, woolly jumper from the market in Paris, but it was so insanely itchy I've never worn it. Anyway I suddenly thought, I bet this will felt!
So I stuck it in the machine, and mum's face when I pulled it out child-sized, was hilarious (wish I'd taken a pic). She didn't realise it's supposed to be like that!!
Anyway, Once felted, I could cut it up and make things! So the first item is this 'clutch' bag. I can't make a strap because it'd be too itchy on my shoulder, so it's just for carrying by hand. But I'm really pleased with it! It's neat, and a good size, and I had these buttons to hand which go perfectly with it! Yey!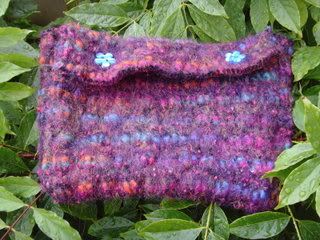 It was difficult to sew up being so thick though. I'd highly recommend recycling woolly garments by felting them, it's a lot of fun and instant gratification!
Finally, a couple of photo's from the garden.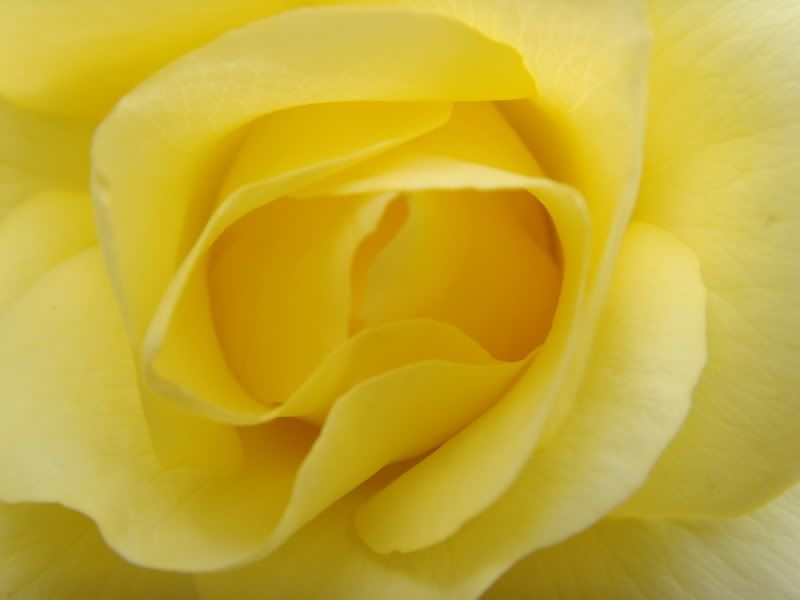 So, I'm off to Venice at 4am tomorrow, and I'm just taking a pair of socks to knit. I started them ages ago but got distracted by other things. I doubt I'll ge tmuch time for knitting to be honest.
My resits went disastrously, I totally failed, despite all the work I did (will put a pic of it on my next post). I won't get into year 3, so am going to enroll again for year 2, but am going to apply for something else. I haven't decided what yet though! I might do illustration, or civil or structural engineering, or I might move home and do psychology at Lancaster, because I always regretted not doing that. I'll just have to see what happens, but designing building just isn't for me. I love analysing and drawing them, but not designing them!
I cut my own hair today - how scary is that! I also dyed my roots the wrong colour but fortunately you can't really tell!! I layered my hair anyway, I've never had it styled but as it's waist length it's easy to do myself. I'll see how that goes - might not like it at all!
Ciao for now!