*sigh* I think I'm going to have to accept that I
always
have loads of pics to upload. So let this be a pre-warning that my blog seems to tell it's stories in picture form mostly, rather than words!
I've been doing lots of experiments this week, with tension squares and the washing machine. I will show you how it went!
First of all here is the Rowan Bigga for a felt project, it's strange to work with as it ranges from tufty, chunky thickness, to tight, thin stuff, so you end up with a wonderfully textural piece of knitting, which I love. I think it's almost sculptural.
I tried combining it with rowan spray, which is totally different. The Bigga felts really well, and Spray doesn't felt. Sadly I don't have an 'after' picture, so I will take one and edit this post when I do.
You end up with fabric that is really varied, you have the sculptured, felted Bigga, and in between you have bits of non felted Spray with detailed colour. It's lovely!
This will become a wall hanging, I need to test the pattern first though!


The above photo looks rathe rnice in black and white too, I have to confess (perhaps for the next post).
Ok below, Wendy Fusion. On the first attempt, at 60 degrees, this didn't felt...
But on a 90 degree wash it felted perfectly..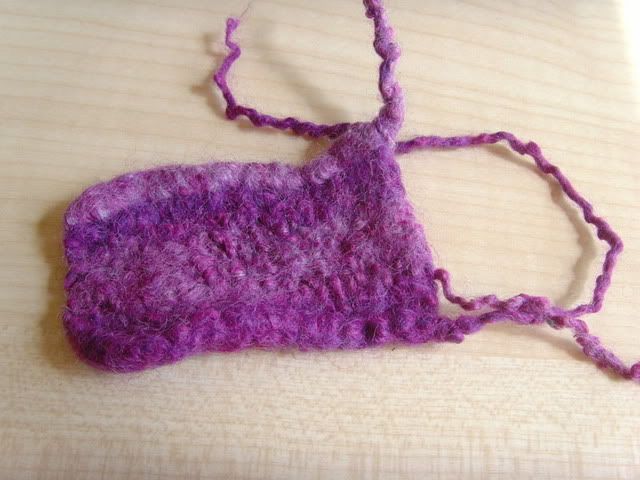 It's going to be a bag, I have two balls of it, so it'll be stripey (they are different colours), so I need to find a pattern for that.
Ok, here is Gedifra Gigante. I bought this in Venice last year, when I wasn't a knitter, but was wildly attracted to this yarn, which was displayed in the window of a lingerie shop. I got three balls, and have only just decided what to do with them.
This is another yarn of varying thickness, again giving it a sculptural quality (well I think so anyway!!). There's a whole range of reds in it, and browns too, it's really lovely! :D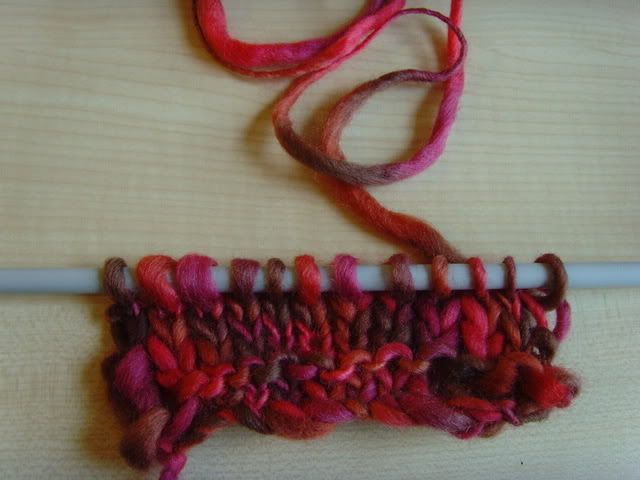 It felted beautifully, which you will see further down (there's a pic of three felted swatches if you go down a bit!).
Ok next is my first proper felt project. It's Twilley's Freedom Wool, which is divine. The colours are so rich, and it's so soft and snuggly!
Ah here's the three tension swatches I felted. Rowan Bigga, Gedifra Gigante, and Twilley's Freedom.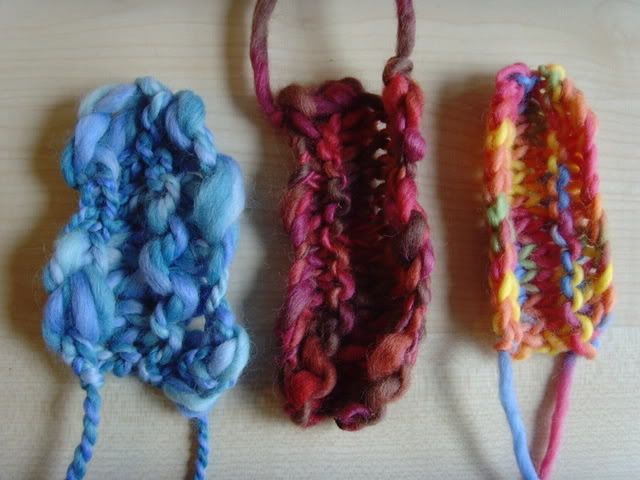 After (sorry it's orangey, that's what you get for using artificial light! :( )
So having sucessfully felted the swatch but not remembering which wash cycle I used, I decided to invest the whole ball of wool (the only one!) in a DPN pouch. Here you can see it started off well..
After the first wash it was only a bit felted, (sorry orangey light again), so I thought I'd try it again. On the hottest wash on the machine!
Oops! Bit too hot! It's shrunk to pencil case size, and has gone a lovely soft colour. Which is quite lovely but not what I was aiming for!
Never mind, trial and error is what it's about, and it will make a posh pencil case!

This is one of the three incredibly cute buttons that have been sewn onto it....

Isn't he cute! They fell into my hand in my local craft shop. They have a very small range of beautiful buttons in there (there's more further down actually). I didn't buy any yarn though! Yey for the stashalong!
Ok next is a 'real' project - Forest Canopy version two point zero.
This is Rowan Tapestry. It's divinely soft, hard to get used to the paranoia of it falling apart though. However, it doesn't. You just have to knit with it for a while to get over the fear that it will!
I'm further on than this now, but aren't the colours lovely? It's very 'foresty' I think!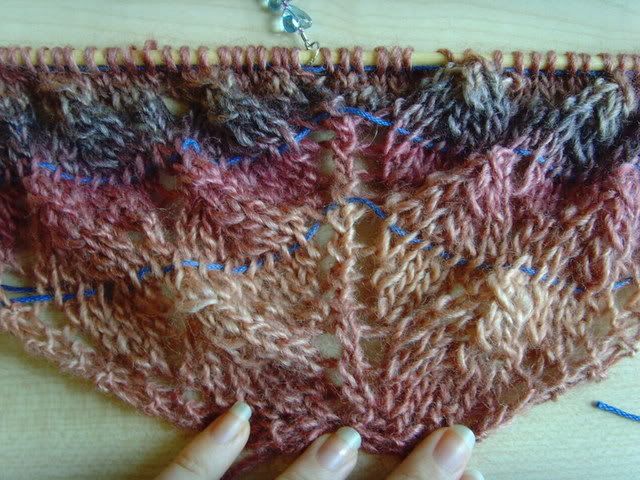 Oh here we have the other buttons I got. They are back to front actually, I am quite strange and often find I prefer the backs of buttons to the fronts. (Go on, ridicule me, I know you want to :p )
They go perfectly (in my opinion) with the mohair, and fasten it just right. Being so open there's no button holes, so you can fasten it how you like, because every stitch is a hole!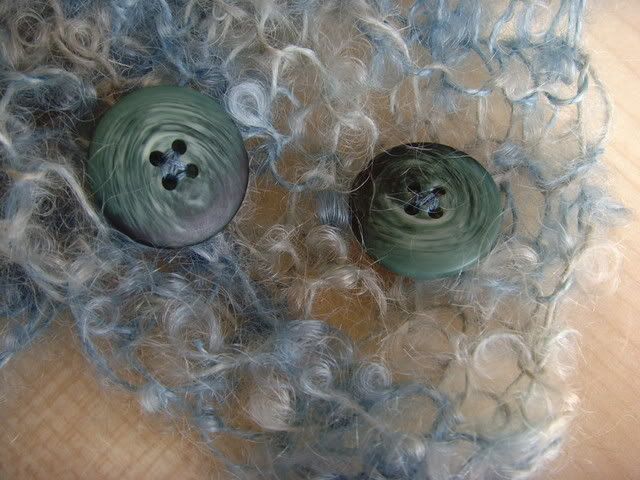 Here's an 'arty' shot of the Twilley's. *drool*
And here is my first, ugly sock. It's in Opal, and no offense to them but I really don't like the yarn! It's not soft, and I'm not into blue and white stripes! Oops! Not only that but the pattern is designed for huge feet! I can only wear this sock over another pair of socks, which rather defeats the object (apart from in winter). I get very very cold feet, I really struggle to keep them warm, so for me knitting really warm woollen socks sounds ideal, but these are not they!
Oh well I've learnt how to knit a sock now, so will knit it's partner and use them as bed socks.
The next socks will be much nicer yarn!



It's a funny shape on the toe too. Snigger if you will. I did. :p
I'm going to York at the weekend, and have put away some money to spend there, so I would really like to get a vouple of balls of soft sock yarn. Maybe one cotton for the summer and one wool for snuggliness (Yes I just made that word up).
Apart from that, and Woolfest on June 29th, I'm on the stashalong on the AY forum. It's going really well, My Sirdar yoyo jacket's sewn up and just needs the remaining border knitting. Of course being the yarn from hell this is a slow process.
Still, It's snuggly and the colours are very effective. I can't wait til I can name the post "sirdar yoyo jacket DONE"!! Hopefully it'll be fairly soon!
Also my shoalwaters going well (see the shoalwater blog in my links), and I'm on row 44 right now.
forest Canopy's also going very well, it shouldn't take too long!
Planned WIPs are three different wall hangings, the second sock, and a very simple scarf using two balls of Wendy Moiselle, and two balls of Patons Moonglow. Simple because I don't know what else to do with them and think two rows of each will look nice!
I go home from uni tomorrow, it's a 4-5 hour journey, I hope my fish and plants (the latter of which I have many), survive. I have zillions of different cacti (not sure how I got into that), about four houseplants, and two bonsai. Oh and a tank full of Tropical fish. This and the rest of my room is going in a small (but four door) Fiesta! Yes I will fit it in ;) (It's mostly already in actually)
BUT... just think of the knitting I could do in that time! On my break I'll probably do some Forest Canopy and have my lunch.
Once I get back life will suddenly become hectic. My OH will want lots of attention, having not seen me for two weeks. My Grandma who is in hospital and lives half an hour away will need lots of looking after, but that includes lots of knitting time, and I love her to bits so that's not really a chore - just hectic!
Plus my parent's house will no doubt need cleaning, my room will need tidying having been taken over by mum and the dogs. Oh we got to York Thursday night too!
So..... I'm not going to have constant broadband at home, just intermittent dial up and occasional broadband. I will of course come online whenever I can! ;) Plus have my Secret Santa parcel to look forward to.
OH I forgot - tomorrow before I leave, the postie should bring my first pair of addi turbo circ's. Yey!
Ok that really is all now, I need to get some sleep!
Ciao for now :) Vik xx