Ok, here goes.. tonnes and tonnes of photos for your perusal, including recent WIPs, progress, new stash, new needles, arty close ups of new stash, and the beginnings of my Forest Canopy....
First off the needles was this - it's a wall hanging for Grandma, which has three crosses on. However as you can see, the yarn doesn't show up the pattern that well. The pattern's in garter stitch, but if I did it again I'd do it in reverse stocking stitch which would be tighter and show up better.
So... I embroidered a border on it, using glittery turquoise thread... as you can see, the results were much better. the yarn used is Lana Grossa (both the LYS and craft shop sell lots of Lana Grossa so I'm very lucky as they do some wonderful yarns). It's cotton with little shiny bobbles (like tiny wee pearls). The Lavender is draped for effect :p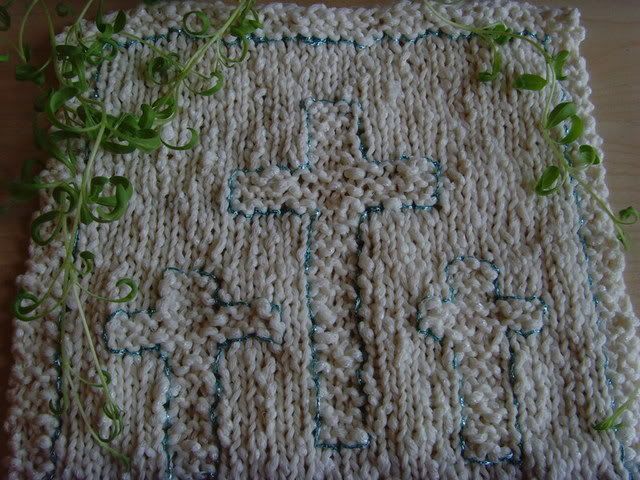 Next! Sirdar YoYo jacket... this is taking along time as it's my in between project and is my first big garment. Also I find the yarn difficult, as it sticks to the needles, no matter how slippy the needles are. It's worth it though, I think the colour change is very effective. I just have two big ribbed borders to do (the sleever are folded under the body there). so that's going to suck my will to live!
Next up, my Mud Flap Girl Tank Top from SnB Nation. This is a great pattern, it's my first intarsia, first close fitting garment, and the first and last time I stupidly edit the pattern on one side but not the other. Hence the front is 4 inches longer than the back, and I will have to pick up and lengthen it. But apart from that I am very happy with my first Intarsia attempt!
Above you can see how I kept track of where I was - I used masking tape, as it doesn't damage the pages when you rip it off.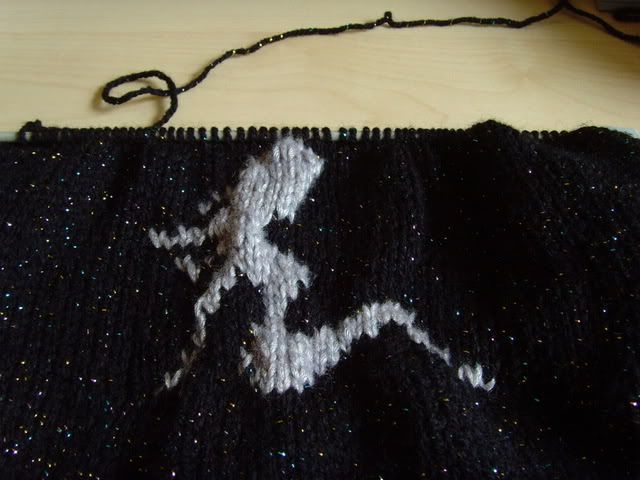 She needs her nose adding (half duplicate stitch?) which I'll do last no doubt! But I am happy with her.
Next is a pretty picture of the Lana Grossa Luxor that I'm using for my Forest Canopy (which you can see at the bottom of this post). It's beautiful yarn, 50& merino, 50% polyamide. It's warm and wooly but the fake stuff gives it a lovely silvery shimmer. Mmmmmm!
Ok next up some MORE stash enhancement! These are my beautiful Drops needles which have rapidly become top of the favourites list along with a couple of other pairs which I love. They are made from sturdy plastic, and are a variety of colours, however they are hard to get hold of! :( I got purple DPNs, and green straights, and I have purple straights on the way :D They are perfect - slippy for ease of use, but not too slippy that it's easy to drop stitches. They are also as light as a feather. Honestly! It's like knitting with a hard piece of air! I love em!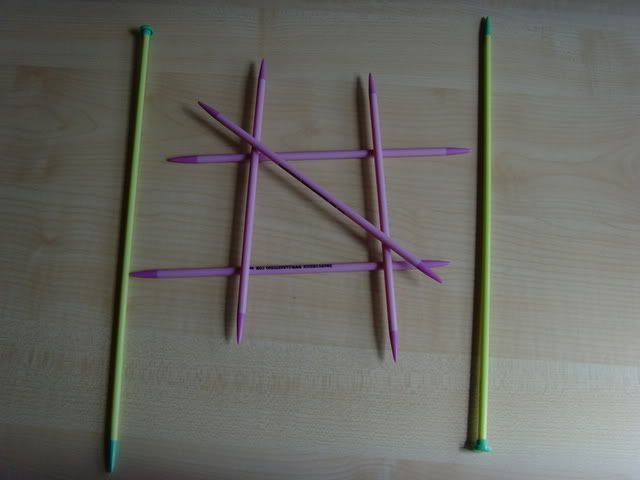 I think knitting needles should be exciting as the knitting itself - why the hell not! I can see a needle collection coming on..
This is what I recieved from Angel Yarns last week. I'm enjoying reading Vogue, it's more fulfilling somehow than certain other mags that I won't name but are British. I'm looking forward to the rest of my order from them, which includes some beautiful yarn, and Interweave Knits mag - yey!
You might notice the Opal Sock started kit.. that's next on my to do list.
Twilley's Freedom pure wool, for a try at felting (small bag I think).. isn't it a stunner! -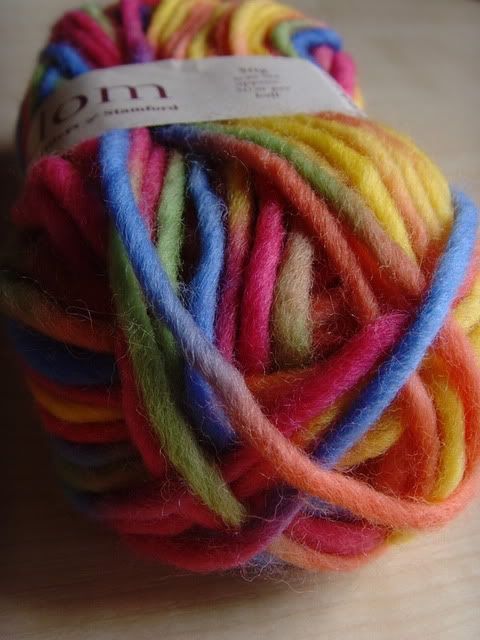 Yesterday I somehow ended up in John Lewis in Aberdeen. I'm not sure how it happened but my debit card bought me lots of stuff - how kind of it!
Here you can see two lovely glass pendants which will probably sit on my desk for ages, then eventually become big heavy stitch markers which I'll admire rather than use.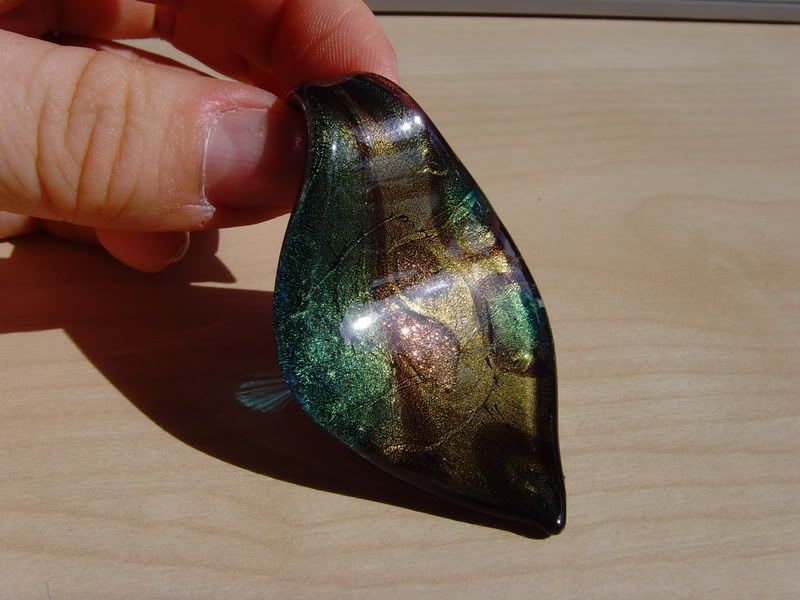 Now I didn't intend to get any chunky yarn.. but the Wendy Fusion has caught my eye a few times. This time, like I said, my card happily bought it for me. So here is the gorgeous rich colours of Wendy Fusion...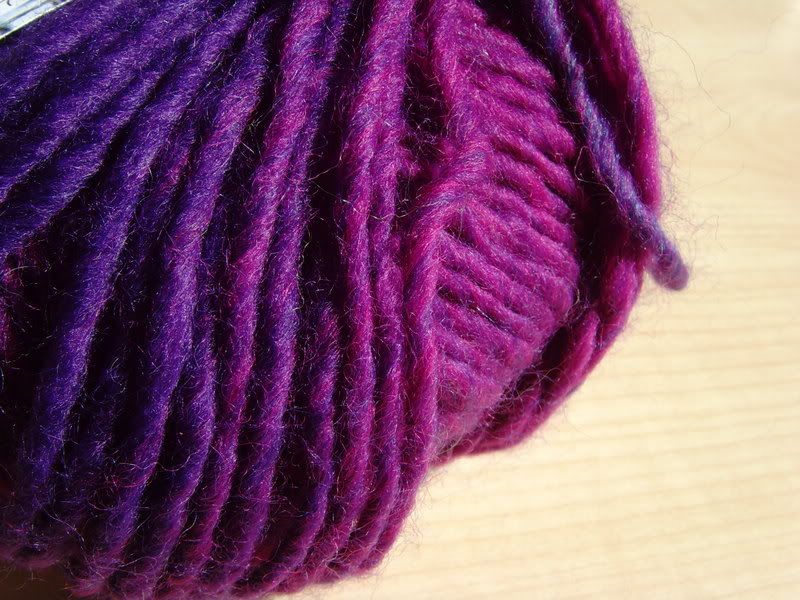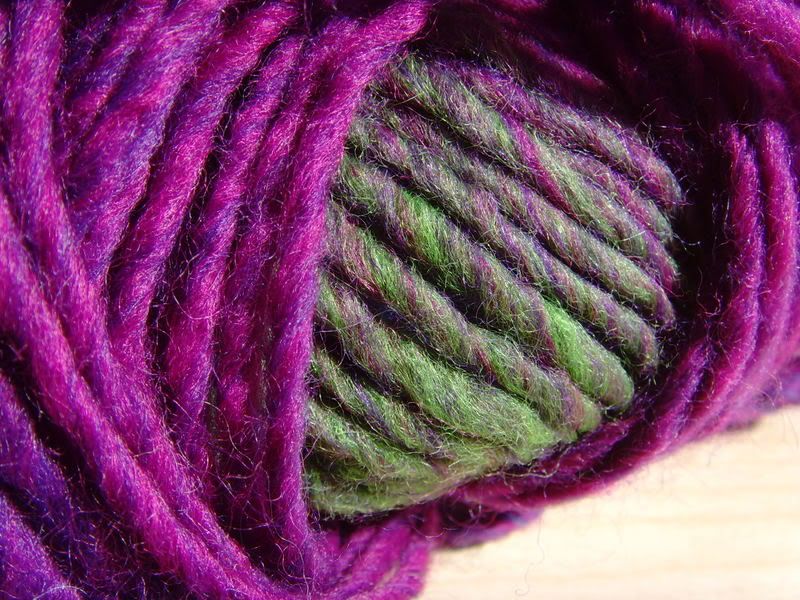 There are two different balls there, one pink based, one purple based.
I also got some Rowan Tapestry. This is likely to become a lace shawl. The colours are lovely, and it feels so soft! It really is lovely stuff!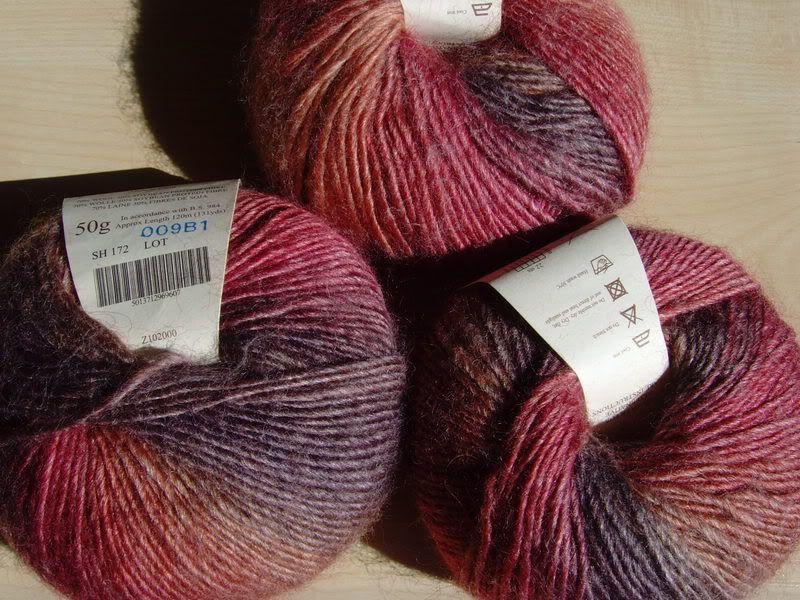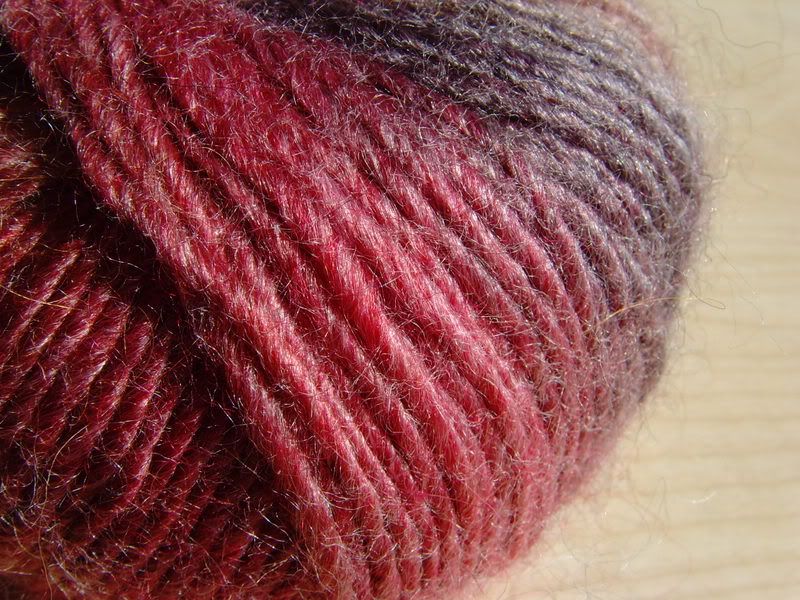 And finally, what I went for - laceweight. Rowan Kidsilk Night. I was going to get the really rich purple coloured Haze but the Night has a gentle sparkle in it - glamourous or what! I'm not going to attempt mohair lace yet, but will do at some point.


So... if you read me all the way through - well done! I don't mind if people don't read really, I'm more about photographing the work and the yarns and the needles and stuff. But I think it's interesting to have progress reports and pics on because that's useful to anyone else who's using the same pattern or is interested in trying a pattern (and needles and yarn).
So I will soon update on Forest Canopy and my tank top - which I am going to sew up today and try on (it looks very big :s ). I have a tonne of uni work for Monday, so don't expect much progress or another update til after Monday! I'll just be snatching a few rows here and there. I also intend to post photos of my uni work (drawings and models) so you can see what it is that I do that I'm always moaning about!! It's creative - I study Architecture, so thought it's not knitting, it's still of interest (I think!!).
Ciao for now sorry it's such a big post!