Yippee a finished item already this year!
Here are my Godfather Socks. My own design but using a short row heel which I've never done before! The design is simply a 2x2 rib with cables between every two stripes. They look a really funny shape don't they ~
But they're actually a perfect fit :D I'm very chuffed. I love the short row heel, can't see myself going back to the heel flap heel now!
I've started a pair of Endpaper mitts too, these are for Mum and I have a planned pair for me too. I found the fairisle very fiddly at first but have found a technique for holding the two strands at once, and it's working beautifully. I'm finding it really easy now that I've got into it and I'm already onto the gusset! There's been quite a lot of progress since this pic.


I've also started a booga bag, mostly because I wanted some mindless knitting, and that's going well. Photo's will follow I assure you ;)
Check this out~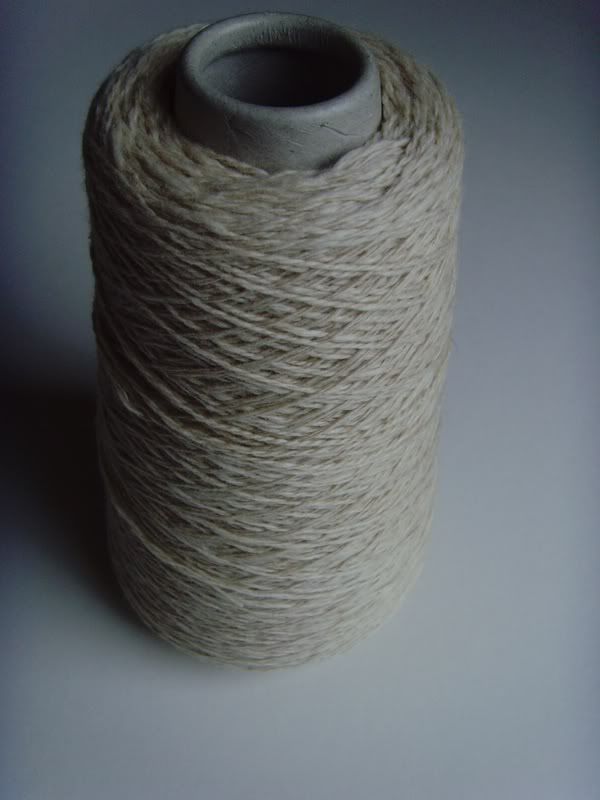 2 ply cashmere! Oooh yeah! Sent to me by a very nice person on Ravelry :) it's beautifully soft and will probably make a lovely Hanami, or other similar pattern. There's quite a lot of yardage so I might be knitting with it for a while :D





I've been busy dying again, this if my favourite colour, it's Wisteria because the purple has split a bit and there are paler and darker bits. Not intentional but I'm very happy with it!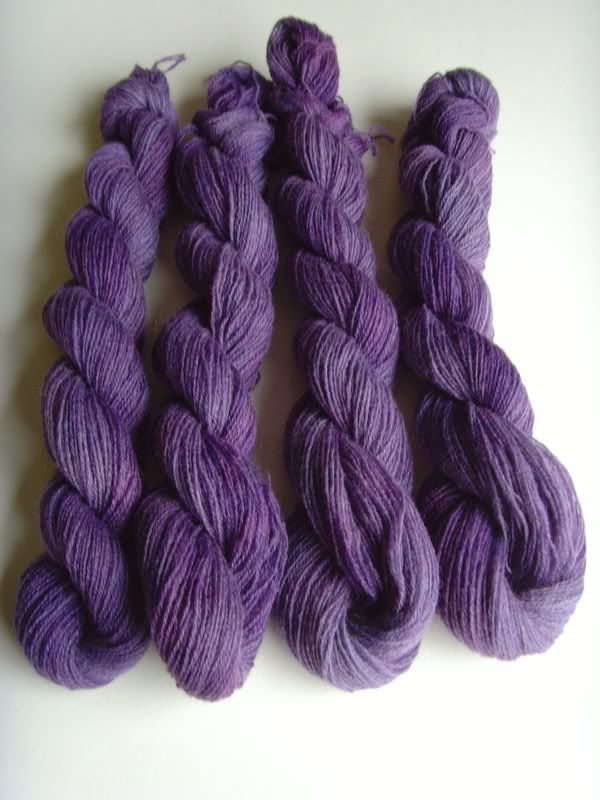 And finally, how could I resist super-cute miffy. She's not adorning earrings, stitch markers and soon row markers. And anything else I think of! I know, I'm sad like that!




Soooo WIPs.. Well OH's hoodie is very nearly done, in fact I'm going to try and finish it today and give it him tonight. The yarn came yesterday so no excuse now, sadly.
Forest Canopy.. is coming along nicely now, though the rows are getting quite long. I'm almost onto the thrid ball of Kidsilk Night. The second ball I've only had about 4 repeats out of, so the third one I'll have to watch I don't run out before the end.
I'm also sewing up some stuff hopefully to put in the shop when I have a few things done. I'm enjoying the sewing, I couldn't not though could I, seeing as I'm using a 48 year old Viking Husqvana (sp?) sewing machine. It's like the rolls royce of the sewing mahcine world, it goes like a dream!
Anyway.. I'm off to carry on with the zillion things I have on the go. I'm keeping as busy as poss what with all the mess over the OU. I can't start my course til October and I was all ready to go for the 1st Feb, so I'm a bit down about that as I feel that I'm not using my brains much :(
Ah well, ciao for now!