Another update! So Soon! Get me! Actually it's mostly stuff I forgot to put in the previous one.
So here's my first Finished Object of the year. Actually I tell lies, it still needs a flap on the inside to stop the needles coming out. But it's largely finished!
I'm rather chuffed with it! I'm a totally self taught sewer, and this is my first project (apart from hemming every single pair of pants I've ever bought). My sewing vastly improved over the course of making this, primarily just by keeping it in a straight line.
The ribbon is realy nice, it's purple with silver edging :) messily sewn on, seeing as I got it caught in the needle and it went off in the wrong direction!


The material's nice too isn't it? It looks wrinkled but I suppose it will be being rolled up.



Ok, next I did some more dyeing, this time it's called Raven, as it's really dark red.






Made myself some business cards and yarn tags.



The cards need improving, but they're a start.



Found a fantastic bead shop nearby and made these:


And these: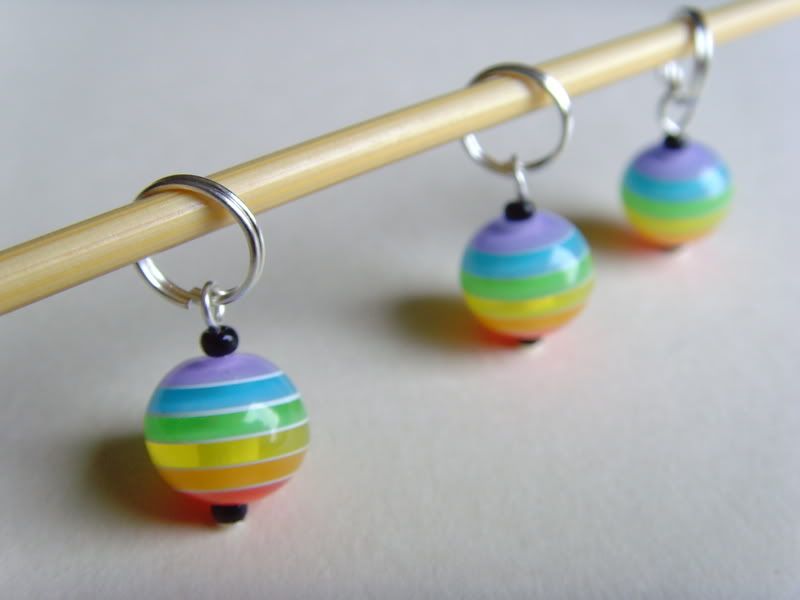 Here's the Twilley's Freedom Spirit my lovely OH got me for Christmas. It's for a felted bag, and he got three balls and couldn't find another two, so I'm still waiting for another two balls of it. Isn't it lovely!







I got this in the sales, it's Rowan Romance. I thought it'd make a lovely, simple stole. Not lace or anything, just plain.






And some SB Soho, which is gorgeous. This is really for a nice cabled hat. For some reason my hats never ever turn out right, so i'm determined that when I eventually get round to this one it will turn out well!



Oh no not quite! There's more! I got this goregous Rowan Biggy Print in black from my swap partner Amy, in the UK Swaps group. Yey!