Phew, it's taken me ages to do all this post, now for the writing.
Well it's been another hectic week!
First of all, I made my first sewing project. I've always been into sewing, but never properly. I had the idea that it would really enhance my shop if I could put in some bags and cool stuff that I've sewn, but first I need to learn to do it properly! So I bought the kit for this bag off etsy. Basically you got the material, handles and interfacing, along with the pattern and instructions. BUT.. the instructions were really hard to follow, I think they'd been translated from a different language. So, I got a big sewing book to help me instead. I ended up not following the pattern either!
So here's my tote bag, it's quite big, will comfortable hold my knitting, purse, book, phone, keys etc.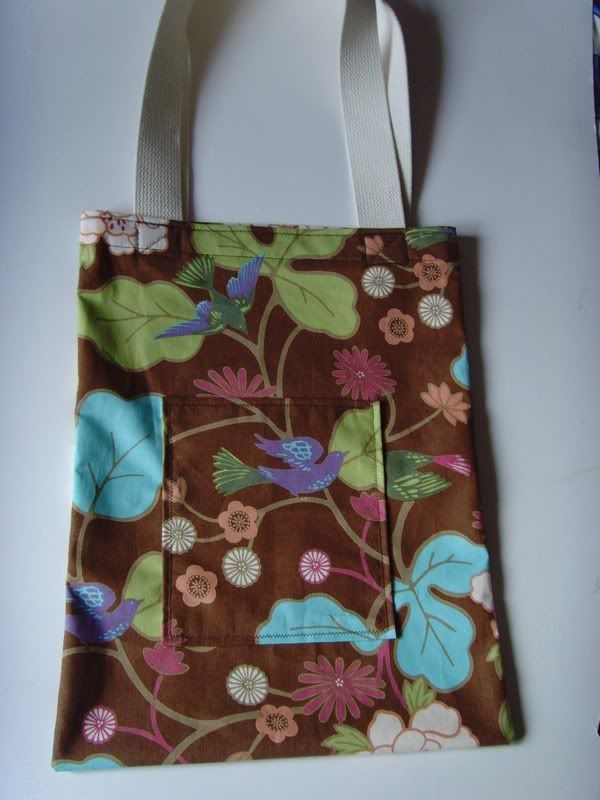 My sewing's not 100%, and I had a zillion ends to weave in, so seeing as it's just for me, I decided to knot them and cut some of them, some are woven in though.
Above you can see a skein of yarn in the pocket. I've since attached a couple of cute badges, and I'm going to put a button on the pocket.


Looking inside you'll see the messy part of my sewing - the handles. The knitting and book were down at the bottom so I've pulled them up so you can see the size a bit better.
So, what is the knitting in the bag?
It's this - my upstairs stole. I'm on my 5th repeat now, it's growing quite quickly, and I'm really happy with it.
And what was that book?
It was Terry Pratchett's Wintersmith..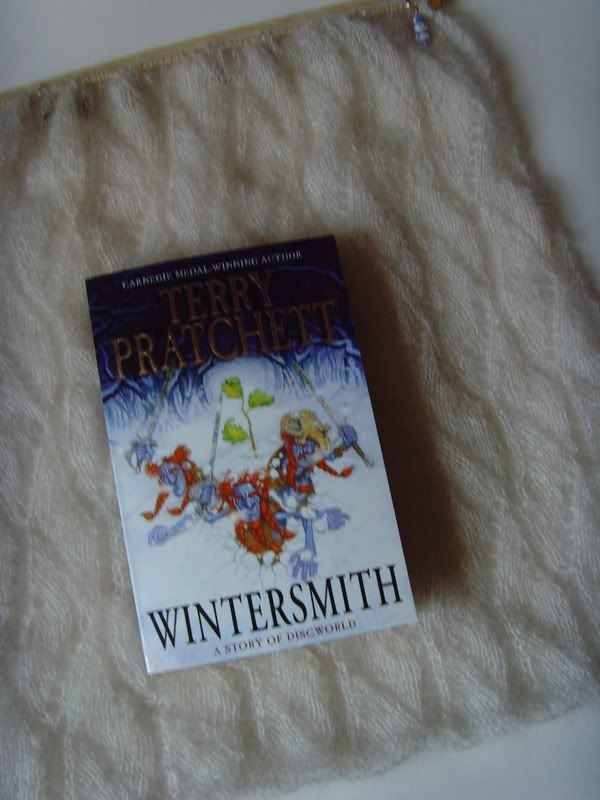 I've finished the first Lotus Lace sock! I'm really, really happy with it. It's a fantastic fit and looks great, so I can't wait to make the second one - no more SSS for me!!


My Godfather got me a funky felted pen.. how cool is this??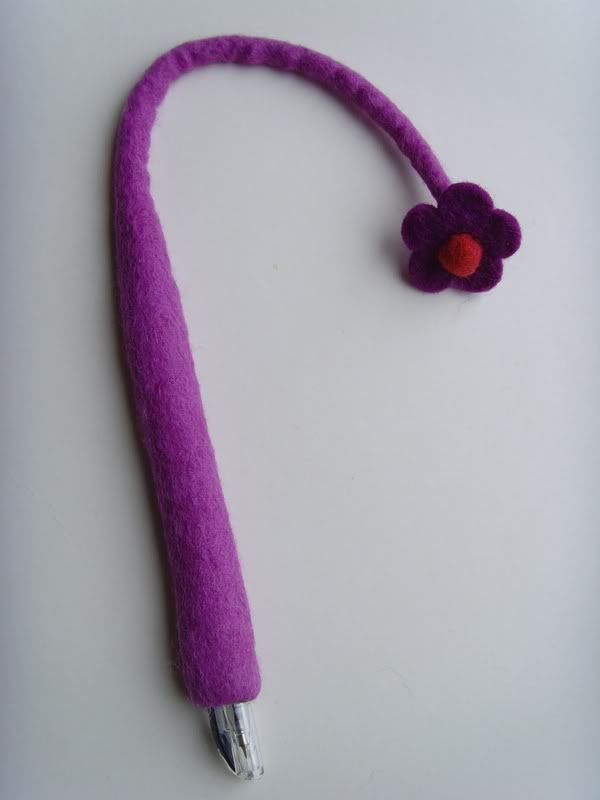 And I'm very, very slowly spinning up this beautiful merino/soy silk roving. Spindling doesn't really do it for me I have to say!
Here we go -


This is what I keep it it:


I've been dyeing a lot this week too. First of all I did some BFL aran, in Strawberry Dreams, and Pablo.

Oh, but then I got these in the post... Blue Jeans handspun from Bordertart on Ravelry.

Copacabana, also from bordertart:
And SkeinQueen, can't remember the name, but it's lambswool, angora and cashmere, and oh so soft!

I swapped the above three for my yarns, so my stash now looks like this: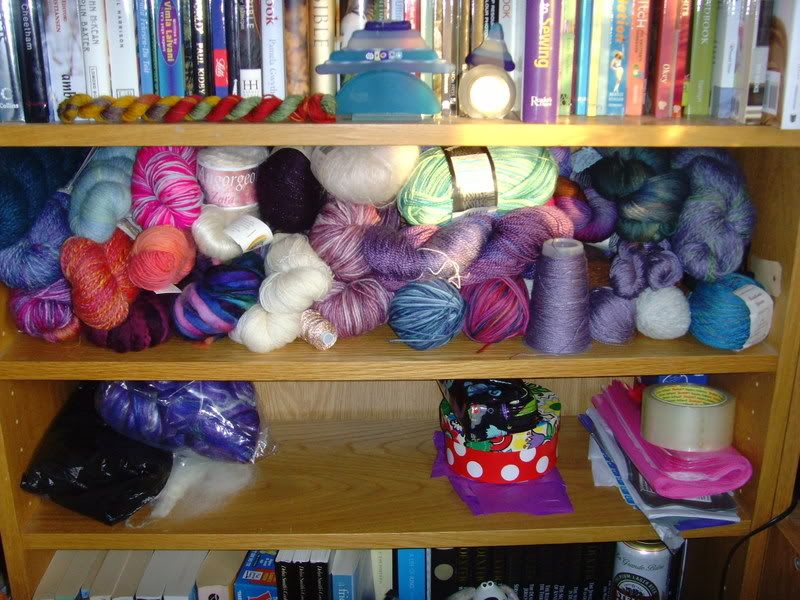 Measly looking, but you'd be amazed at how much there actually is on that shelf! Plus it's all so beautiful :)
Here's the big box of yarn (this is all my hand dyed not stash!!):



Here are the lovely, squishy new alpaca sock yarns.. they dyed up really nicely and the colours really blended.
I think they'd make fantastic lace projects as well as socks.
Pablo: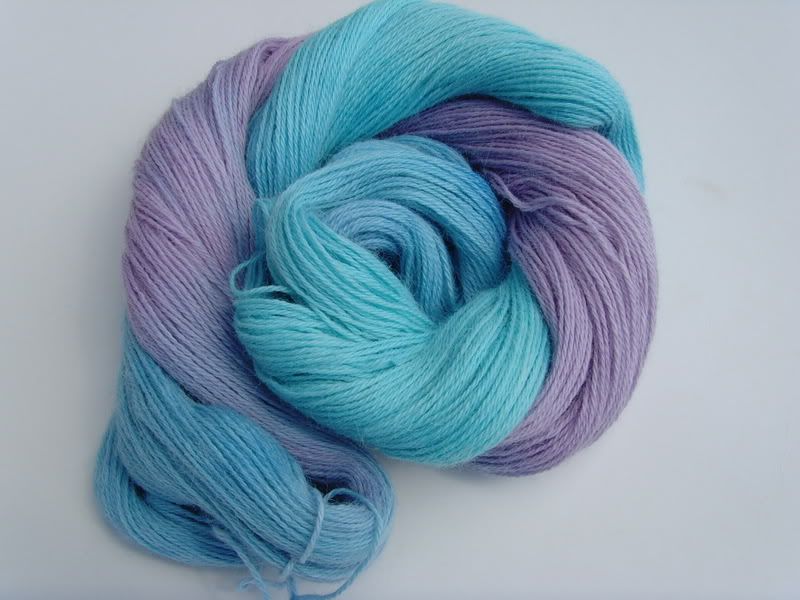 Cairngorm: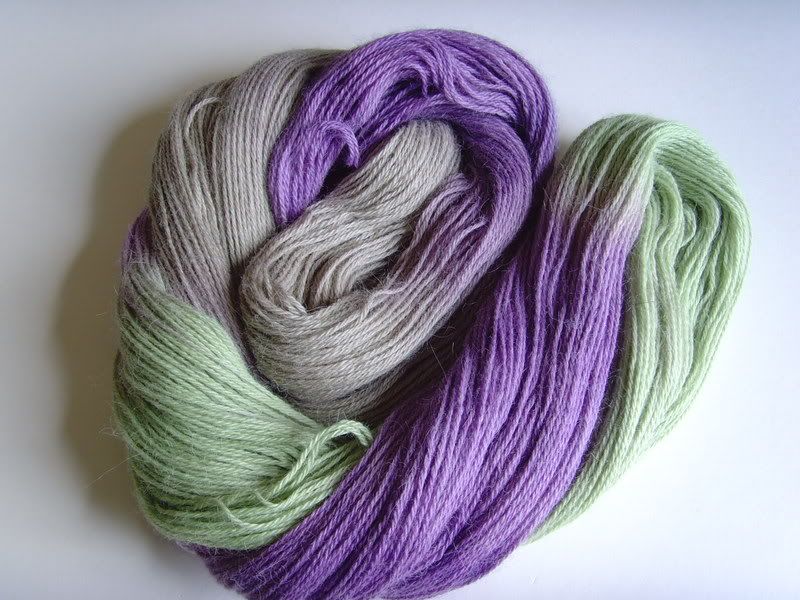 Autumn: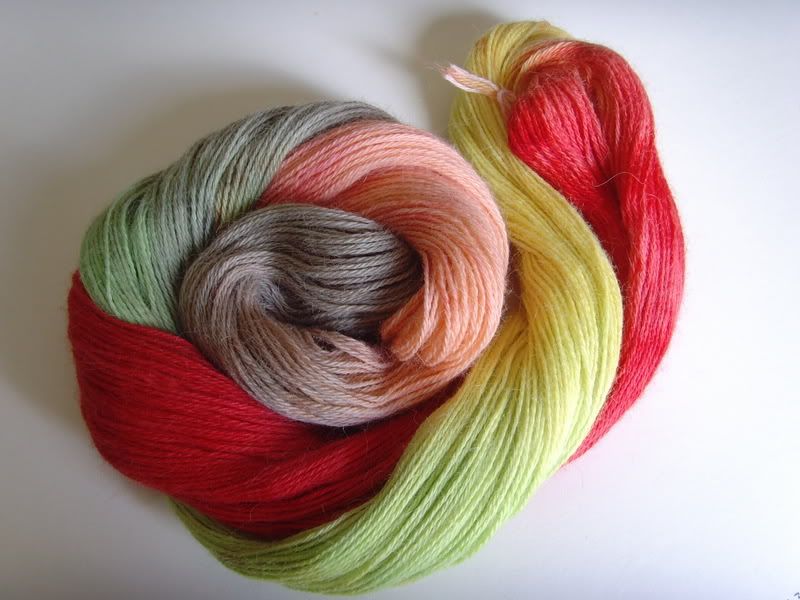 Holly:

Inca:

Fresh Berries:


Ocean view: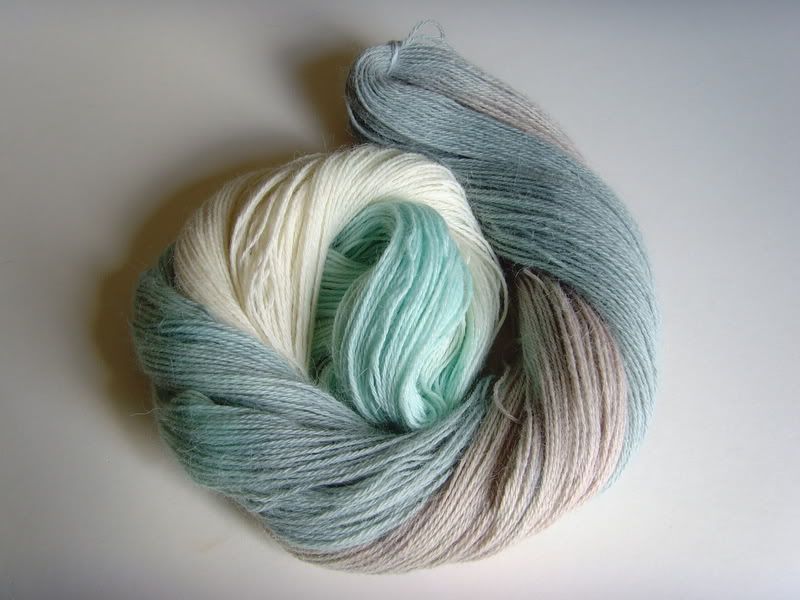 You'll have to ignore the horendous quality of this image. I put it together in paintshop, and somewhere between uploading it to photobucket and uploading it here the quality went awful :(
It's Bambino - my new sock yarn, which is 80% merino, 20% bamboo. It's unblievably soft and squishy, I can't stop feeling it!
The worst one seems to be the middle top one, if you want to see it it's in my photobucket, and in my etsy of course. I was going to uploads them individually but my post would have taken all week to write and read!
So top-bottom, left-right - Kelp, Holly, Blueberry Muffin, Sweetheart, Duffel, Buttercup, Inca, Fresh Berries, and Tor.
I uploaded three close ups so you can actually see them!
Here's Holly: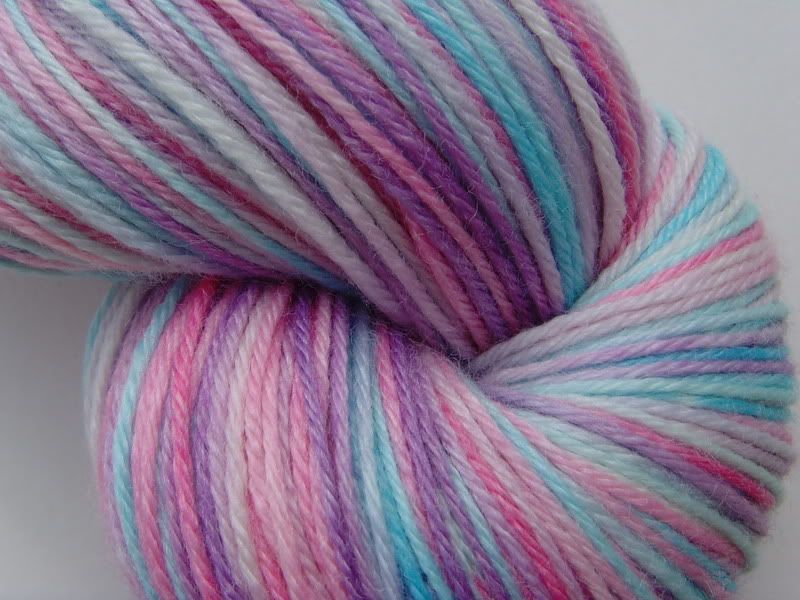 Tor:
Duffel:
Here's a gratituous puppy photo to break up the yarn photos..
It's a hard knock life eh!

And finally, here are the BFL sock yarns, I've not put all of them here - just the new ones. The ones you can't see are Inca, Autumn and a few others!
Here's a really bright version of Holly: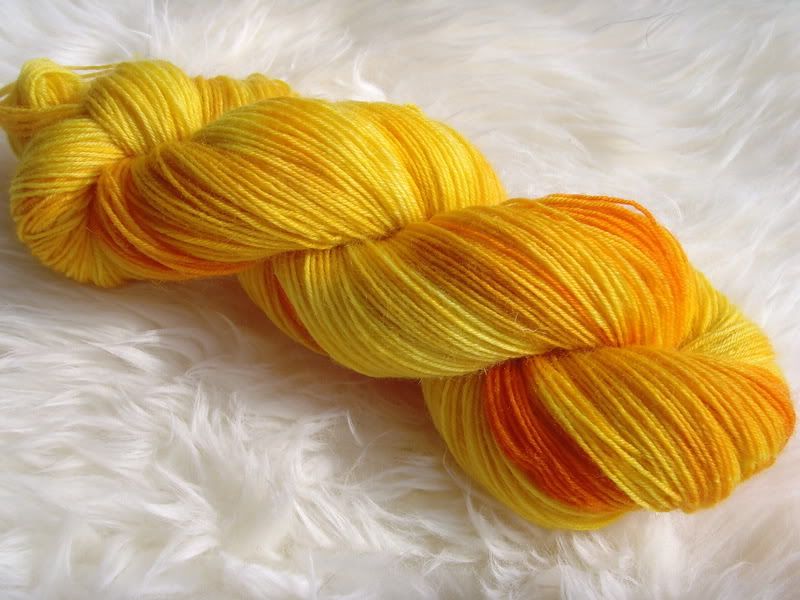 Deep Sea Diving: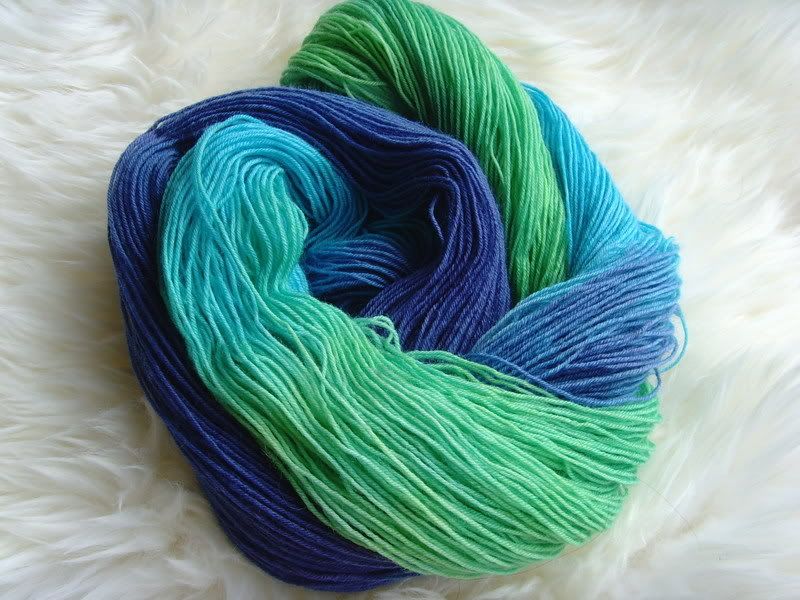 Sweetheart kettle dyed with some purple:



And that's all for now!!
I'm onto the second of my plain purple socks, nearly on the heel. Am going to OH's for a few days so I'll probably finish it while I'm there, so I've wound up my Socks that Rock yarn ready to cast on a pair of plain sock in that.
There's also the stole, which I'm hoping I might finish in about ten days (I usually do half or a whole repeat at a time cause I'm strange like that). And the Lotus Lace socks, which I'm sure I'll get done quickly because I love them so much! I can see another pair or two in my future! The next patterned socks will be Pixie's Pablo socks but in the cotton sock yarn I got at Woolfest.
I'd better go - so much to do, so little time!