Today I went on a wee shopping spree to my LYS. I bought a few nice yarns, they are really improving their stock in there, and I actually got a smile and a ceonversation out of the lady there! She asked if I was doing knitting for college, and I said if I could knit for my course I'd be the happiest girl alive, but unfortunately that's not the case!! She actually laughed as well! (Maybe because I spent over £20 in there for once!)
Anyway, I'll show you what I got...
First - Wendy Flake, in white and a variegated (sp?) blue, purple & pink. This is for cosy, snuggly hats.
Lana Grossa Hp no 31 - 100% cotton in a deep plum. This will be a shawl in the near future.
Lana Grossa Pallone, white, mostly cotton, with shiny bobbles that look like tiny pearls (these are the non-cotton content). It's looks quite pretty, and is going to be a wee wall hanging with three crosses on (see pics further down).
Lana Grossa (see a trend here??) hp no 31 in pink and white, 100% cotton (mercerised). This is also going to be a shawl or summer scarf.
Papillon Starlight, in purple. This is a sparkly yarn, it's 100% nylon (or something, not natural anyway). It's going to be knitted with a blue sparkly yarn, to create the motif on my Mud Flap Girl Tank Top. Which, by the way, I'm halfway through the front panel and will post photos when appropriate! (Hopefully soon!)
The crosses don't show up that well in white yarn. So I may give this to Mum, and knit a darker one for Grandma (it's her easter present - yes I know it's way past Easter now!!), or I may adapt the pattern, so that the crosses are actually in reverse stocking stitch rather than Garter stitch. Anyhow, we'll see.
I have already had to frog this once as my counting skills failed to make themselves known. I will post frogging pics tomorrow - it's my first real frog experience and went surprisingly well!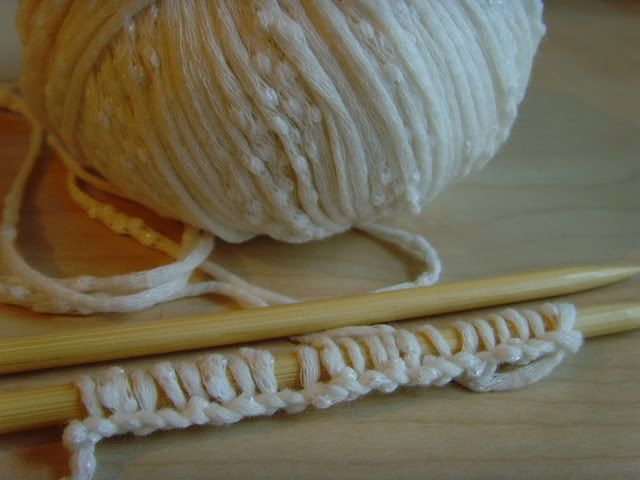 YoYo jacket (which is slow)
Mud Flap Girl Tank Top from SnB (all stocking stitch is getting slightly tedious now)
Three Crosses Hanging (I'm sure this could have been done in a couple of hours but never mind, it's a nice wee project)
I have a lot of uni work over the next week - I'm unreasonably expected to redo three months' work in one week for final review.. obviously thats' not going to happen but I will do as much as I can, so not much knitting will get done unfortunately (I will sacrifice lunch hour for knitting hour of course though).
However... I did lots of online S.E.X. today.. LOTS! So the postie should be very good to me this week and I will post photos of the lush goodies I'm expecting (I can't wait!). So watch this space!
Ciao for now :)