Another post full of photographs!
Here's my first sock, in Opal. I'm not that far into it, but there's no rush. This is a great portable project, and I can see socks being another addiction, particularly for carrying round with me!
Next, a piccie of what a member of the knitting forum sent me, I sent her a load of beads, so she sent me this yarn, with a pair of needles, and a lovely card as well :D The only thing is when it came through the door, it was actually open! Grr Royal Mail suck! Anyway, there looks to be a lot of yardage here, and it's a cool purple, pink and white, and is fluffy, so I'll have to decide what to make with it (suggestions welcome!)........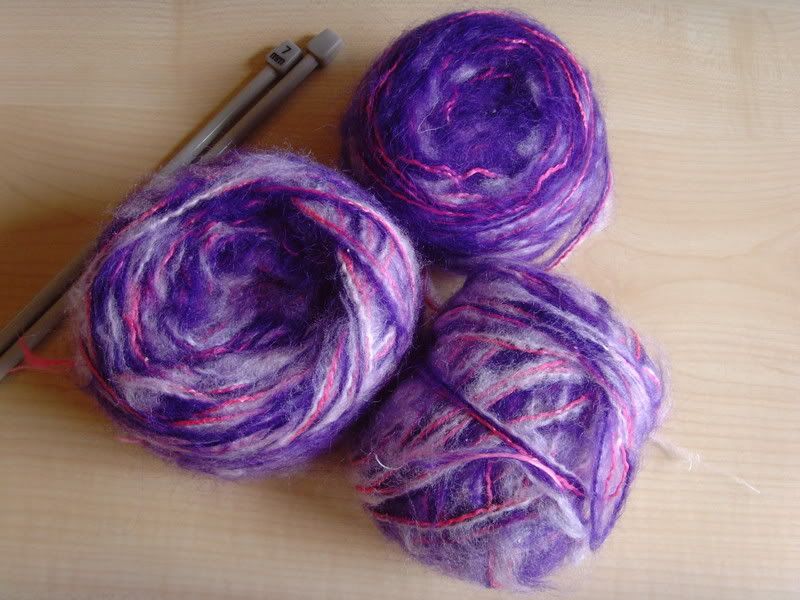 Ok, here we have the adventures of my Forest Canopy. It's my first lace, and I'm using Lana Grossa Luxor. Which is stunning yarn :) Below you will see FC v1.0, however if you look left you will see there's a fundamental mistake - one stitch out at some point and the whole thing messed up! Soooooo, I frogged the whole thing! FC v1.0 is no longer! Well I couldn't waste all that yarn could I!
Here is the very beginning of baby FC v2.0, which has lifelines on rows 4 and 8, and is going perfectly. It's now almost as big as v1.0 was, and I have two balls left, so it's going to be quite big :D (Pics to follow in a few days)
Ok here we have the Mud flap girl tank top. It doesn't actually suit me, but never mind! It looks better over a dark top...
(I have now woven the ends in don't worry!)
Not the most flattering photo.....
Closeup of the crab stitch edging (not that you can see it being black!)...
Closeup of my first ever colourwork! .....
I got these in the post too :) a shiny new pair of Crocs! They are amazing! I have lived in them since I put them on! They are so ugly but oh my! They are so comfortable, it's like walking on very comfy air! also, if you wear them as clogs you don't have to scrunch your toes up to keep them on with every step! (I'm sure you know what I mean!) They are amaaaazing! I'd like a pair of professional ones, and mary janes, and their flip flops, and their wellies, and.... well... you get the idea!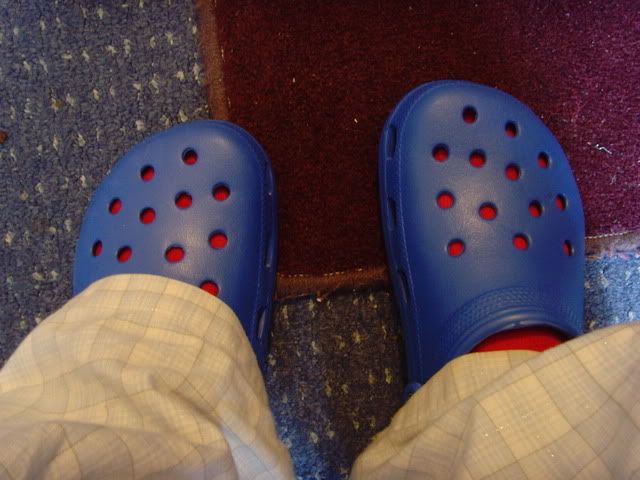 Ok, back to knitting, this is a hat in Wendy Velvet Flake. Which is a bit difficult to knit with. But it makes a very snuggly hat! This used a whole ball, it was too big (far too big!), so I threaded a line round it about 2cm from the bottom, and pulled it tight, so it fits well now! :) I love it!
Here are some stitch markers I made, from unused, or lonely earrings.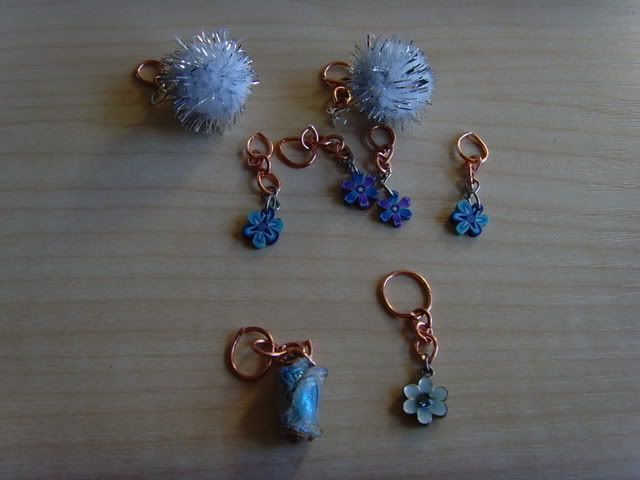 Closeup of the dichoric glass one...
And moving away from knitting, this is a wee bit of my uni work. I'm studying Architecture, this is an intervention project I've j ust designed. (I only had a week) I am happy with it and my tutors seem to be (it's difficult to tell). This is what I spend all my time doing, and I tend to alternate between this and knitting - I allow myself a knit every time I finish a drawing or whatever bit I'm up to.
That one's still taped to my board in the pic!
I'm also making (very slow) progress with my Yoyo jacket, I'm doing the left front border. It's horrible, just all ribbing, with 134 stitches, for 19cm. Ugh! I just keep telling myself it'll be worth it! Plus Mum got it me for Christmas so I couldn't not do it!
Ciao for now!