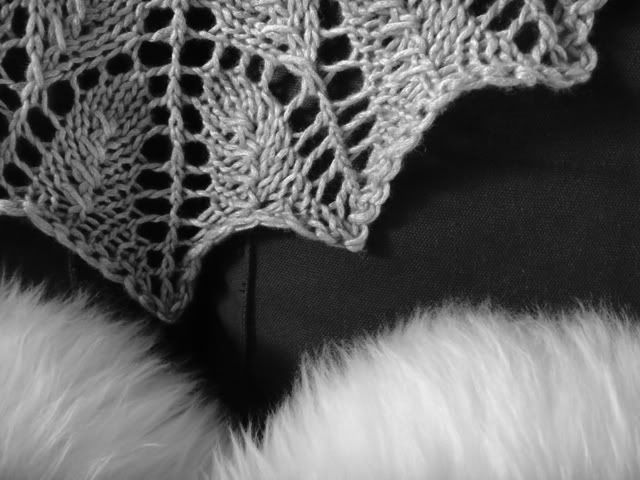 Now First of all - Don't say I didn't warn you - there are a lot of photo's in this blog entry!!
Above is a closeup of the edge of my Forest Canopy. How could I resist that composition! I'll really miss that sheepskin rug when I go home for the summer! (Might have to take it for photography purposes!!)
First of all here is my shoalwater. I haven't had to frog (yet!), and I just can't stop lusting over the colours! This yarn is really stunning, the colours are so rich! *drool* Also my stitch count has so far been perfect. That's quite an acheivement for me. I haven't yet discovered the secret of where the odd stitches either come from or disappear to. Just one wee one here and there and the World's thrown out of balance!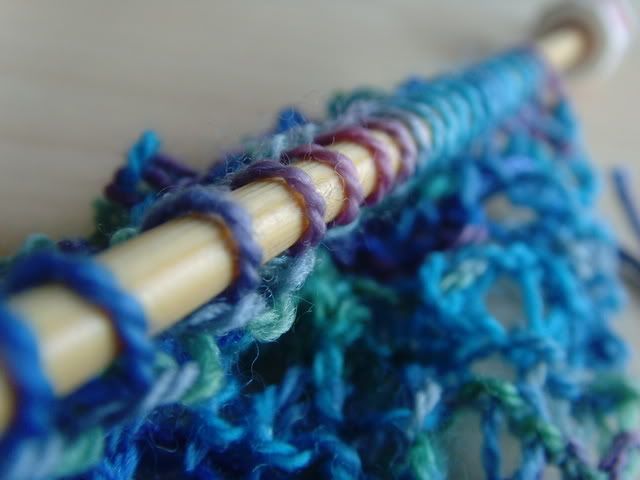 Ahhhh *sigh*
I took the one below on a black background too.. but I think I prefer it as it looks on my desk (well with heavy tracing paper below it too - you're lucky it isn't covered in drawings)!
Here you can see the fledgeling Shoalwater is growing out of it's needles (I'm waiting for a pair of Addi Turbos, my first Addi experience which I am very ecited about).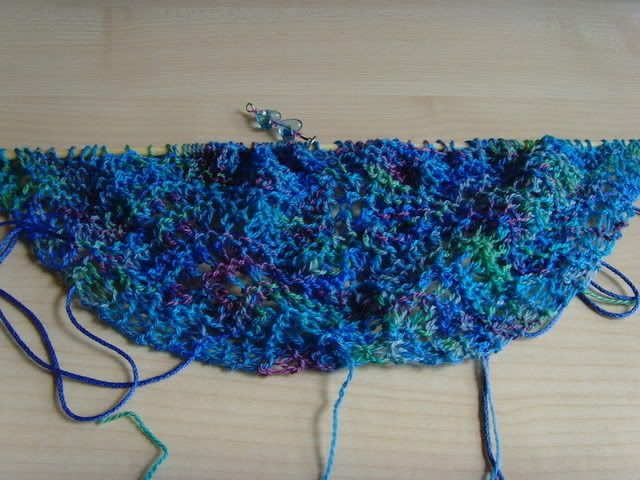 And here you can see how I'm keeping sane...
Here is a very quick project I did last week. Great for stash busting. These are mohair loop mitts (from the Natural Dye Studio, the evil temptresses (I don't know the masculine version of that word so we have to assume they are female)).
These took an hour to design and knit (I was on the phone to my Mum). They were done in the remainder of the yarn used for the mincho (mini-poncho), which you have to scroll down for.


It's quite difficult photographing your own pair of hand so one will have to do!
Wheeeeeee scroll down!
This is how the mohair loop knits up: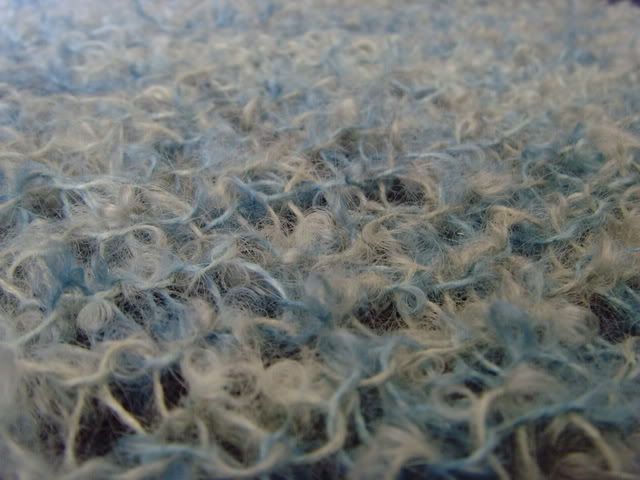 It's much softer and more delicate once knitted. In the ball it's a pretty colour but feels rather scratchy. I'm not too tolerant of this stuff actually. I can only wear it if I have a really good scratch round my wrists and hands first!
The poncho's ok for itchiness though.
Seeing as I can't take a photo of the back of me (arms not long enough sadly), you will have to make do with a sketch.
And yes I'm well aware the back of my head is not a squiggle, and yes my hips are a lot bigger than that!
It's basically a very simple L shape in garter stitch.


Sorry not knitting, but I got this the other day. I've been dying for one for ages, to test my OH's theory that I have "green fingers". Ha! We'll see how long this one lives... (my onions and peppers are growing very well, but they aren't quite on the level of a Bonsai).





Here is some stash. A tiny percentage of the total you might say. Below is Gedifra Gigante, which I got in Italy (Venice) last summer, long before I started knitting. It's going to be made into a felted project, which is a secret known only to me. Mwahaha.
It's really bright red, with pinks, browns etc. It's lush!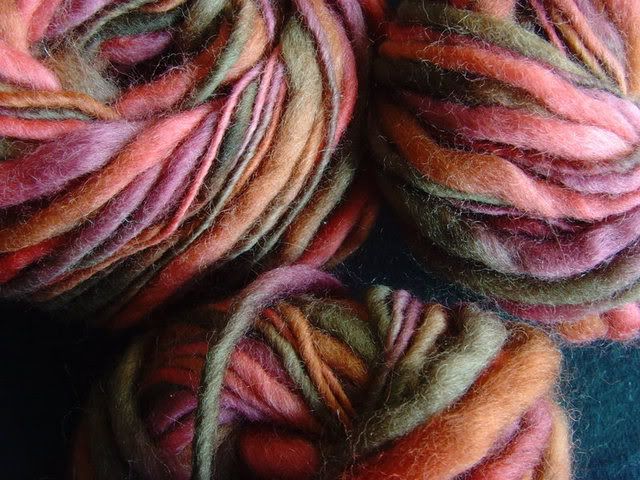 Rowan Spray... it was a bargain, and again, I'd only been knitting a month so planning what to knit with it wasn't an issue when I saw the price tag. (It was less than half price!) I'm not sure if it'll felt, so if anyone know please let me know!
Rowan Biggy Print. Another secret felt project. Mostly secret because I haven't decided yet.


Wendy something-or-other. (Moiselle or something?) Goooorgeous colours, if there's a God of knitting I could do with an idea of what to do with only two balls of this please!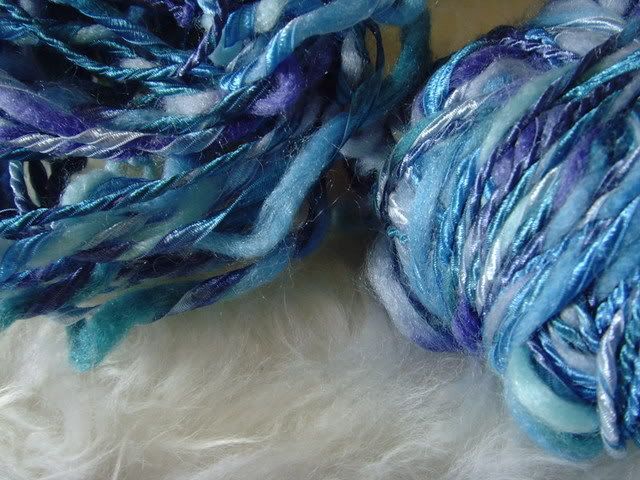 And that my friends, is all for now!
Current WIPs: Sirdar YoYo jacket (will it ever end) the border is now about 3cms longer than the last blog entry. Also Shoalwater (still a fledgeling), my Opal sock (I'm just heading down the foot towards the toe), and I've naughtily just cast on for another forest Canopy in Rowan Tapestry, which is lovely but VERY hairy. And be warned: it does not like being frogged!
I have also got myself a Deviant Art page. My tutor last week (I'm doing architecture), told me I should invest in a professional photography portfolio this summer (stuff doing a CV!), so I thought the first step would be a DeviantArt page.
My very talented fiance is working on his skills as a web page designer (what he's done so far is very impressive!), so once he gets me a site of my very own, I hope I might provide a few drool-worthy photos of yarn for people to lust over! (Well I can try!)
That's all for now, Ciao!