Maybe I should name them with random words.. or should they describe what's in them? Maybe if I updated more often, I'd have less to put in each post, then I could name it by what's in the post...
First of all, here's some yummy goodness from my secret santa, MazzaM, from the Angel Yarns forum. It was lots of fun doing the swap and stalking my secret pal!
Look at this lush sock yarn :D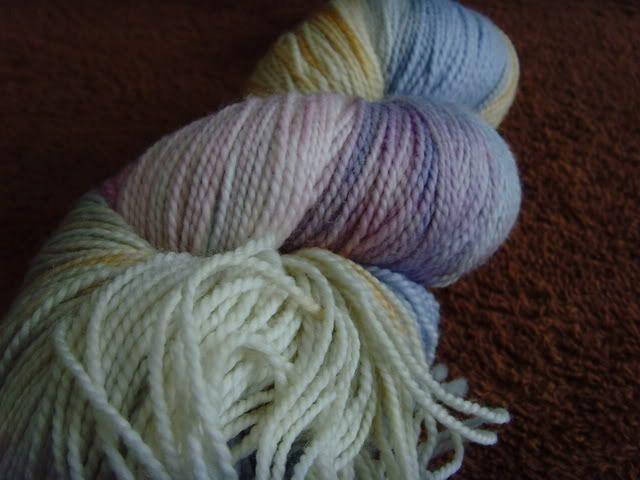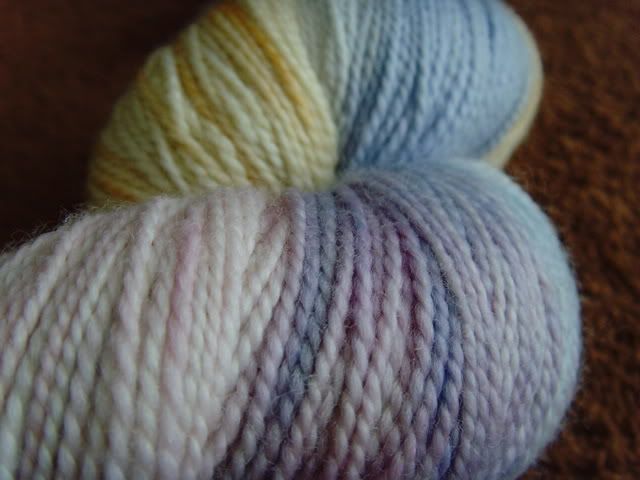 Here's everything I got! Fantastic stuff!
This is the results of my first dyeing attempt. I am very proud of this, as on the first attempt it went day-glo green, you'd need sunglasses to look at it. So here's the second attempt on the same yarn (it's sock yarn). I've called it Lichen, though next time I try for the same colour it'll probably come out pink or something.
Ooooh look where I went at the weekend! We had time away in York, so I spent my spending money on souvenirs of a squishy type. I was on a day off from the stashalong you see!
Fantastic shop. Tiny - you can hardly move with more that about four people in there but their selection and variety of yarns is bloody fantastic!! They have everything I love! All the KidSilk range - spray, night and haze. In all colours. I think all the Noro yarns were there, Twilley's Freedom Spirit, Artesano Alpaca, loads of Rowan yarns - Tapestry, Summer Tweed, etc. It was just wonderful! Oh and Regia sock yarns too!
Anyway enough gabbling, here's my goodies :D
Here's sock yarn for me :D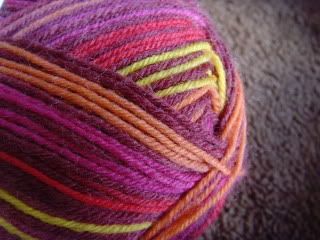 More for me *looks sheepish*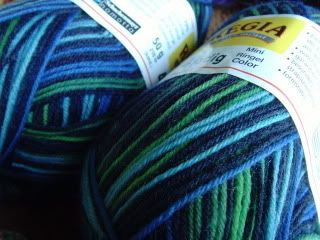 Regia Bamboo for my OH. (This will be my next sock OTN). It's lush as well!
We went to eht National Railway Museum, and look what my OH bought for me from there (a bit random actually, I mean why they have Shawn the Sheep bags I've no idea).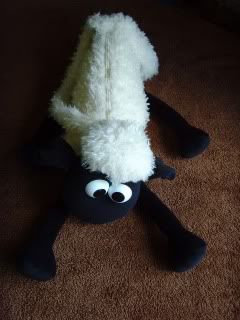 Isn't he cute!! If you squish his nose he goes "baaaaa baaaaa", so I've been embarassing my OH by making him baa in inappropriate places (think posh restaurant) - it's lots of fun.
I'm on a dyeing thing. I totally love it, except I only have green, blue and yellow food colouring, so I can't get purples or reds, because Somerfield dont' sell red (well ours doesn't).
I've just found my Mum's stash (she's away), and it's HUGE! She has a whole wardrobe FULL of huge, huge cones of yarn. Most of it's laceweight (no idea why - she's never knitted lace), or two ply.
So you can probably see where this is going - I've had a good nosey, have nicked a huge cone of pale blue for Hanami (not that I'm doing it yet but I can prepare!). I've nicked a cone of bright blue too. Most of it's white, or browns and greys, but being mostly 90% wool, I'm going to nick more for dyeing for socks and lace :D Of course I have to hope she doesn't notice, but as this is all about 20-30 years old, from her machine knitting days, I'm sure she won't be able to tell ;)
So next time I'll have photos of my drowning under my stash, my mum's stash, and hundreds of empty bottles of food colouring and vinegar ;) *giggles excitedly*