Before I start wobbling on about cables and stuff I want to thank
Linda
for rehoming my cute Monkeys! :) I hope she'll be really happy with them!
Ok here's my cables-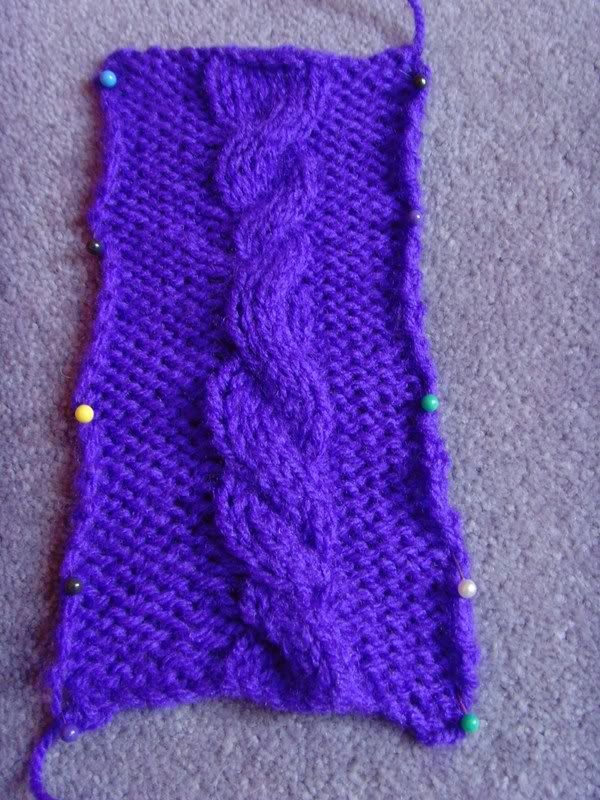 You can't really tell on the pic, but I've got pretty loose holes down the left side. They are smaller further up, as I got more practise. I think cables may grow into my new obsession, along with lace, stitch markers, knitting, knitting forums.. ok ok you ge the idea. But I totally love them, I think they look really cool and I particularly like them when they look like Celtic knotwork. I love the Tangled Yoke Cardigan (think that's the name) in Fall 07 of Interweave Knits, I'd love to do it one day. Also now when
Soo
mentions cables AND lace in her Lyra, it doesn't sound quite as terrifying. Well not as mcuh as "900 stitches on the needles"!
Anyway, told you I'd ramble didn't I.
Below's my latest creation. They are genuine freshwater pearls!! Aren't they beautiful! I want to make zillions of things with them! I'm definitely as addicted to making stitch markers as I am to knitting - and that's a very serious addiction! Anyway, I got these freshwater pearls, in a peachy colour, and they are sitting with silvery gun metal seed beads and black seed beads, which I think look really good with them.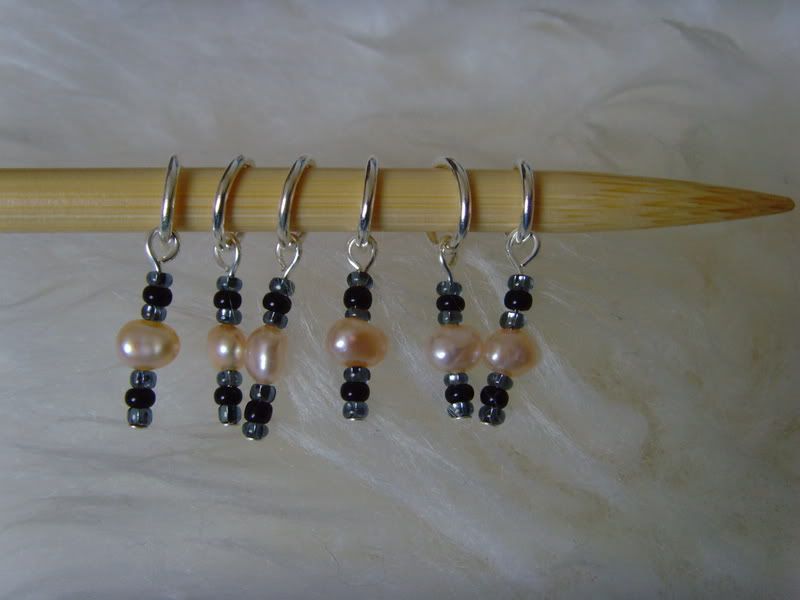 There they are enjoying the luxuries of my sheepskin rug.
I'm knitting my tenth Innocent Hat just now, it won't take long once I get going.

There's Jack looking sexy in a skeleton-in-a-suit sort of way, modelling one of the hats done in Lucy Neatby and a fine sparkly silver thread, just to make it look extra-wizardy (yes I know Jack's not a wizard but it was either him or Miss Piggy).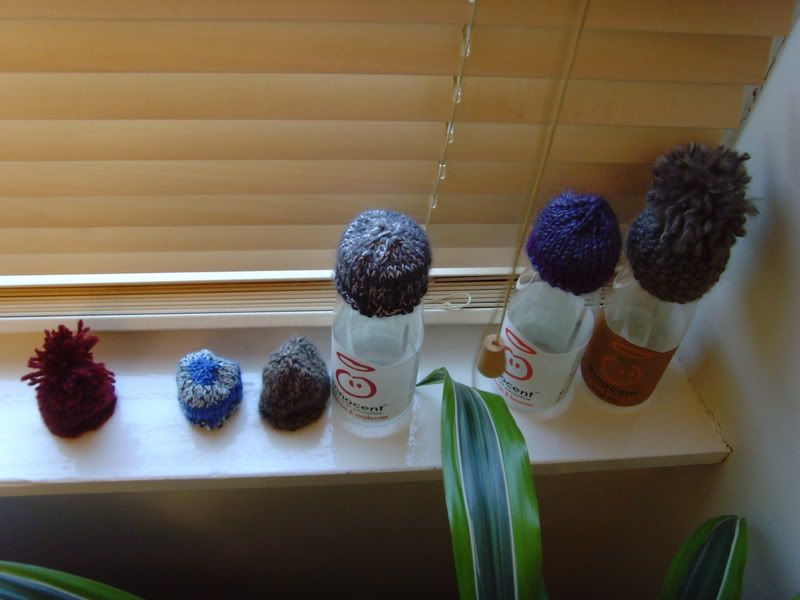 There's a few more. My favourites are the purple one that you can't tell is purple (helpful eh), and the one third from left which is Rowan Tapestry in Leadmine with a sparkly silver thread alongside - it looks cool! Not that you can tell.. *sigh*
I'm on the 8th repeat now of the Baltic Sea Stole, am getting through it. I've also finished one of the green Moss socks! Wahey! Now I just need to do the 2nd one...... *2nd sock syndrome*
I will post arty pics of the sock when I finish it's partner.
I'm off home for a week next week, so going to take much knitting with me as I'll have nowt else to do. I'm hoping to start Kiri (but finish BSS first) and do the second sock.
Anyway, I'm glad that the new layout is more successful than the last - it's much easier to distinguish between each bit I think, and easier to read.
Ciao for now!