Well I finally got to block my Epic Forest Canopy! I was away for a few days so blocked it on my bedroom floor. Strangely, the spikes aren't there! I did the pattern right but there just aren't any spikes.. it's really weird. I have to say I don't really care, I'm really happy with it, it's huge and lovely to snuggle into :)
Here it is lounging on Cedrus, our huge pine tree.
You can see the size of it more here. It's longer than my full arm span and reaches past my bum!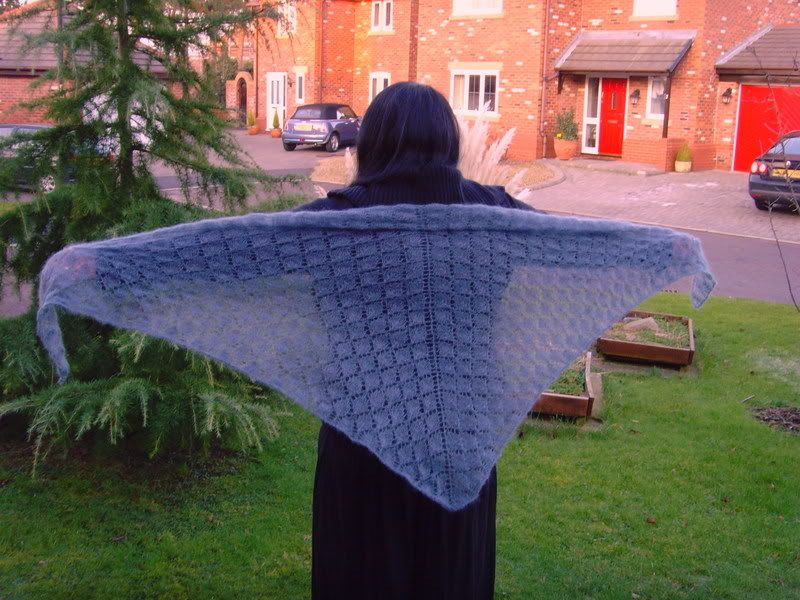 I loved the KidSilk Night to knit with and am really enamoured with this colour. It's a dusky blue.



I also finished my first endpapers. They're my first fairisle, and there's one mistake if you look closely ;) according to Liz from SnB these are done in Sanquhar style, not fairisle. I can't dispute or agree as I really have no idea!
Anyway, I'm really happy with them, and considering I forgot to check my needle size (I think they looked about 2.75mm), they've come out a perfect fit.. incredibly. I'll use the needle guage next time though.
They are for mum, and didn't take long at all, so I have a pair planned for me too. I found the colourwork a lot less of a challenge than I expected and was able to do it while watching the TV.


No it's not the beach. It's some arty looking part of our garden (the rest of the garden's been dug up by the dogs).
Next finished project - Unbiased from Knitty. Excellent yarn, it's the sari silk, and it's ace to knit with, though somewhat challenging as it has no 'give' whatsoever. I loved watching the colours though. (I'm easy to please like that).





It's not as deep as I'd have liked - I might pick up the edging and knit a few rows to deepen it.




I'm giong to line it, hopefully with some pale gold coloured satiny stuff.



And I've been busy dyeing again, my favourite few skeins look like this:





And finally.. the sky has looked like it's on fire the past few nights. It's stunning. I just love the really cold, crisp, sunny days.
Sooo my WIPs are all new and fresh! I've got my blue socks on the go. I'm not a fast sock knitter as I keep them just for TV and travelling knitting really. I've just cast on a black Hanami in loony boony (aka Baruffa Cashwool Lane Borgosesia). No beads for me! I've only done the first garter stitch rows anyway, so nothing to show really.
I've also cast on for a hat in DB SoHo, in the beautiful lilac and blue colourway. I've no idea what I'm doing with reagrds to how many sts to cast on, etc. So it's entirely guesswork and may get frogged a few times before success occurs. I've got a whole load of hats to knit up so should get my bum in gear!
On other notes, I'm writing up my first ever CV! I've always talked my way into jobs but have finally realised I should write up a CV. It's mind numbing...