As usual, I've left it for ages befor eupdating my blog, and it's become a big job. I don't have many WIP photos, because I'm *still* doing the horseshoe lace stole and trystero socks. But I did some stashbusting as interim projects, and I did a very simple garter stitch scarf and the one row scarf.
Here's the one row scarf - it's a great pattern, dead easy and quick but looks great (I think)! This is a random aran wool that I got in Harrogate. It's really thick and warm!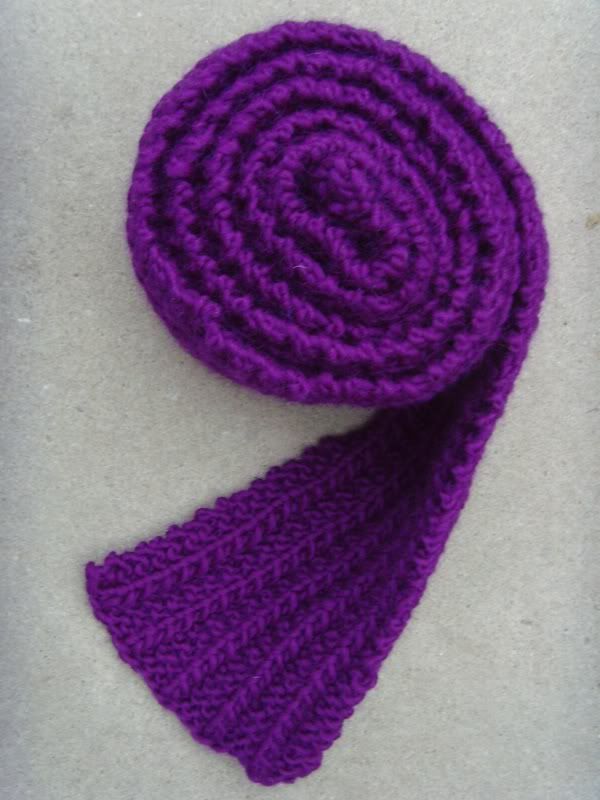 This is the garter stitch scarf (how unoriginal!), it's in Rowan romance, and I only had two balls so it's just long enough to go round my neck and tuck under a coat.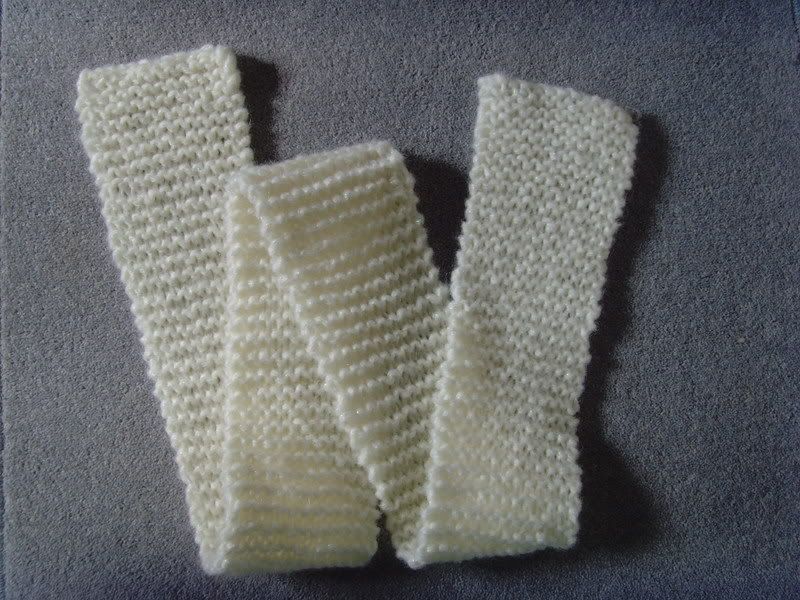 I got tempted on etsy. I've decided it's about time I worked on my sewing skills, so I ordered a sewing kit for a tote bag. I also got some beautiful Japanese ribbon from the same seller, it's sooo cute!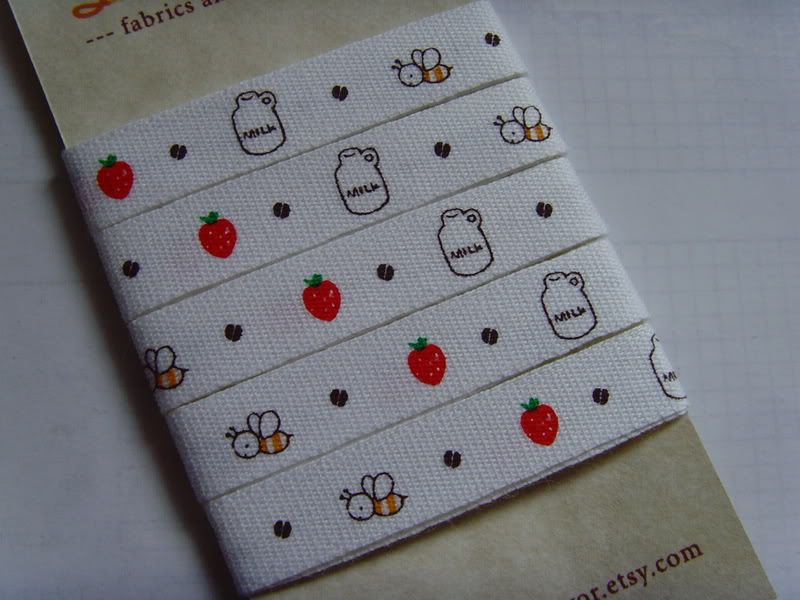 This is the fabric for the tote:

And more ribbon, which I think is lovely:


Here's the kit: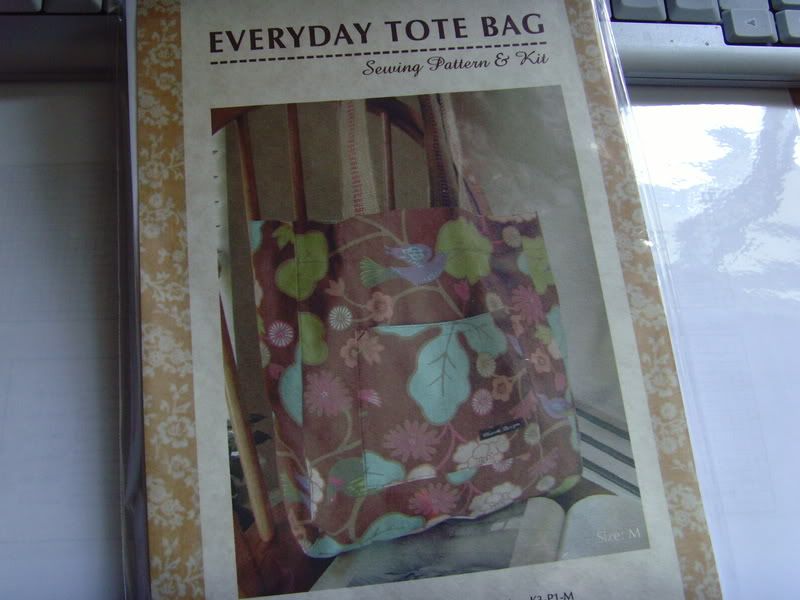 Here's a gratituous puppy photo! Notice the tongue stuck out, I think it adds the cute to the photo! She's nearly 6 months now!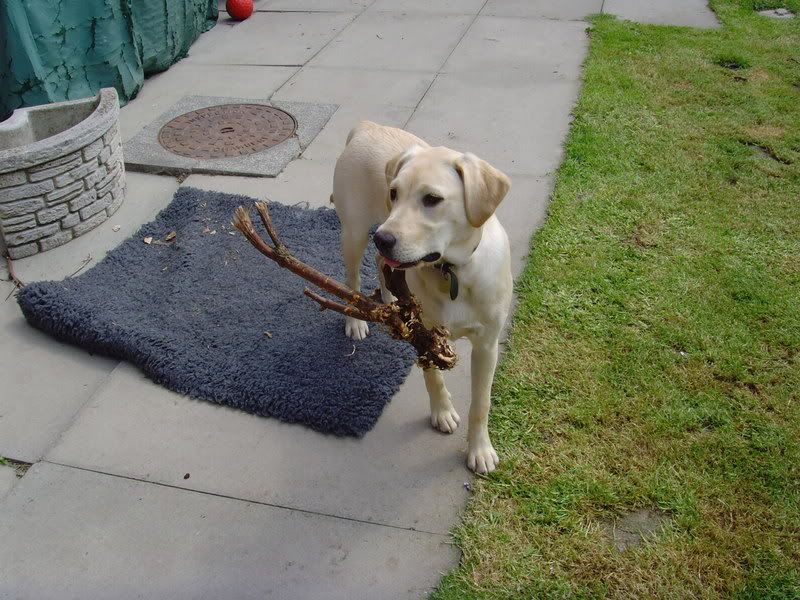 We have wild Irises in our garden :)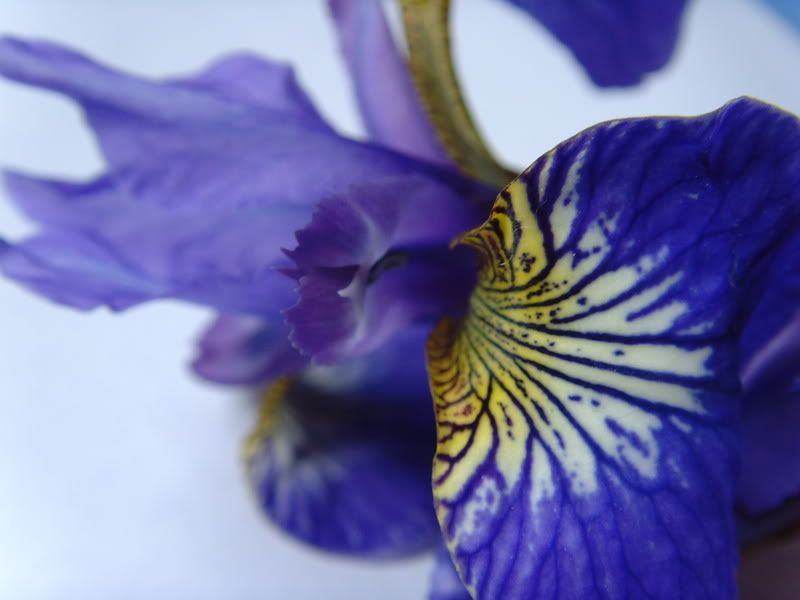 Here's Solomon, the bonsai I promised to show you a photo of. He's very happy and is doing very well. I'm really chuffed with him!
I welcomed WoollyButterfly into my shopa couple of weeks ago. She mostly makes beautiful bags, such as the ones below. They're all really lovely! I'm going to have to buy one off her! She's joined my shop in the hopes she might sell a bag or few, they're £12 so a good price (I think!), though I think they'd look well placed in a boutique sort of shop!
Here are a couple of the lovely bags: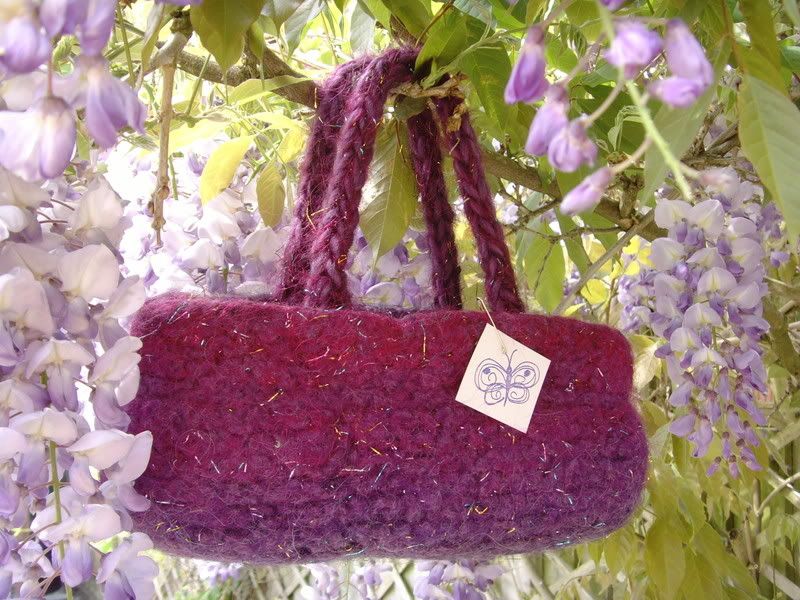 I've done a huge amount of dyeing. I did 20 skeins for wholesale, 40 skeins for my shop, and some fibre, (I've still got to do the fibre). Here's the box full, quite a lot of it has sold already so the box is a bit empty. I just love diving in it! It's all BFL sock yarn by the way :) (lots of laceweight coming in July)
I'm obviously not goint to put in 40 photos of yarn ;) so have picked out a few to show you!
This is Firecracker:

Wild Fire: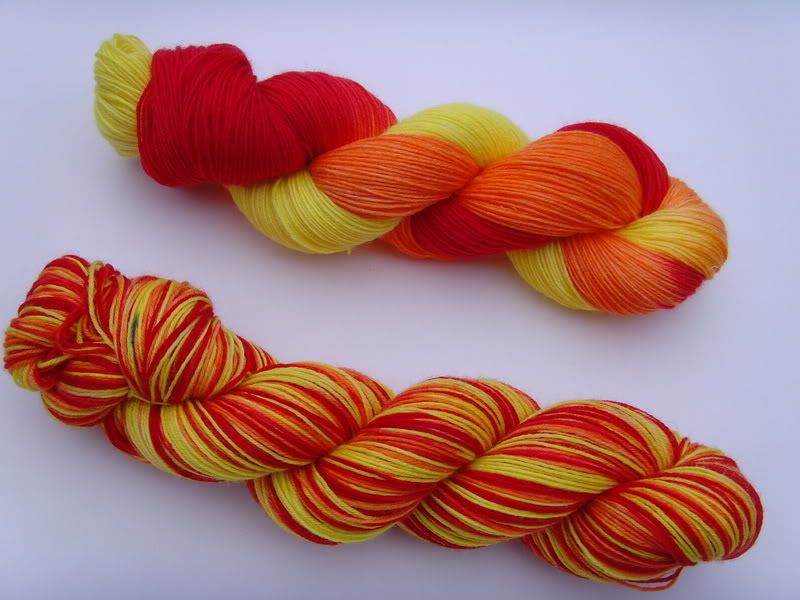 Fresh Berries with lilac:

Sea Spray: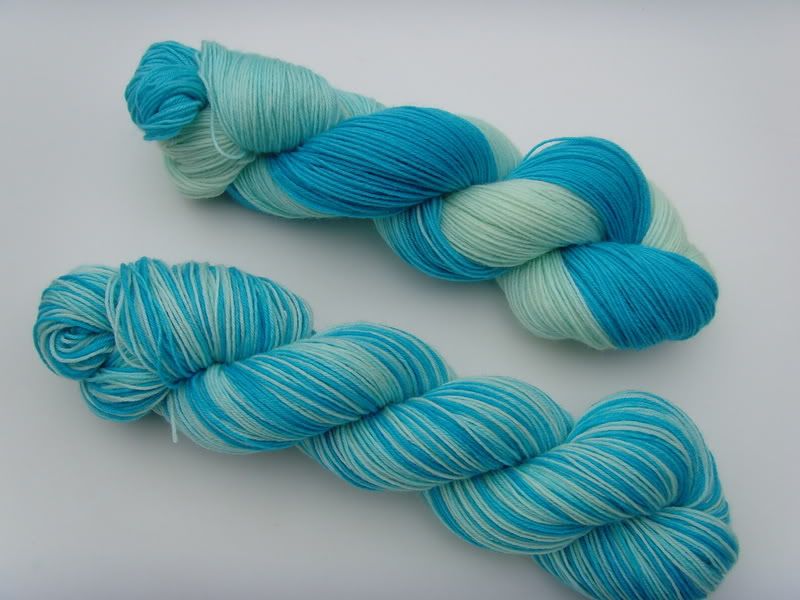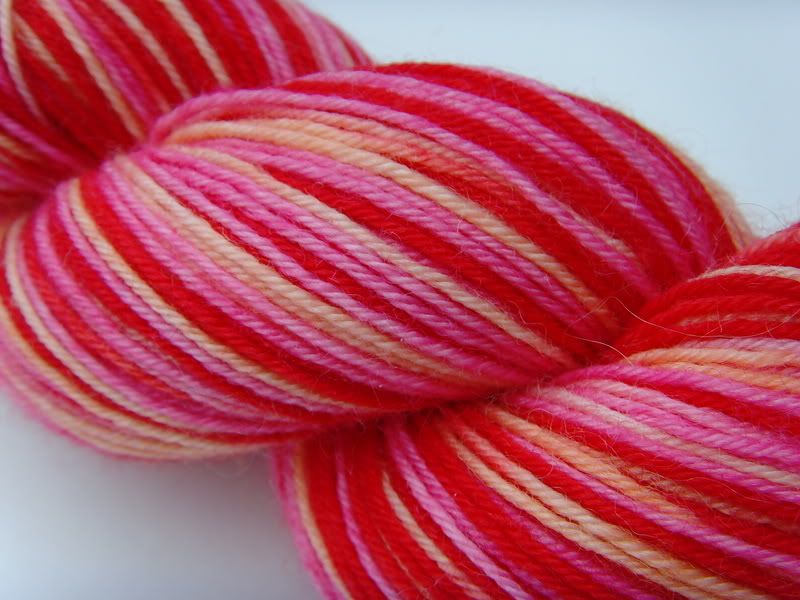 Strawberry Dreams (now reskeined):
Pixie: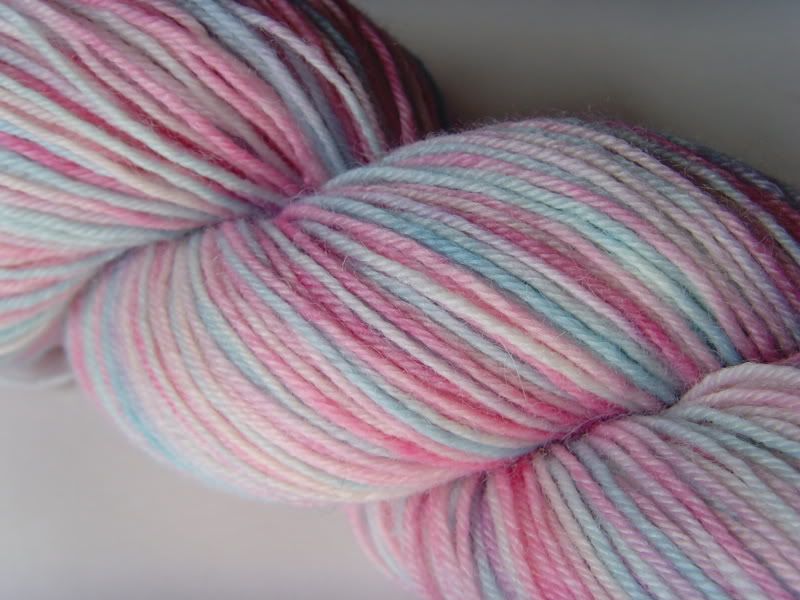 Pixie BFL roving:

Pablo BFL roving: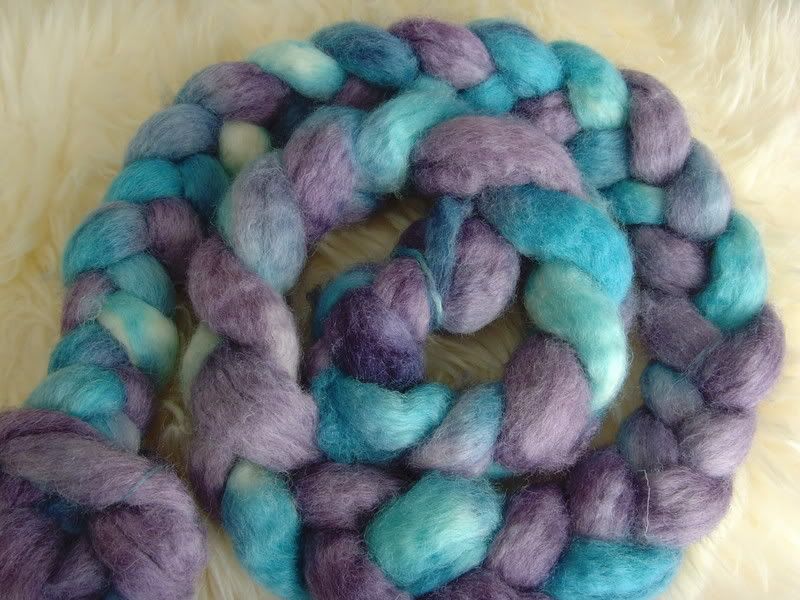 And that's it! I've very nearly finished the stole, so there'll be a post on that soon. And I've got most of the Trystero sock (on hold) to knit too. My stashalong's going really well, the shelf's about 2/3 full now.
I have some destash items for sale:
- 1 skein black loony boony on a cone, for £5
- 1 skein zephyr in Lilac for £5 (I bought it by accident - actually need violet!)
- 2 balls natural colour (brown) aran weight manx loaghton (sp?) £4
- two half balls, of about 200g each of Sirdar YoYo in toffee/fudge/caramel - £12
I'm putting these in my etsy shop, just cause I may as well, and will put them on Ravelry and the AY forum. If you'd like them, feel free to email me at
WildFireFibres@googlemail.com
:) If you reeeeally want to swap, I'll do that, but would prefer cash simply because the whole idea is to
destash
!! :)