It's woolfest at the weekend! I'm SOOOOO excited! I haven't bought yarn for 6 months now, as my stashbust started at Christmas, and finishes on saturday when I go to Woolfest. I've used up most of my stash, so am very smug.
Anyway, first I've done more dyeing so I'll show you that first.
I had a custom order for Broken Stones on Merino/Tencel sock, and Ocean View on BFL sock, four of each. So here they are..
Broken Stones: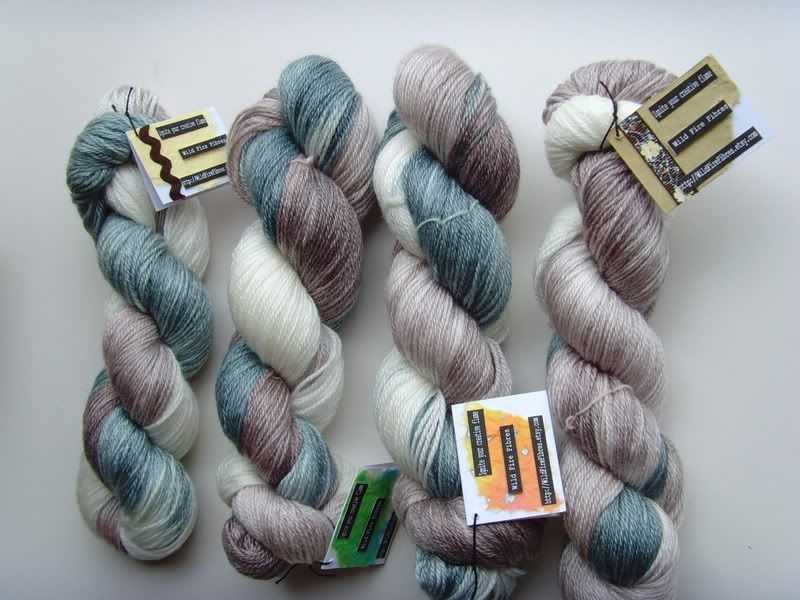 And Ocean View.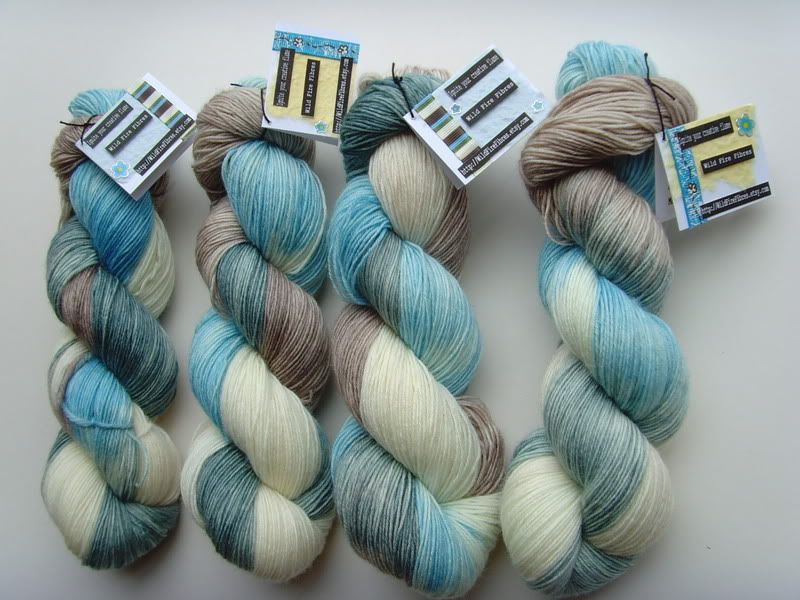 They haven't arrived with the recipient yet, but I think she'll be happy with them as she already has quite a bit of my yarn in her stash.
Here's Autumn, it's a bit brighter than usual.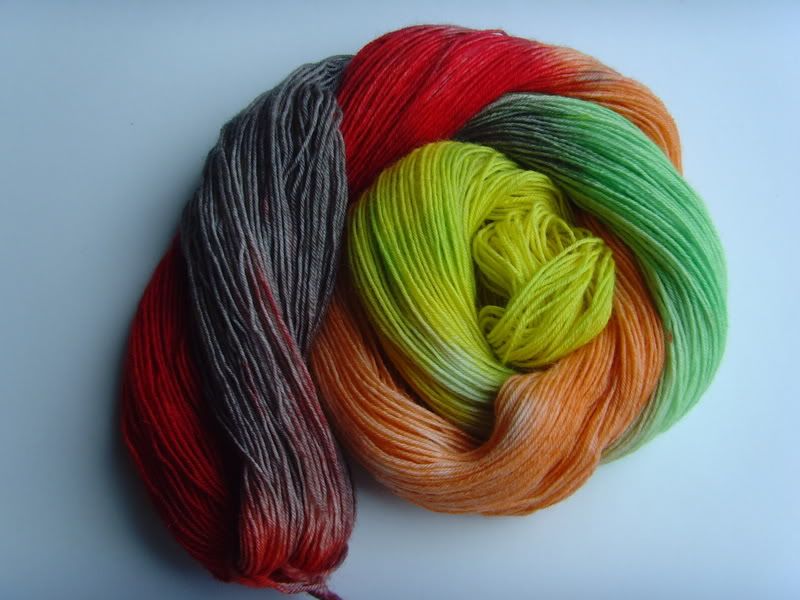 This is a new one, it's called Inca. It's proved popular, and I've kept some for myself too because I love it so much :) I'll definitely be doing lots more of this!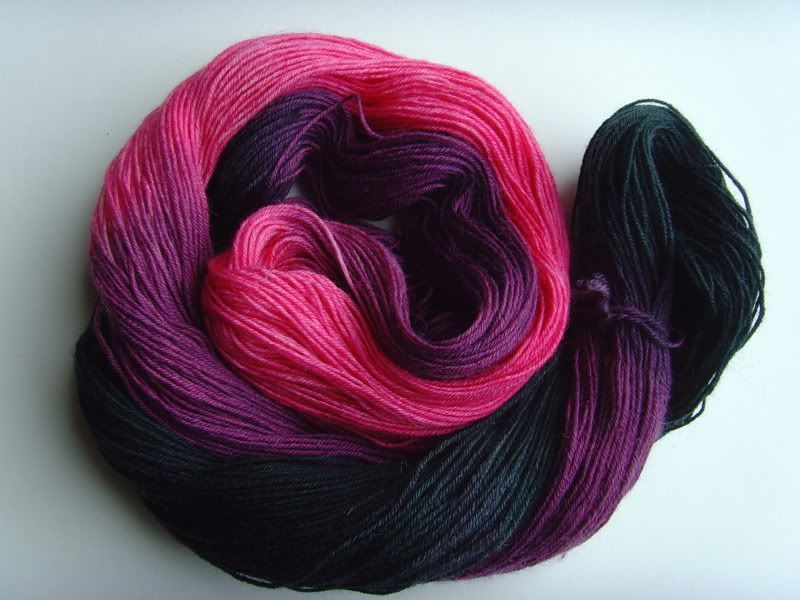 Here is another skein but reskeined:
This is duffel - inspired by a lady's duffel coat who was in front of me in a queue in the bank (I was there half an hour so had plenty of time to think about the meaning of life and other such important subjects *cough*yarn*cough*)
And Kelp, a rather bright skein. The blueish colour and the mid green aren't too bright but the lime is uber bright. I don't like green much. But I'm saying that less and less these days, because I *love* this skein!

Here's some of my stashbustng. I've done most of the projects I had planned, but am doing some last minute projects using the chunkier balls/skeins of yarn!
These mitts are crocheted, I justmade them up as I went along and they've turned out well. I've called them my Paladin Mitts. They're done in Wendy Fusion, colour - Mace.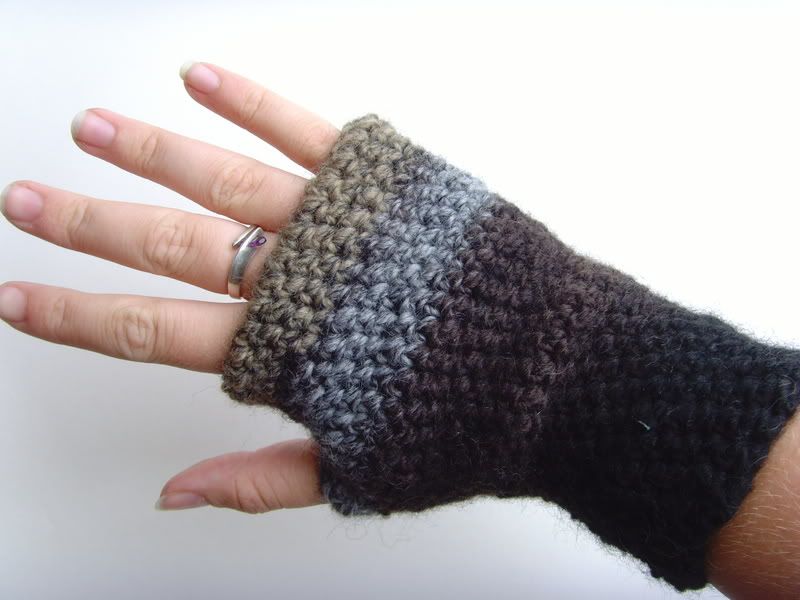 I did start the Summer Sampler Stole from BadCat Designs, but didn;t get on with it. So I decided I'd best get on with my stole for Venice (I'm going in August). So I decided to do the
Upstairs Shawl, in Rowan Kidsilk Haze, colour - natural. It is lush, I think it's actually quite a lot softer than the Kidsilk Night, which my favourite FC is done in (and I wear it loads).
In the few hours since this photo, it's grown considerably. It's a really good, easy pattern but effective.
And finally, here are my Lotus Lace socks, from Kai Mistry. It's a gorgeous pattern, really well written, and I think it suits the yarn, which is my own BFL sock in colour - Delle. I'm really chuffed that the colour stripes are spiralling :)

And finally finally. This is the stash. It used to take up both these shelves - look how much I've used!!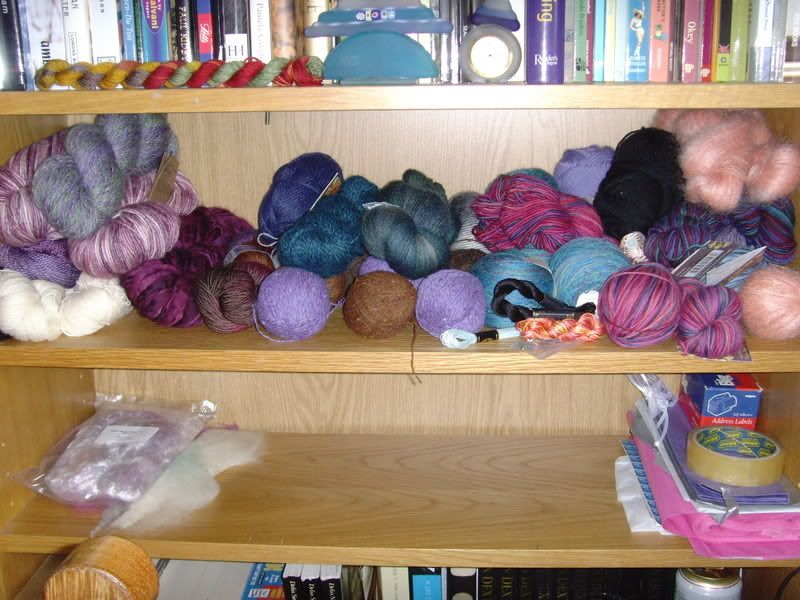 It's all been reorganised and takes up half that top shelf (it's stacked properly now). There's plenty of room for my inevitable Woolfest Booty. I can't wait!