Ok, here's the Forest Canopy version Two point O. It's done in Rowan Tapestry, and I'm very, very happy with it! The Tapestry feels like it's going to fall apart as you knit it, but to block it I soaked it in water with a very gently wool wash, and it seems to have made the fibres less loose somehow.
It's for Mum's birthday :D
Closeup draped on Mum's Aisa (sp?).
Even closerup!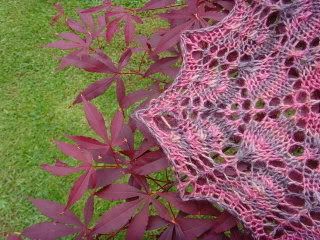 I had a dyeing blitz for two days last week while Mum was away. Mostly because it's the yarn I stole off her that I was dyeing and clearly I don't want her to recognise it before it goes in the pan!
It's all 2 ply yumminess, the first one is kind of Teal (it was meant to be more bluey but never mind!). There's 1000 yards over three skeins, and I'm going to use it for Queen of the Waves (when I eventually knit her).


Before and after. You can't even tell I took 1000 yds off that cone, it's so big. It's a tweedy pale blue and I wanted a more rich colour you see.
Next is another 1000 yards, this yarn is a bit more fluffy and I suspect has a bit of manmade fibre in, because the colour was seeping out for ages, despite fixing it. I kept washing til the water ran clear, and this is how it turned out. It's sort of purple and plum. I love it!
Oh I forgot to add - it's going to become Hanami.
Before and after!
And finally, bright red, for the Baltic Sea Stole. Not exactly your traditional lace colour, but I thought I'd do something unusual, plus it'll match my bright red skirt! This is 1000 yards as well. There's a slight variation in colour, but it should be ok I think.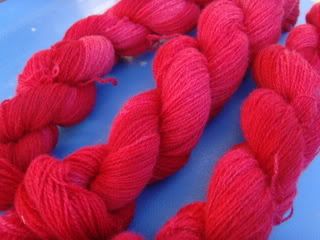 Finally, my Opal socks. I did them on 2.75mm DPNS - oops!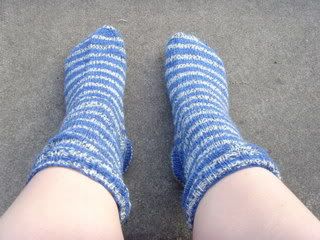 Inca approves...
I'm actually in the Isle of Man right now. I did loads on my shoalwater coming over on the Ferry. My OH's working here, so I get a free stay! It's hot and sunny, but sadly the air conditioning on the ferry made me really ill last night, and so I've been stuck in the hotel all day today. I slept til lunch time, and am up now, but my head still really hurts, but I'm going to have to go out and get some lunch, because I'm ravenous! My OH should be back around 3pm so we'll go sightseeing and exploring (he's also bringing me paracetamol from the pharmacy!).
I still have the "Do not disturb" sign on the door, I bet the cleaner's going to pounce in the room as soon as I go out! (I'm quite embarassed about it but never mind!)
I'm currently knitting my varied scarf, boring black socks - originally for Dad but they're too short so I'll have to buy him a Father's day present, and my shoalwater. Yey!
The hotel has free wireless broadband - it's great cos I'm on dial up at home!
Anyway, ciao for now!