Well all my projects are still in progress, so there's not much to report. I finished the boring black socks, but there's little point putting up a pic of boring black socks!
I finished my wall hanging "Water", it's perhaps not as 'striking' as I'd hoped for, but I'm happy with it. BUT I can't put it up till I create a wooden frame for it! So no pics yet!
Here's Mum, very, very chuffed with her Forest Canopy :) She's shown it everyone she's met, and takes it everywhere with her. I don't know if she uses it, but I'm just happy she's taking it with her!
Doesn't it suit her!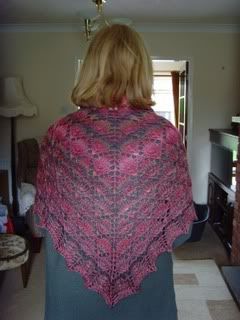 Here's the 'varied' scarf I did. I'm stashbusting my 'fashion yarns', and couldn't think of anything more original (ha!) than a scarf.
This is in stripes of Wendy Moiselle, Patons Spirit, and Patons Moonglow. They are a lovely combination actually, even though I do say so myself!!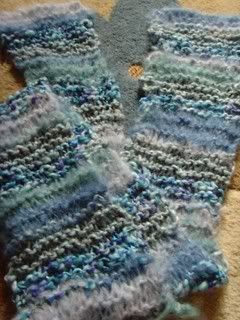 Shame it's the middle of summer, and I don't actually need a scarf.
A couple of weeks ago my OH was working in the Isle of Man, so I got the ferry over and met him there and had a free, four day holiday. On the ferry I got loads of shoalwater done, but also fell ill.
I got chicken pox. GRR! Of course, I was really ill over there, and then as soon as I got home I was fine (just spotty).
Here's a field of cotton :)
And a beautiful flower, which embarassingly, I don't know what it is. (Feel free to enlighten me!)
That's all for this week! WIPs are - Bamboo socks for OH, Shoalwater, Yoyo jacket (which I'm doing the final border for - home run!), and a patchwork leftovers blanket. I'll add pics when I've got something to show for my efforts!
OOH I forgot - I went to my first ever knitting group last night - the Preston Stitch n Bitch. It was brilliant, the girls were lovely and friendly and I felt I fitted right in :)
It's also Woolfest a week today. YEY! I need to find some money for it though. I've got a huge amount of coppers saved so will see how much I have there!
I better go and get on with my uni work anyway (ugh).
Ciao for now, and I need to do the thing I got tagged for - will do it this evening (honestly!).