Finally!! It's been a while, but I now have broadband in my flat, so expect more regular updates, and stuff to be for sale more frequently. I've decided, after much chopping and changing, that for now at least, I'll have to stick with ebay rather than etsy. I've got loads of stitch markers on there now, and am hoping to get 2 ply lambswool on there soon as well. I'm handmade_with_care on ebay if anyone's interested. I'm trying to keep my stitch markers pretty but affordable, because I know that often you need more than just one set and I have to say I've seenglass ones being sold for very expensive prices!
Anyway enough plugging my stuff, back to blogging.
first of all I'll start off by telling you that after this post I also have an Isle of Man post to do! I'll do it someother time though.
I found a new LYS in Venice, and greatly regret not going in. I had very little money and couldn't see any prices so my OH decided it was a bad idea. Oh well there's always next year!
This is what they have hanging on the wall outside the shop:
Appears to be mostly "fashion" yarns on the dress, but inside it was all "proper" (you know what I mean) yarn.
Doesn't it look blissful.
Here's the view from the Rialto Bridge, on the left you can see where all the fish and fruit/veg markets are. Mostly squid and octopus, which I have no intention of ever trying.
This is looking down the Grand Canal again, from where we were sat, which was right nexxt to the bridge - almost under it.
Just in front is tha taxi rank and bus stop.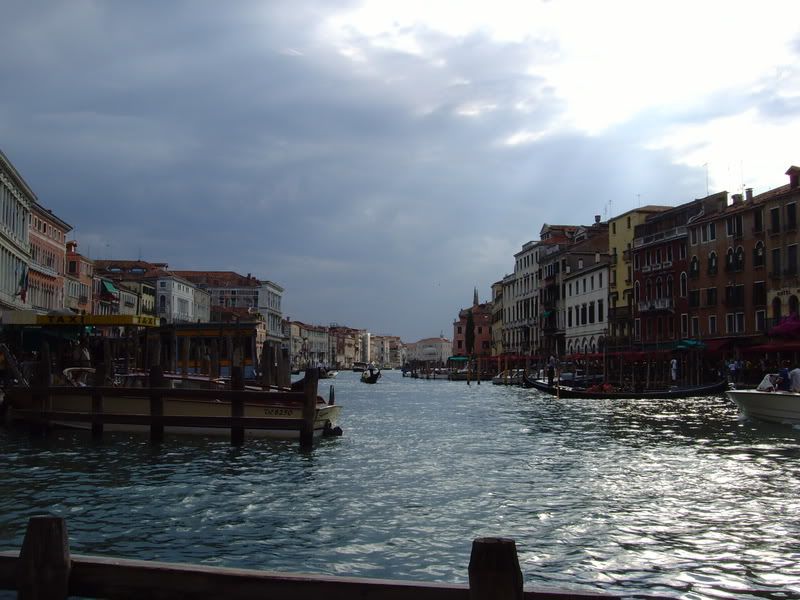 We had a few wet nights but no one cares over there, you just carry on anyway because it's warm enough to. This is the Rialto Bridge, which I'm realising features heavily in this year's photos - sorry about that!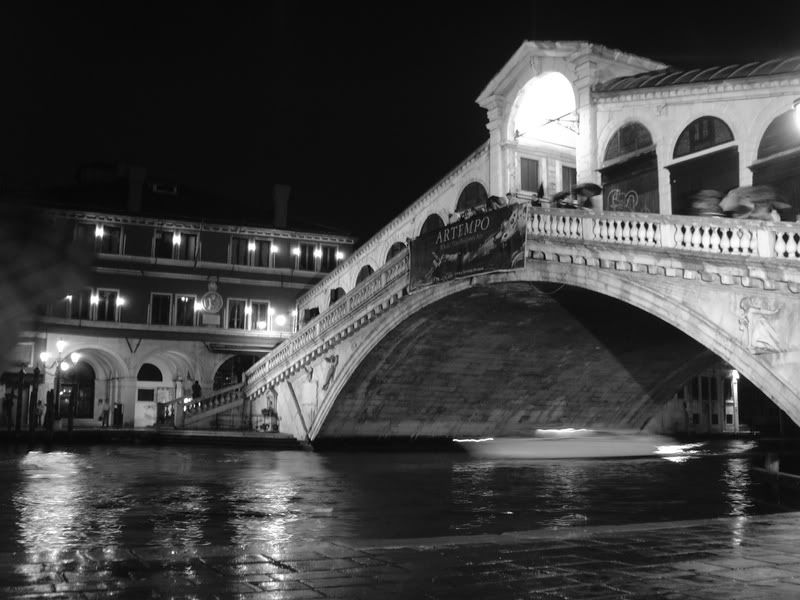 Now let me just tell you that it's very difficult to take night shots on a small digital camera, with No Tripod! (That gets capitals because it's very important).
So before you ask if I was drunk, no I wasn't, but I'd have probably got a better pic if I was.
Piazza San Marco:




It's the only proper square in Venice, the rest are all oficially courtyards etc, emphasising the importance of st Marks. On the top left you can see the clock tower, and on the right the Palace Ducale, the palace of the Doge, who was a religious figure. You can probably just make out the Basilica ahead on the left.
Well you can see it below anyway. It came out really orange because of being a night shot so I decided black and white was less sick inducing.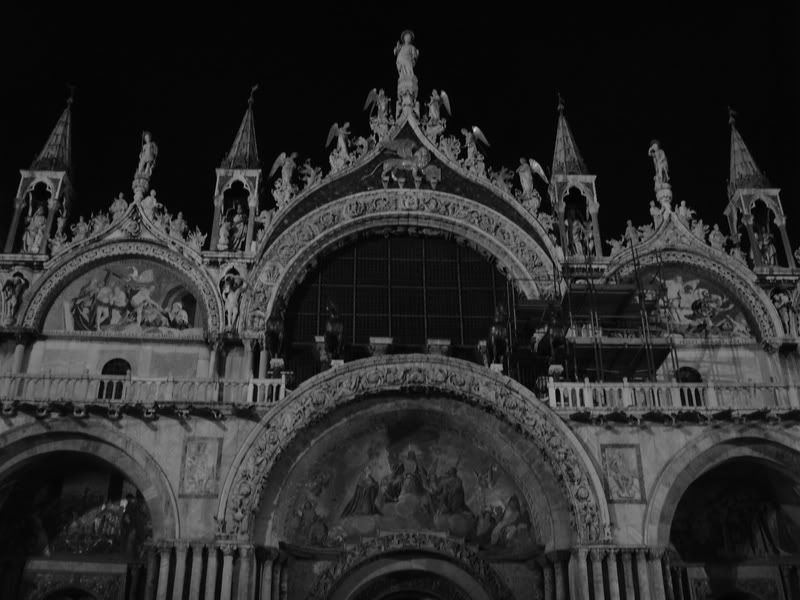 It's really hard to get these places without people filling the frame, or without it being just another shot of the same old thing. Last year I took a lot of unusual photo's on my SLR, but this year I resigned myself to just enjoying it and taking less photography. Well actually I couldn't afford much film but shhhh!
Below is a Basilica on Murano. Which as regular visitors to Venice we were disappointed in. Not because we're spoilt.. well we are.. but it was because every single shop was full of the glass they make. Now don't get me wrong, it's lovely, but we did, stupidly, think there would be more unusual shops like in Venice itself. Nope! It's all glass! It's very nice apart from that though!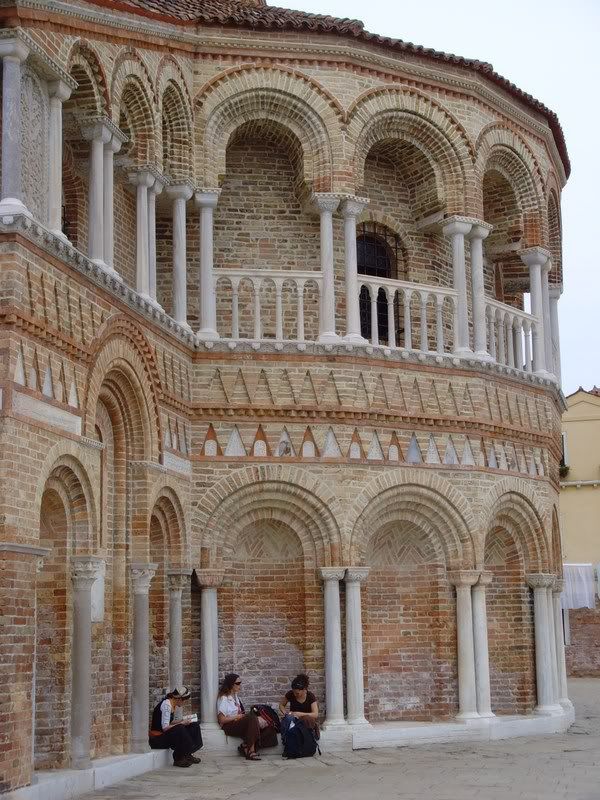 Well that's all the photos worth putting on here. There's lots of myself and OH but you don't really want to see them. I've not had my films developed yet, I think I only took two (!!), last year I took about 8, and got some really unusual ones but this year didn't bother as much. If there's any decent ones on the films I'll post them here though.
Ok back to knitting. I've not much to post, I'm STILL on the moss socks, I'm just not inspired by them sadly, but I am nearly finished the first one!
I'm also doing the Baltic Sea Stole. I've been doing it just over a week, and am on the 6th (out of 13) repeat. I am really, truly enjoying it. With the FC I get a little impatient towatrds the end when the rows get huge, (as much as I love it), but with this, it's been great every repeat so far!
It is the first stole I've done, and the first time there's a pattern on the reverse, or wrong side row. I prefer it I've decided, because it keeps it different all the time, and yet each row is quite quick, being only 111 stitches. At the mo, while I have quite a lot of time, I'm doing about one repeat a day, though now I have broadband that's slowed down again!!
That's one repeat-




And this is at the end of the 5th repeat-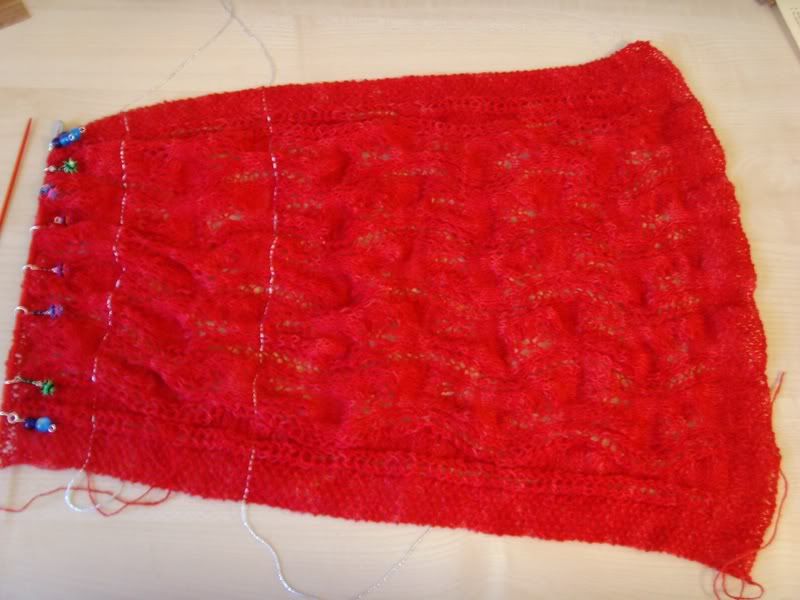 It's growing quite quickly, with each repeat being about 4 inches and 32 rows. I love it!
Ooooh, a while ago I posted a boring pic of some tiny seeds in a tray. Well this is some of they! Shallots no less, grown organically by myself! And very tasty indeed! (I know, I'm biased here)
I gave loads to OH and they're dead, so I'm glad I kept these four. I've got sweet peppers too which should be ready soon - if they aren't they'll probably die because it's getting cold for them now.
And OHHHH - I have babies!!!!!! Baby fish that is..... we have a huge tank in the lounge at home, with lots of Corydoras catfish, which are very sociable, and very lovely, in a fishy sort of way.
Anyway I couldn't believe my eyes a couple of weeks ago - I noticed loads of tiny corydoras swimming round! How exciting! Anyway, there seem to be four bronze corydoras, and three peppered corydoras. They are very cute, and the peppered ones are so tiny you can hardly see them! they are about the size of half your smallest wee finger nail! The adults are about two inches long.
Soooooo here is a piccy, if you look at the front on the right, there's a wee brown smudge, about half an inch in from the right as I look at it now. You may have to click to enlarge the pic. Anyway that's a baby bronze corydoras - and that's the biggest one!! The white fish is an adult albino corydoras, and the one at the back is a panda corydoras (I think they're called pandas).
I know this is probably boring to you if yo're reading this, but I think it's terribly exciting! *is sad and geeky*




Ok ok, back to knitting now. Below is the andi messenger bag, all lined! Wooo! It's the first lining I've ever done, and I'm very happy with it. It was hard work, but well worth it as the bag's now in full working order, and I'm very proud of it!