This is what they would be like!!! ->
Huge!
These are my first christmas present, I know it's only October (I nearly wrote September then!), but I have loads to do, so thought I'd make a start. These are felted mitts, done in Paton's Jet, which is a beautiful blend of 70% Alpaca, 30% Wool. It felts beautifully as you'll see below!!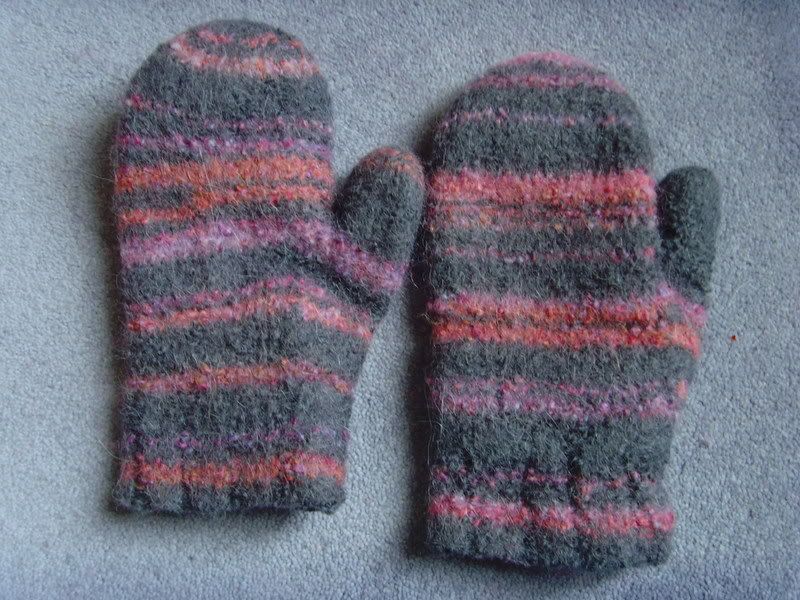 Before.......
....... and after!





This was on a 40 degree economy wash, and they have shrunk absolutely loads, they are lovely and thick now! Can you tell I wish they were for me! :p
Anyway... because I was doing said mitts, this hat, in Wendy aran with wool, got put on hold. I can't say i'm particularly enjoying it, and there's a lot of T2, which makes the stitches tight, and I dont think is overly attractive. A typical row has P2 (or K2), T2 a few times, then cables, then the twists again, so it's not easy because of tight stitches and being fiddly. Not only that but the pattern doesn't seem to show up very well in this colour!! So I'll crack on with it now, and see how it goes. I'm sure it'll be ok, but don't think I'll do this pattern again. Specially not as a cable beginner!
I do love the colour though, I have to admit.

I've been busy today playing with clay, and have made these wee Bobombs, from Mario. I have to say I think they're adorable, and I'm thinking of making a few big ones to give to my friends as keyrings (they are 3 guys who are all geeks so would totally appreciate these).




I also made these today! My first crack at making my own knitting needles - well the toppers anyway! They are bamboo 4mm needles, and I baked the toppers onto them, using clay and glass beads. I think they're really cool, and hope to make more, but they are pretty expensive to make, so I'll probably not make many.





And ooh! I nearly forgot about this guy! He's my first crack at clay sculpting (or whatever you want to call it!), he's a wee viking, which I'm probably going to make my shop logo, blog logo and avatar. I was going to put a pair of tiny needles tangled in his beard (but in skull & crossbone style if you know what I mean), but decided they would ruin his beautifully groomed beard, so I left it to it's own devices (the beard I mean).
I'm proud of him! :D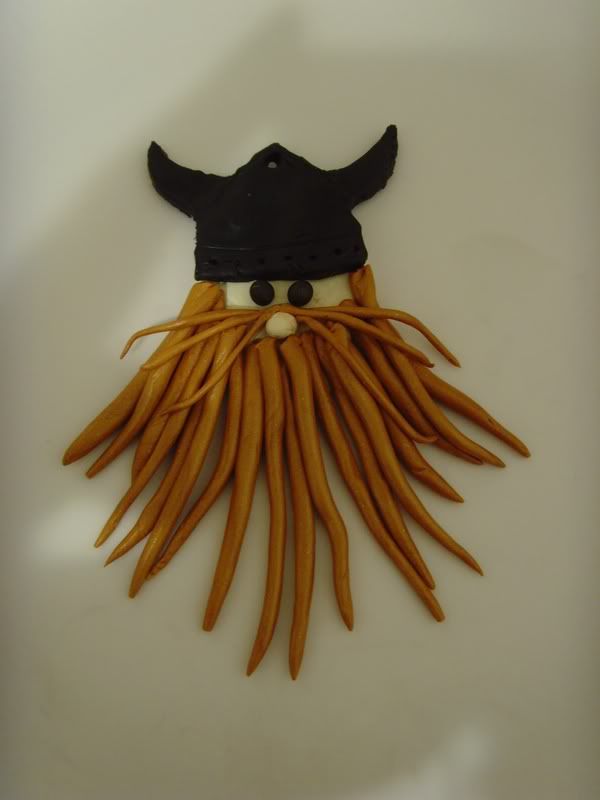 I'm going to have a go at this hat again now, and i'm knitting a sweater in Sirdar Blur, in black, but it's all stocking stitch so it's really just a black lump right now! I want to cast on some lace, namely Kiri, but should get my hat done first!
So much to do, so little time!!