I'm in I'm in I'm in!!!
I'm VikingKnits on there, and I love it! It was very addictive uploading all my stash, projects and stuff, and it's a brilliant resource. For example I wanted to see what I could do with one skein of Colinette Point 5, so I had a look at all the projects done in the yarn and found some great stuff!
Anyway, my Forest Canopy's going slowly but well. I have loads on the needles right now, and knitting with mohair is a skill in itself!! I have found I have made the same mistake now on every Forest Canopy I've knitted. I'm wondering if when I purl back accross the WS if I'm picking up a stitch or purling two together by accident. I'll explain below.
You can see the left side on the left, which is fine, and compare it to the right side, on the right (assuming this stays how I laid it out when I save). I'm not entirely sure what the mistake is, but if someone can tell me that'd be great!
I unpicked that and redid it and it was fine. I'm now much further on, and am doing it quite slowly so as to be sure with the stitches. The other thing is that the yarn isn't of a great contrast from the colour of my Addi Turbos, so it can be difficult to see. If I can get some bamboo circs I will use them instead.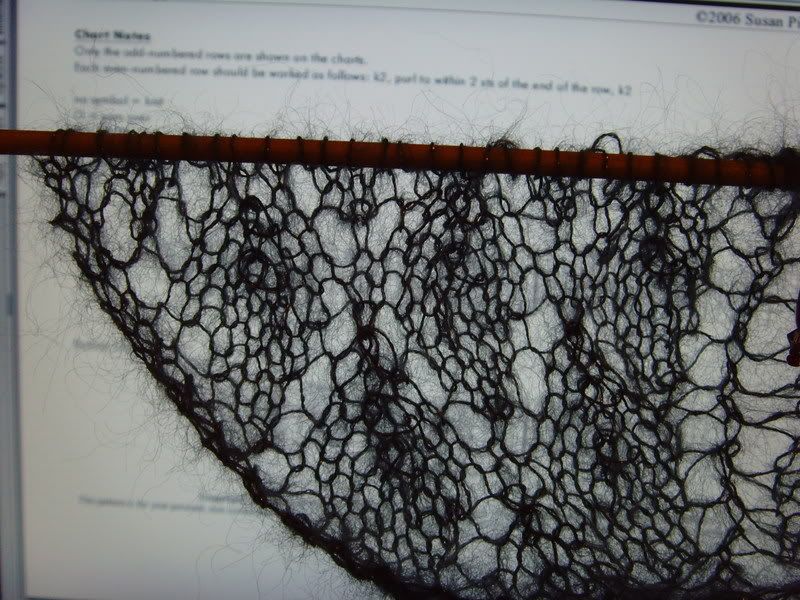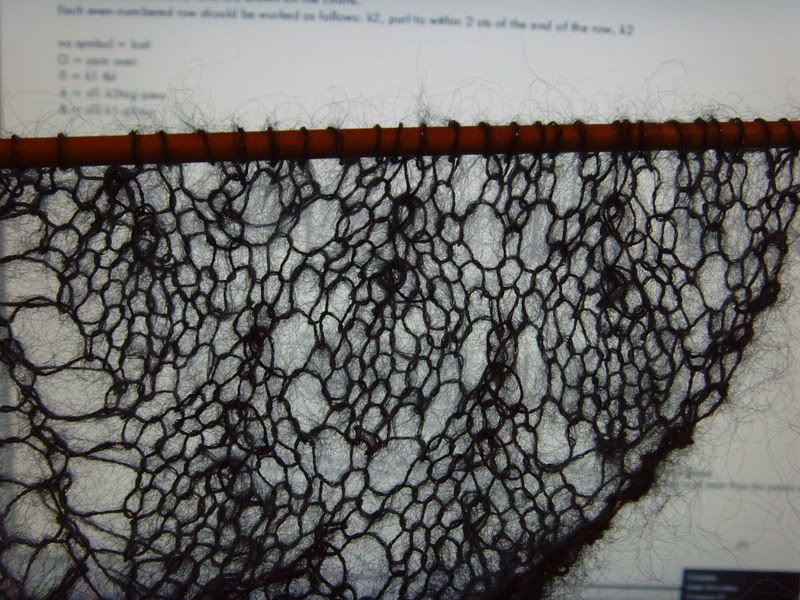 The pictures below are from yesterday, it's now two repeats bigger.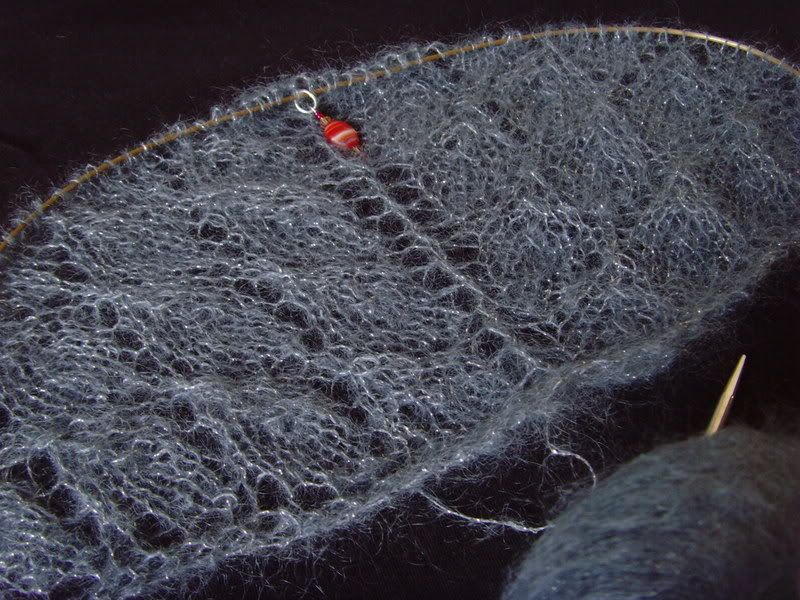 Ok, I had to take pics of my latest stash for Ravelry, so I've put some below.
First, Mirasol Hacho, in blue, then in pinks. It's 100% Merino, and is sooooo lush! I don't know what I'll do with it but it's so beautiful I'm happy just looking at it!
*drooooooool*
This is Trendsetter Tonalita, for the Cerulean project from Knitter's, Fall 07. It's designed as a table runner, but I'd like to use it as a wall hanging. It's a series of squares, that are crocheted together in a diamond pattern.. if that makes sense. I've never crocheted so it'll be fun!
Below is Jaeger Matchmaker 4 ply in lilac. I have it in this and black for my endpaper mitts when I eventually get round to them! I've never done colourwork so that'll be fun as well!
This week I had a crazy idea. I thought I'd enter the embroidery competition on
Craftster
, having never embroidered in my life, and having two weeks to learn, design and make it. It was for two pillowcases, depicting opposite ideas, and I was going to do summer and winter. BUT... I can't afford to go buy the stuff for the summer one, so I've had to give up on the idea.
However, I did teach myself to embroider and really enjoyed it!! So with my new skills, I'm going to still make a winter wall hanging for my Mum for Christmas! :D
Here's a small amount of my practising piece....


The other day I had a request on eBay (greedBay), to make these strange, scary, slightly cute, rabbity things from an anime film called Spirit Away.
I personally think they are terrifying.



I made these cute strawberries, tried to give them wee faces but couldn't pull it off, so left them plain. I quite like them, but will try again.


And here's some of my successful ones. I made a set of ghosts, called George Ghost. He has a wee tail that you can't see too!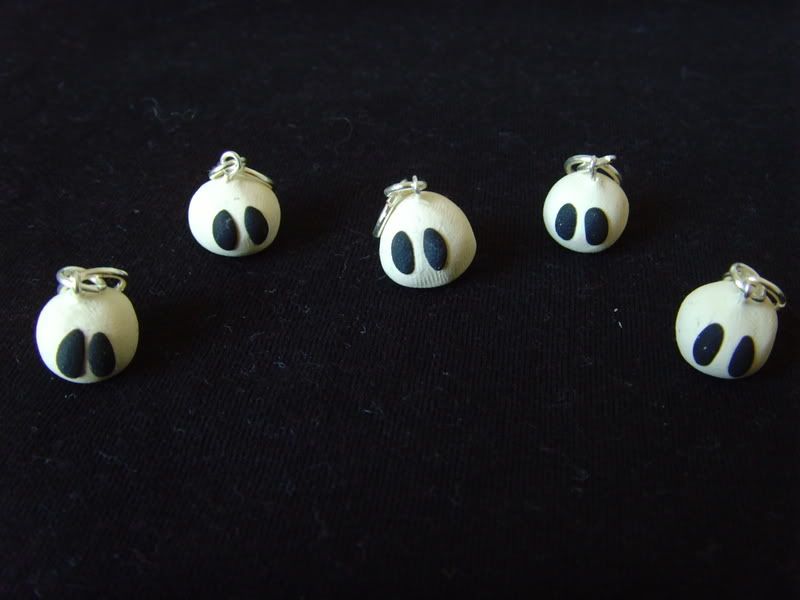 These are being copyrighted (I'm a meany I know), because they are my own design and I'd be upset if I got ripped off basically.
On a nicer note... below is Peter Pumpkin, and Timothy Tomato, as you can see they are dancing about trying to avoic being squished into sandwiches!!
I think I'm going to make these into Keyrings too, and give them my friends for Christmas! I think they'd be cool wee presents! The only thing is I'm wondering if I should glaze them.. I'll give it a try and see what happens.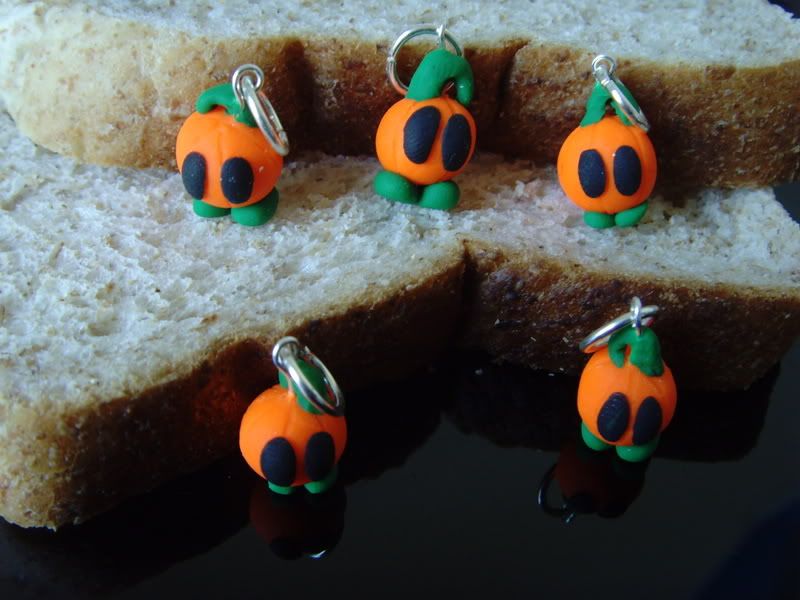 Anyway, Mum's lace scarf is coming along slowly, it's 272 stitches, because it's knitted lengthwise. The Lucy Neatby is beautiful if somewhat impractical, and it's a great chance to test my stitch markers for being snag free seeing as I'm using about 20 of them!!
My Blur jumper's knitting up fast, I'm halfway up the font and have finished the back, so it'd be great to do it before my Grandma visits next week if I can (not sure).
My moss socks are *finally* getting done, I'm on the heel so will finish them soon I hope!
I do have other news... if you're not asleep by now :p
I'm registered to start with the OU in Febuary, starting with two modules, which I'm very excited about - Child Development (attachment, psychosis, etc), and Biological psychology (neurotransmitters, depression, exploring the brain etc). These are two of my favourites, I have tonnes of notes on it all, and books, so I'm just waiting for the forms to confirm it all now :D