Phew.. it's taken forever to upload all these photo's!
I'm not getting tonnes of knitting done at the mo, because I'm somehow busy with other stuff, I'm not sure how, but I seem to be insanely busy without getting much done.. how does that work?
So first I'll show you the gloriousness of Scotland.
And looking north towards the Aviemore area.
Images are all clickable if you want to see them *even bigger*!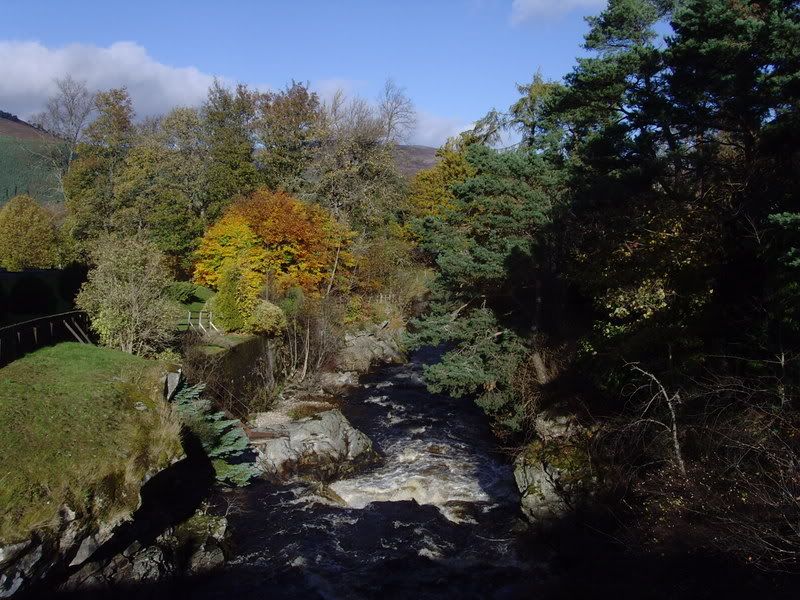 My camera battery ran our shortly after, which was incredibly unprepared of me but forced me to see the world through my own eyes instead of through a camera lens!
Ok here's the knitting bit. This is the jumper, which was fine to knit, quick even, but oh the finished garment was another kettle of fish (which when you think about it is rather a strange saying.).
The shoulders were so baggy it wouldn't stay up, and they wouldn't fold over, so I sewed the down, hoping that if it was folded it would hold it up a bit (it's supposed to be folded by the way).
So I did that, but it didn't make much difference, so on each shoulder I put a thread round the top and pulled it tight, so the shoulder tops were kind of gathered up, if that makes sense.
Anyway that's how they are now, and it fits better, but still falls down a bit. Also the front's short, and I followed the pattern exactly (for once), and the measurements are right. It is insanely stretchy, so I can pull the front down a bit.
I'm hugely disappointed with the pattern, it was great to knit but the finished garment just doesn't behave itself. It's good for slouching about, and is very warm despite being mostly acrylic.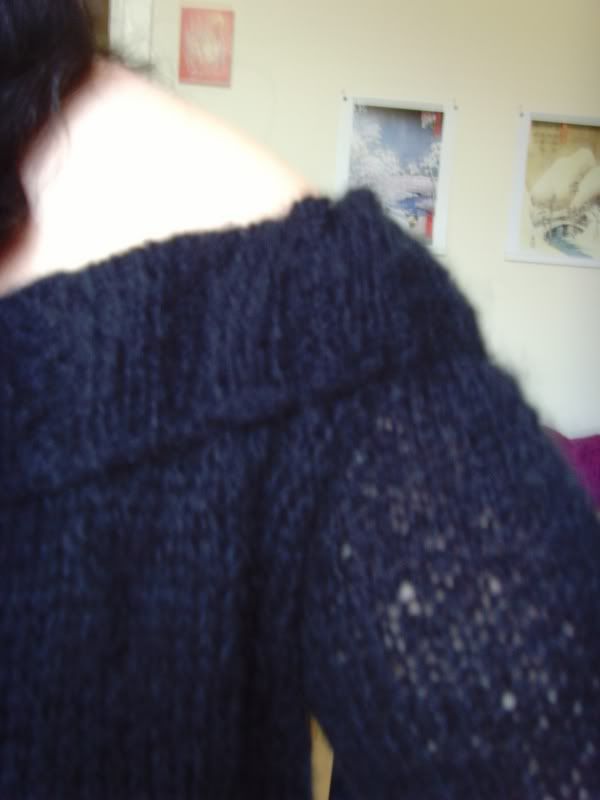 I could only get photos of the top I'm afraid, but the rest is stocking stitch with a ribbed bottom and cuffs.
It's notoriously hard to photography black, particularly in a dark flat on a dark Scottish day!! So I hope you can actually see it a bit.
I'll just explain about this - the pentacle represents the five elements - fire, earth, water, air, and at the top point - soul - which brings the rest together. Also the circle around the tips encapsulates the elements and is the never ending cycle of life and death.
(People who are "satanists" and follow "occult" (depends how you define these, hence the "), turn this upside down, putting soul at the bottom and removing the circle - breaking up the elements and destroying the soul - often known as a pentagram which is associated with occult practice).

Anyhow.. lecture over ;) I hope that wasn't too boring!

It's only long enough for one wrap and one end to dangle, so I button it at the neck. It's also *ridiculously* warm. So warm in fact that I've not been able to wear it yet! lol!
(I hope you can't actually see up my nose there)
My OH was up for the weekend too so I kntted these Fetchings for him in Wendy Fusion. I did them one cable repeat smaller, so they are a great fit and kept his hands warm on the very cold walk we went on.
And I was chuffed with him, because he's so incredibly well trained... look what he brought me!!
Mirasol Hacho... isn't it just divine!




I do already have one skein of blue and one of this pink, so now have 3 of the pink altogether. I've no idea what I'll do with it, but for now I'm happy to fondle it and lust over it :D



My parents came over last week, and brough the hounds, which was ace. Inca (the black one) took a flying leap onto my cosy double bed, only to land about 5cm higher than she started, as my mattress's on the floor. The look of surprise on her face was priceless :D
Bonnie, below, claimed the sofa, including three cushions and my best sheepskin rug. My Grandma went mad!
Here you can see her sulking having been moved.

I know I'm biased but I don't think she looks 12 :D She's pulling a face here because she doesn't like having her pic taken, so she's looking all coy. She's a wolf in sheep's clothing, you can't leave her with the knitting or stash, she'd rip it up!

Ok here's the non-knitting stuff. Well it's kind of knitting. There's an abundance of strawberries for some reason.
Strawberry earrings: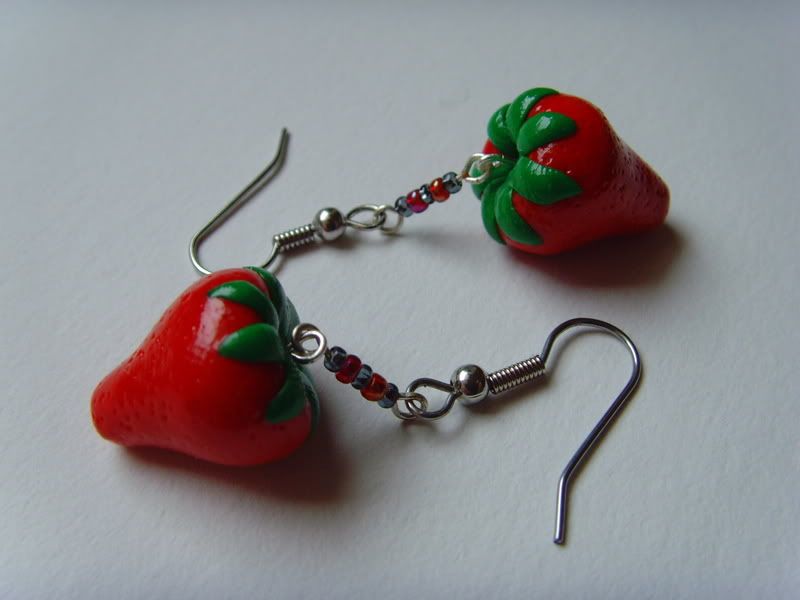 Strawberry buttons:
Sheep buttons:
Bertie the Blueberry stitch markers:
Sheep stitch markers... my sheep do all have wee eyes and noses on them, which look really cute.. except I can't get them to show up on photos! Grr!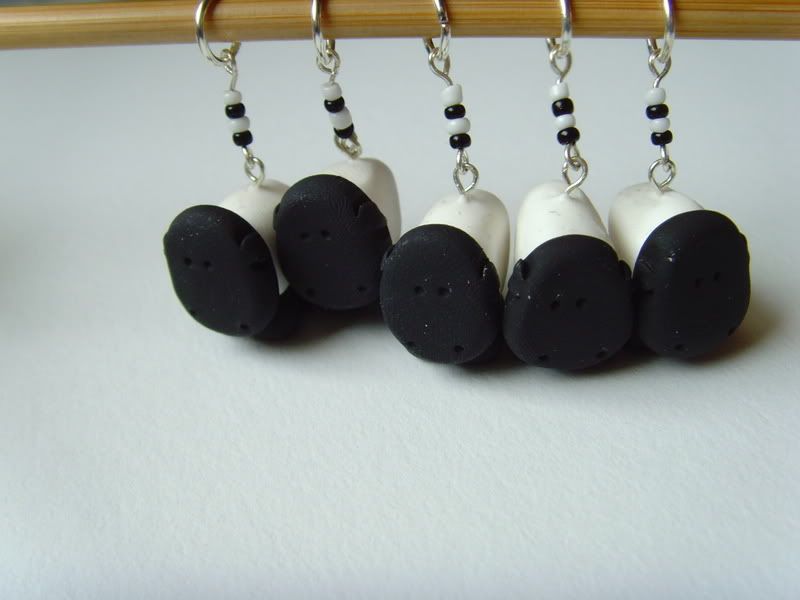 They also have wee bobbly feet which I think are really cute.
Oh more strawberries!



I'm going to get these on etsy now. eBay, sorry greedBay are having a half price listing day on Thurs, so I'll be listing them then. I think it's a lot to pay a 50p listing fee for something you're making say £1 profit on, then be charged 20p commission too... I'm off my soapbox now don't worry!
I've just made some cute carrot buttons too, they need cooking and glazing yet though!
So, WIPs this week - finish green sock, arctic lace, forest canopy, swap mitts, and mitts for the nice lady in the charity shop. Also want to wind off some 2 ply yarn for dying! And also I've just posted off the application for the OU :D