When will I ever learn.. I should really update more often, then it wouldn't take me ages just to get all the pics right! I was going to have them all neatly arranged but it never works out so I'm sticking with a column/all centred.
Anyway, first of all a Finished project! Yippee! It's the Fish Trap Scarf, from Arctic Lace by Donna Druchunas, and the yarn is Lucy Neatby Celestial Merino in Seashells, given to me by MazzaM from the AY forum :D
In my opinion, once the lace pattern was set up, this was a no-brainer, which was great! It was knit down the length, so the rows were very longand I think I preferred doint it this way round. The only problem is that is does curl when you put it on, despite a thick garter stitch border.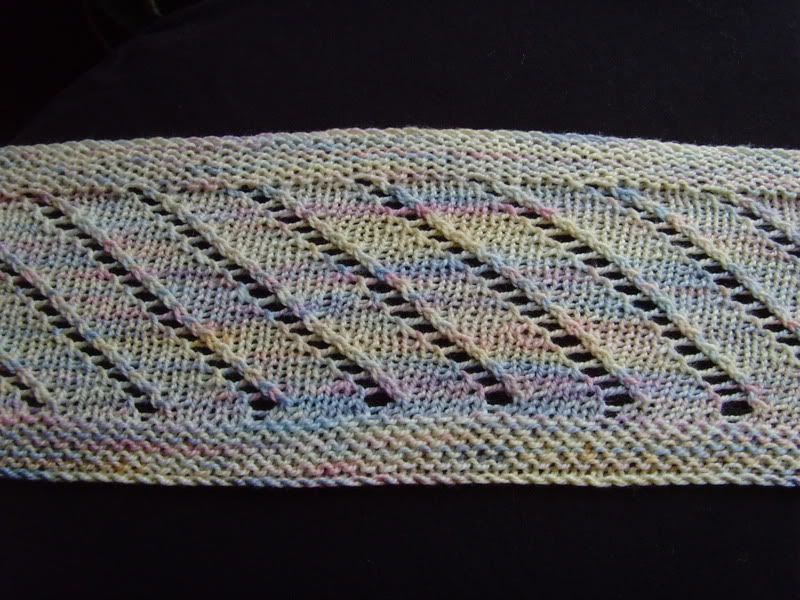 Beautiful colours eh. It's going to be a Christmas present, but I don't know who for yet!
I made this pin cushion for my Tea Swap (Ravelry) partner. She's no idea who she is! Teehee! What fun! I love this tactile little pebble! I'm going to make more!
Not greatly photographed due to unnatural light - sorry about that!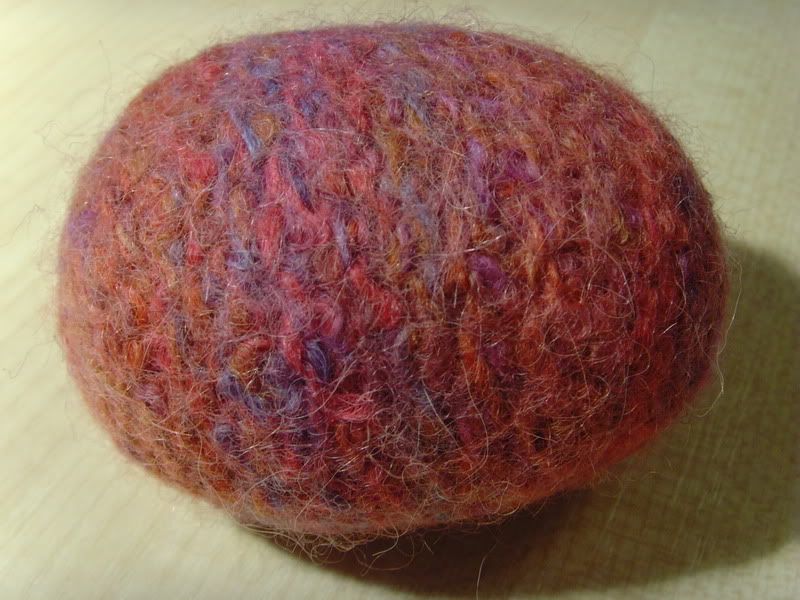 If you're a World of warcraft fan you'll like these stitch markers I made.. if not - try it out it's awesome!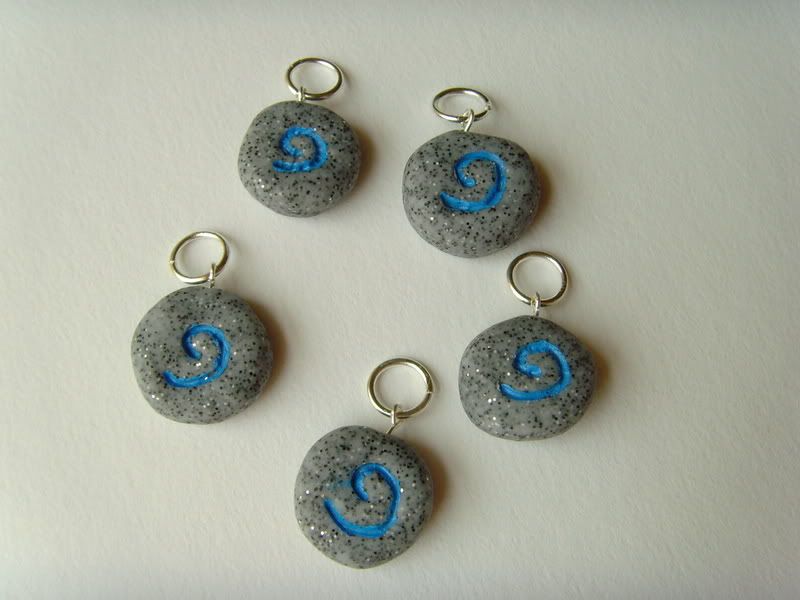 We went to see Bill Bailey in Glasgow last week, he was awesome, hilarious, we were clapping and laughing from before he came on stage until well after he left :)
Anyway it meant a trip to John Lewis in Glasgow :) so I got sock yarn for pressies. I got white, because I'd like to design some skully socks for OH if I get chance.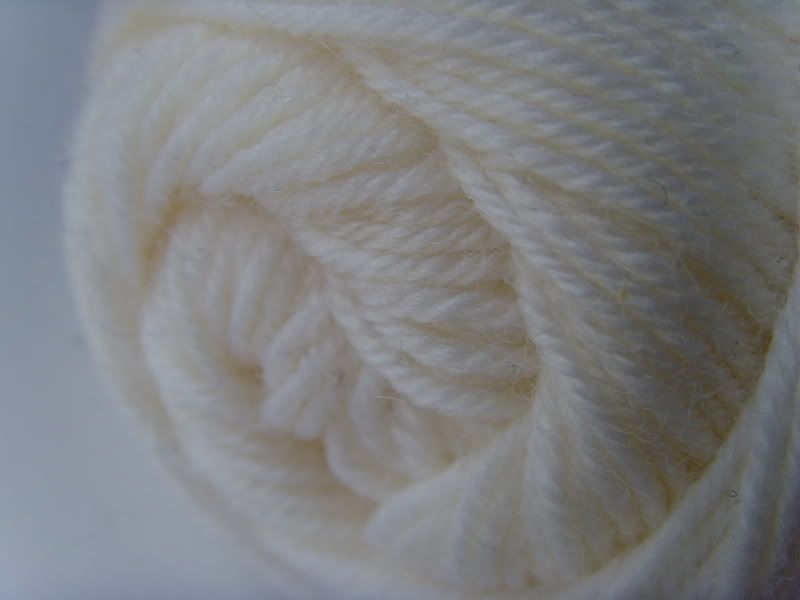 And blue for socks for Dad.
My OH bought me this - it's Mirasol Hacho again, but in a different colourway. It's lush!
And here's the truly spoint bit! First I took part in a fingerless mitt swap, and I recieved a brilliant parcel from Donnae, who sent me roving, wee charms, a pack of textiles which I'd like to weave with, soap, and of course a lovely pair of mitts! They're much warmer than my Fetchings and I've worn them loads! :) They're Rowan Kid Classic, they are really lush, I'm chuffed to bits with them!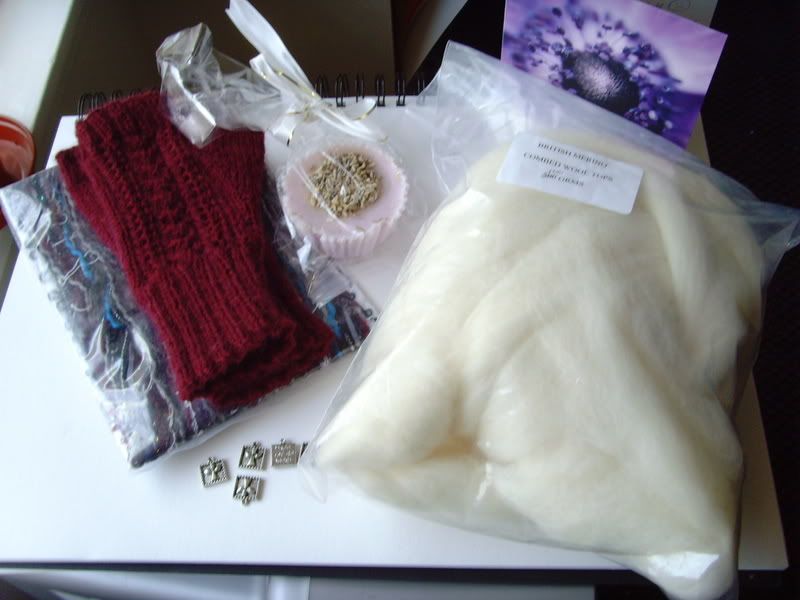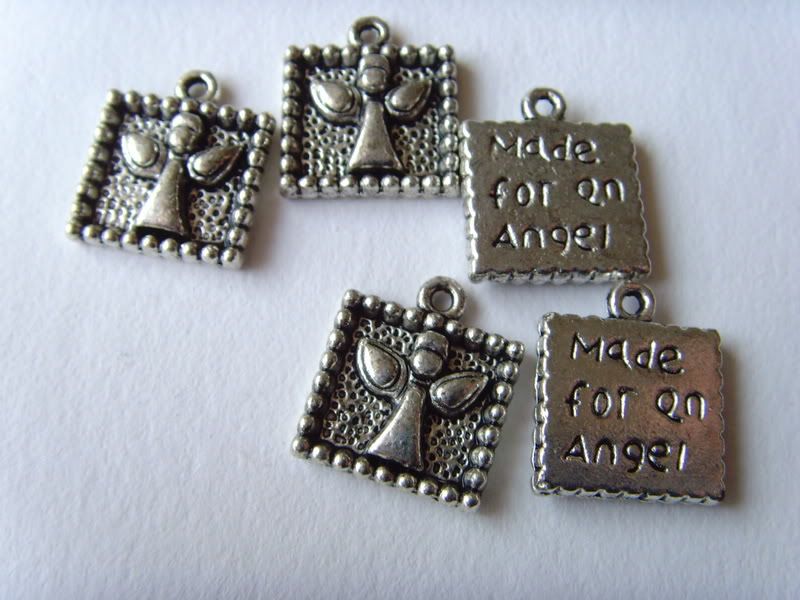 And yesterday I got a huge box in the post. The postie was quite surprised when I said "oh that's fantastic, thanks"! IT's the Tea Swap from Ravelry (The Cup a Tea group). Look how much stuff I got spoilt with!
My swappee, Sophia, lives in New Hampshire, and tried to send me as much local stuff as poss. Even the packaging the stuff comes in is really pretty!
First, Gypsy Tea, Rasberry Earl Grey.. YUM!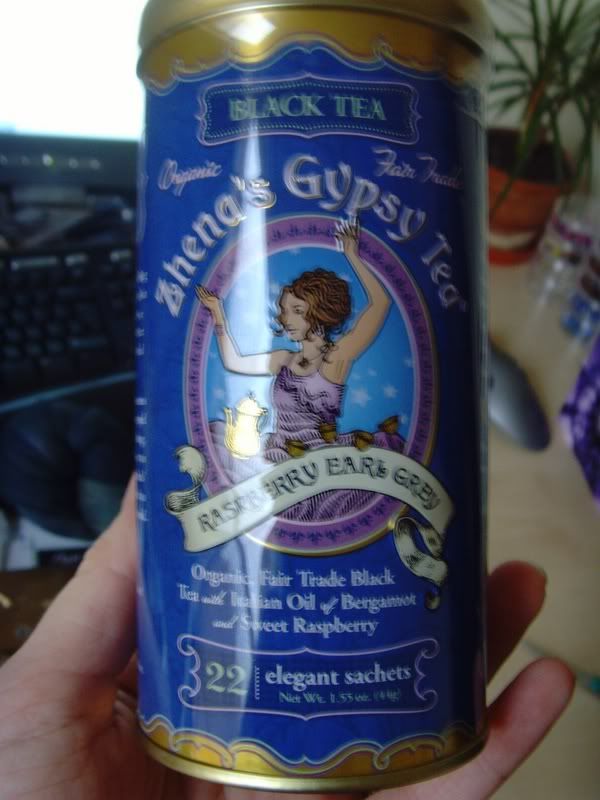 And Pomegranate Oolong. YUM! This smells particularly good!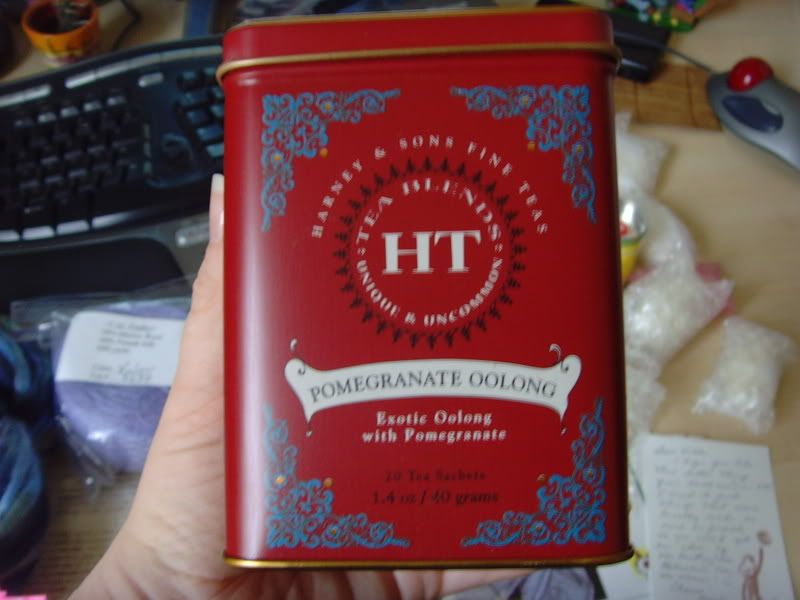 Tea scented chocs, green tea lozenges, and I got some orange mints too. These all come in proper packets! I'm so impressed! They are all really yummy too!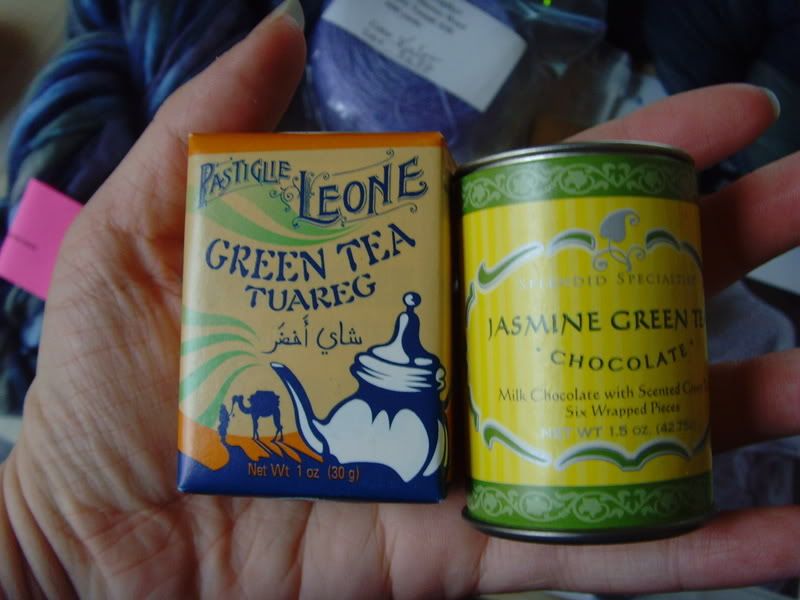 And the yarn.. first the softest, most beautiful chunky merino/silk. The colours remind me of a storm, and.. it's just so lush I'm totally in love with it! The yarn Sophia sent was all natural - what a star! And it'll all spend quite a lot of time on display on my yarn shelves being squished and drooled over before I use it I think!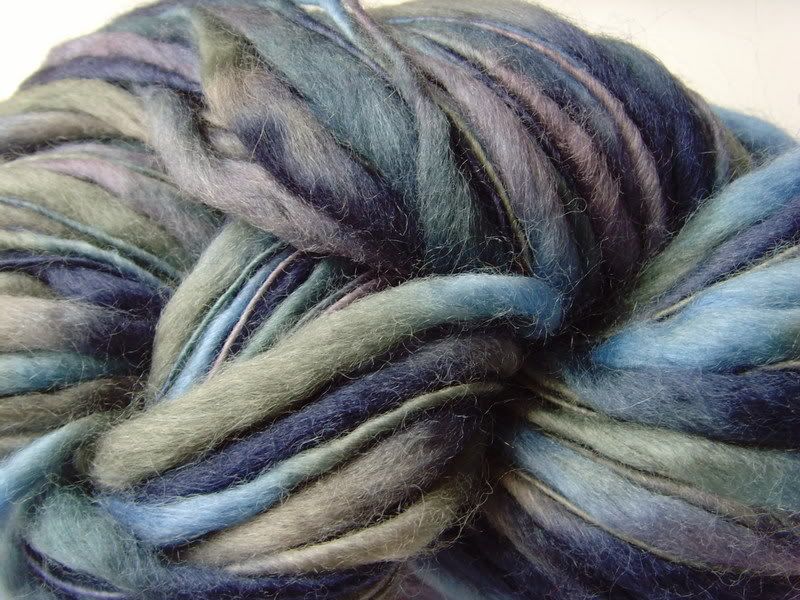 This is laceweight silk, 600 yards!! Lilac! Wow! It's incredibly soft and lush, and again, has been well squished and lusted over! I'm also really grateful that it's in a cake, as I don't (yet) have a swift!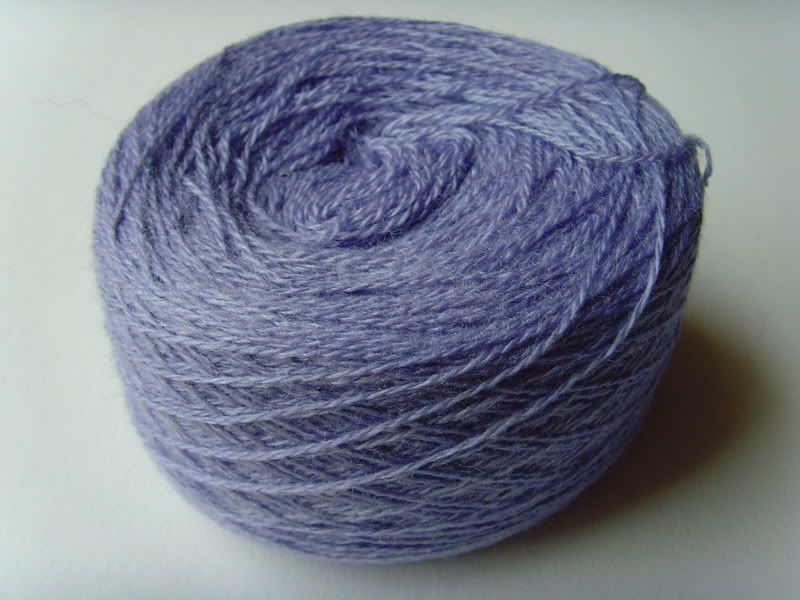 And this is some hand dyed, beautiful dark stormy green Merino. Again, it's incredibly soft and lush, and I'm totally in love with it. It's a much nicer green than those socks I knitted!! It reminds me of the Scottish countryside, with the dark undergrowth under the heather. Lush!!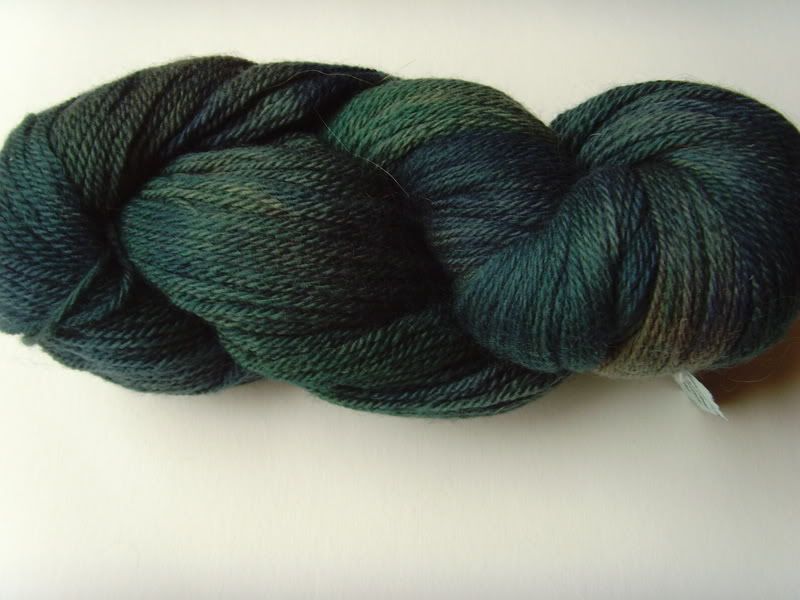 Sophia also included two beautiful patterns for lace shawls, what a fantastic choice!! Also stitch markers which I forgot to ask if she made herself, sugar skulls which are too cool to eat! And crafty themed badges which are pinned to my bag, and a lovely note from her! Afterwards she pm'd me to tell me all about New Hampshire as well, which I found really interesting. I should also add that the Pomegranat tea is in Proper Bags! They are little silky tea bags! They are so pretty that I've pinned a couple on my wall, which is incredibly sad I know (my OH thinks it's hilarious).
So... phew! I'm SO spoilt! Not only that but next week I'm going to the KNitting and Stitching show in Harrogate with my Mum for my birthday, and I've been saving up for it - both money and ideas. So it's all very exciting!
My current WIPs are - Forest Canopy (getting BIG), Ken's socks (1/4 through the pair), Oh's hoodie (success questionable), and I'm goign to start on the gnomes - I'm gonna make a load of bodies to start with (slightly creepy).
I've also made some Christmas stuff - buttons, stitch markers etc. And am dying more laceweight lambswool this week for the shop. Yey! It's very tempting to use it ;)
I'm going home for a week on Wednesday, so will get a lot of knitting done, and lots of dog walking no doubt :)
I'd better go and get on eh! Ciao for now ;0