First an apology - I've been AWOL for a bit, due to having been at my parents' place for a bit. I kept up taking photos of everything though ;)
Lots has happened.. I went to the Knitting and Stitching Show in Harrogate with Mum and friend Lyn, I recieved a drop spindle from
Yoshimi
, and taught myself to spin (with lots of daft questions on the forum). Then yesterday was my birthday which was nicely relaxing and squishy :D
Here's my spindle (poorly photographed). Embarassingly, I didn't have the slightest clue how to use it, as I hadn't even seen one used before. So after some googling and asking questions on the AY forum, I figured it out!
Here's my first singles wrapped on my latest hi-tech gadget.. the loo roll.
And here it is all plied, my first mini skein of Blue Faced Leicester which I got from
D&T Crafts,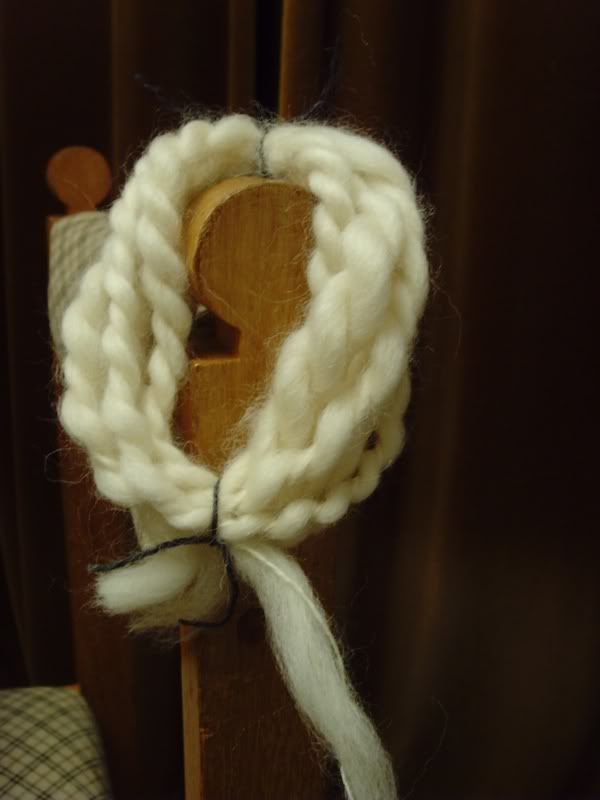 HEre's my second mini skein, but it's a bit bigger. It's a littleuneven but I rather like it. I found it tricky getting the twist right, I felt it should be well twisted, but that was too much, so I had to let it untwist a little. It seems, so far, that the hardest thing (apart from juggling it all about to ply), is getting the twist right.
And here's what I did last night. My OH's up for the weekend so he helped by holding the loo roll bobbins when I wound it off for plying. This is merino wool, pre dyed and I pre drafted it. There's 25g so prob not much yardage. I'm thinking of buying two more lots of the same stuff and spinning it all so that I could knit a hat.
I'm rather pleased with this, I got it quite even.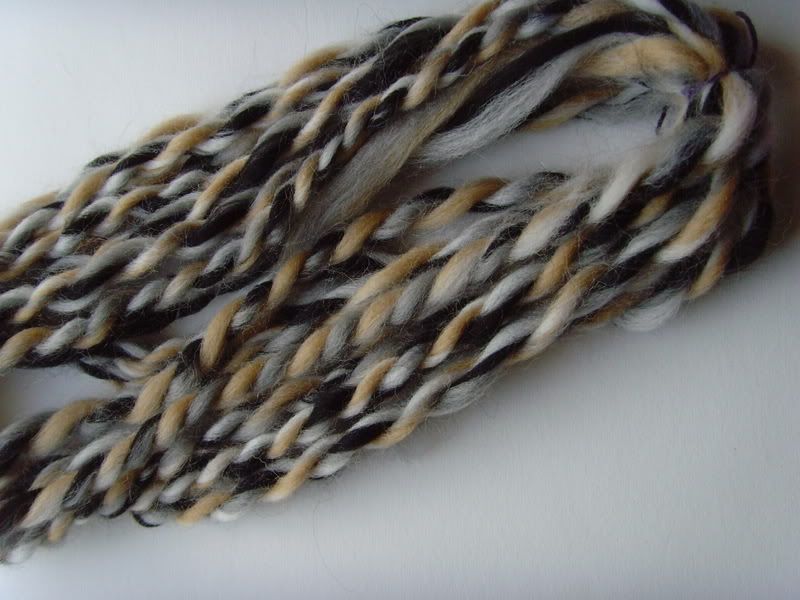 Close up:
Here's some ladybirds I made for
Fluzzlewett
, aka Jacqui. I think they're really cute!
I've made loads of stuff for the shop recently, lots of rainbow stuff and clay stuff and that. These are my favourites though, even though they're small and simple! ;)
Ok here's my booty from Harrogate!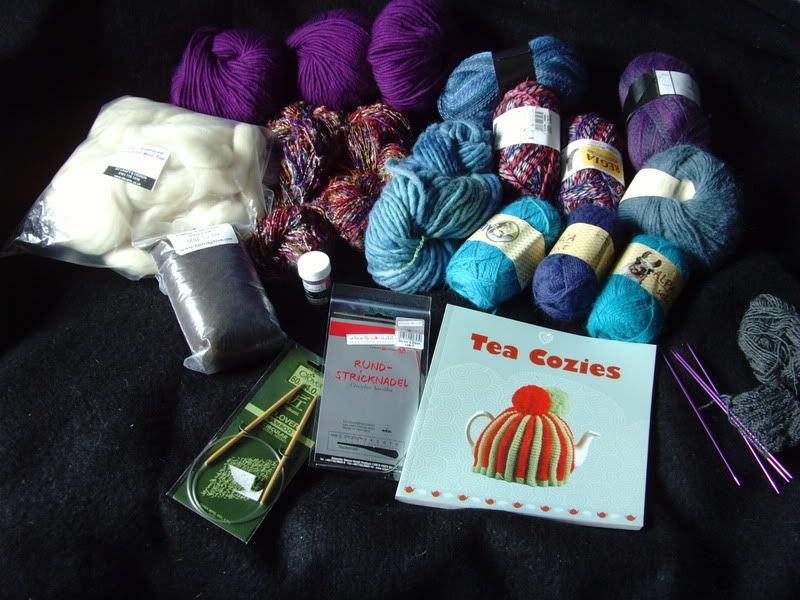 Here's the list:
- 3 balls purple wool for a felted bag,
- 2 skeins sari silk for another bag
- blue sock yarn
- purple sock yarn
- pink and purple sock yarn
- Chunky blue wool for a hat
- Kid Classic
- 3 balls alpaca for leg warmers
- purple DPNs
- Sock circs
- bamboo circ for FC OTN
- 2 bags 100g BFL from DT Craft
- 1 bag 50g baby yak hair (DROOL!)
- Pink acid dye
- some beads
- The Tea Cosy book

Considering how much I got, I didn't spend that much! I had a considerable amount of cash left over anyway :)


Here's some close ups!
Sari silk:

Chunky blue wool:
Blue sock yarn:
Purple sock yarn: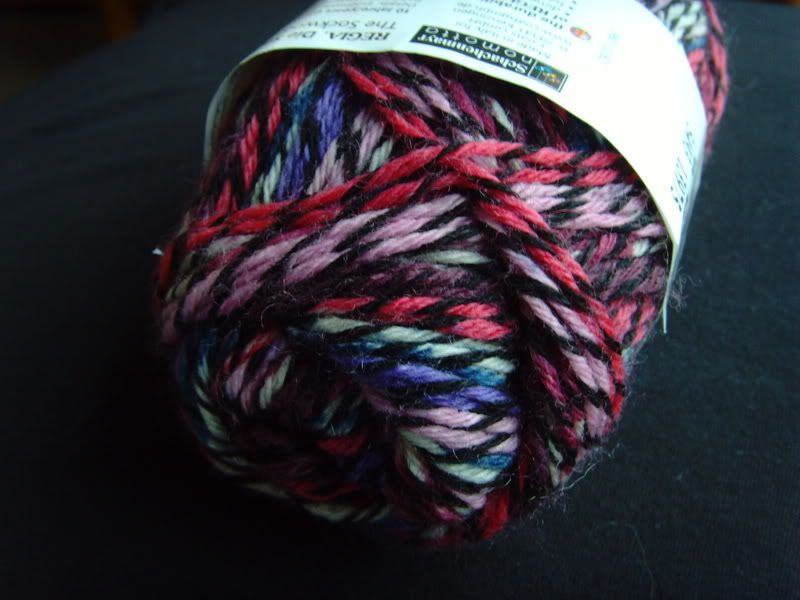 Here it is being knitted on the circ. It's a 30cm one though, and is actually too big. I didn't get on with it at all so I'm back to my trusty DPNs!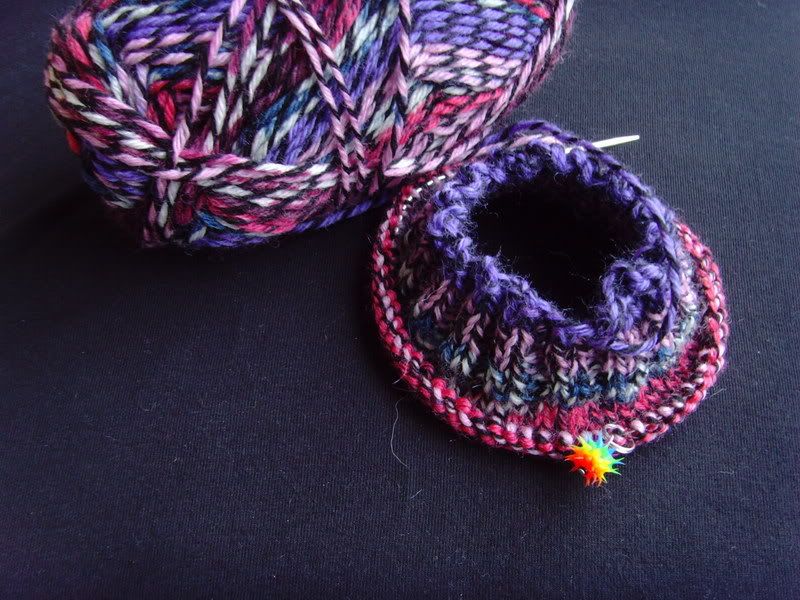 Here's some beautiful handspun, hand dyed wool that my lovely Godfather got me for my bday! Isn't he ace!
Purple:
That's going to stay in a skein and be drooled over for a while before I decide what to do with it.
My OH got my Spin to Knit too, which is excellent. Also my Mum got me Jan Messent's Knitted Garden book, which is brilliant! My OH's also booked me a place on a day course for spinning on Dec 21st, which will be awesome, and my Step Dad has got me a year's subscription to the National Geographic!
OTN I have my FC (still!), which is getting big now, well I'm at around 300 stitches I think, and am on the second ball. Also I'm nearly done on my Step Dad's socks, I have my sock (that's just for simple knitting while watching a DVD etc). Also I'm doing my OH's hoody (success not guaranteed), and a hat for Mum, and the Shawn the sheep figures from Simple Knitting. Phew! What a list! I still have tonnes to do too! So I should stop rambling and go and get on! I need to upload my new stash to Ravelry though.. ;)
Ciao for now!