WEll I can't really post much because I'm knitting all Christmas presents, so if you know who I am on Ravelry you can see my projects there ;) (I'm about to go update there).
So no WIPs to show you I'm afraid on here. But I can show you some yarn I dyed, it's 2 ply lambswool. I've got loads of ideas for the shop but finding time to do them all is the hindrance ;)
Anyway here's my 'Ice' colourway which I really like (I know, I'm biased).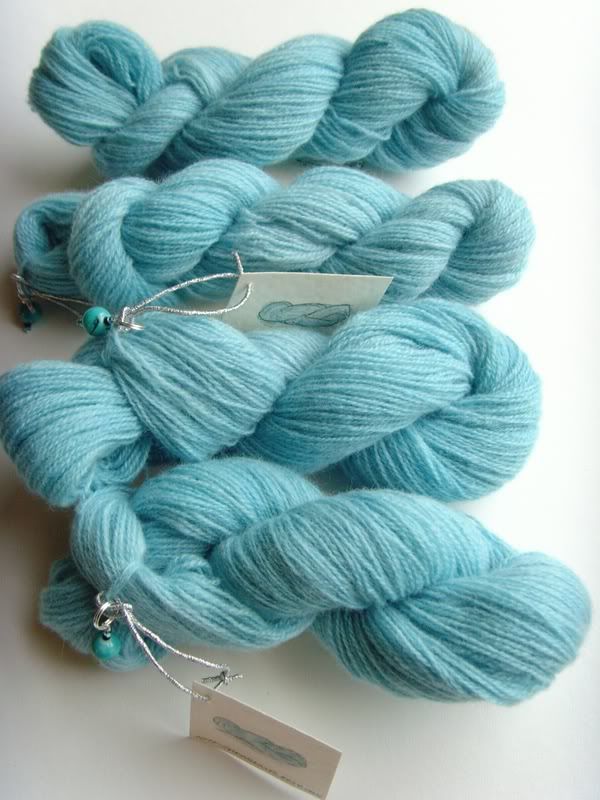 I'm making handpainted/sketched personalised tags for everything which I Think is a rather nice touch, and it's enjoyable for me!
I also made a load of Jack Skellington stuff, which I really enjoyed too. Here are the earrings, hanging on my pretty purple pin (well one of them)!



So apart from Christmas presents, my other WIPs are the FC, which is really getting long, I'm nearly at the end of the second out of three balls of Kidsilk Night. Obviously WIPs for me have completely taken a back seat since Christmas isn't far away. I'm also doing that retro sock. I had to frog it all because I cast on too many stitches! I'm nearly to the heel. Actually I'll take some pics of that and the FC and will update with them :)
Haven't got any spinning done recently :( but I'm going on a day course soon, which should be brilliant!
My OH got me the book 'Spin to Knit', which I would highly recommend!
Ooh just thought, if you're a member of the UK Swaps group on Ravelry, they are having a load of contests and I'm proud to be sponsoring one of them.. how exciting!
Ciao for now then!