YIPPEEE!
It was like christmas this morning! The dogs got really excited because I was so excited, and when they heard me ripping stuff open they got *even more* excited :)
So.... I don't yet know who my spoiler is, but I know she's awesome and couldn't have made better choices for me. I feel really lucky and really spoilt! I hope my spoiler also gets a fantastic parcel!
Here we are.. this is me opening it in the kitchen. I was going to rip it open then suddenly thought I'd best get my camera!
The card is a voucher to buy a sock pattern from CookieA.com, I've not decided which one to go for yet. The lovely box, is full of stuff, and obviously it's going to be put to good use!
On top you're seeing some beautiful fabric. It's yummy, it's chocolate coloured with blue leaves and the cream flowers. I'm not a sewing pro (yet!!), so I'm going to practice my sewing more before using this fabric. That also gives me lots of time to decide what to make with it!
Here it is spilling out!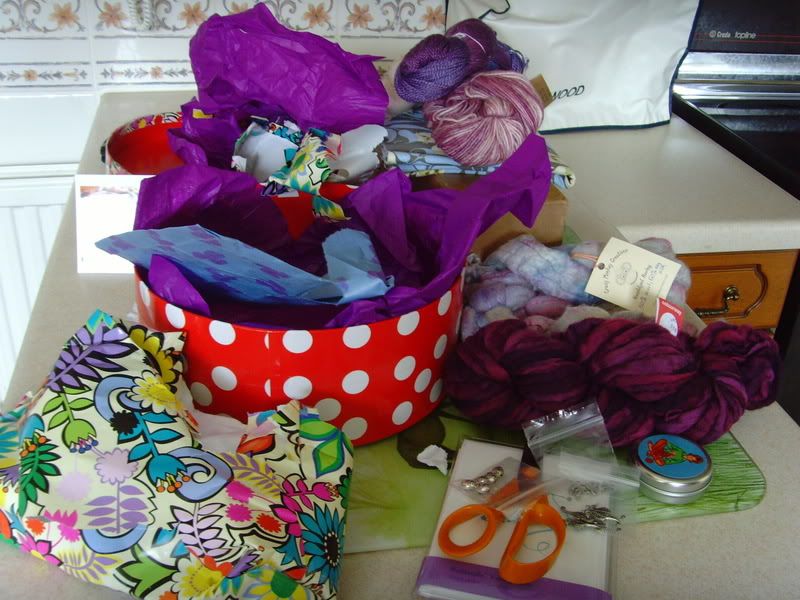 A quick interlude to show you my wee helper. Holly thought it was very exciting and she was lucky enough to be in her bed under the table, so caught all the fun wrapping paper, and quickly recycled it for me.
Ok, here's what I got! Hand cream.. it smells delicious! I can't wait to try it out, and my hads are SO dry, so this is just perfect!
Wee charms, which I will make into stitch markers, and a pair of earrings with the seahorses, I'll get some pretty crystals to go with them, YEY!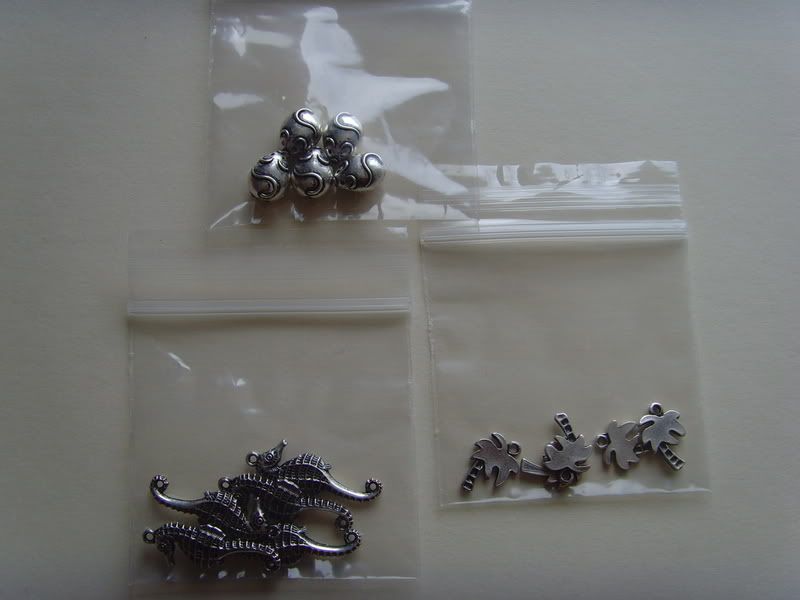 And WOW, check out these needles.. they are the Namaste glass needles no less! And my spoiler got me them in the 4mm (OOPS - 5mm sorry!!) size which is brilliant, as it means I can do some lace projects on them :D The ends are a lovely dark swirly green, and glow in the sunlight :D
Knitting notelets! I'm really happy to have these, I've been considering getting some for ages so my spoiler's read my mind :)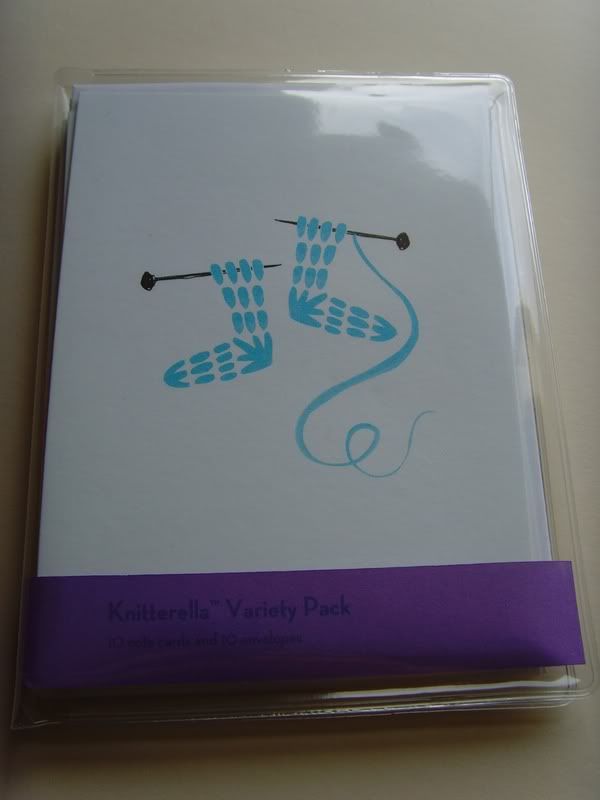 Closeup of the fabric. It's gorgeous!
This is wool/soy silk for spinning. It is SO beautiful, it really is.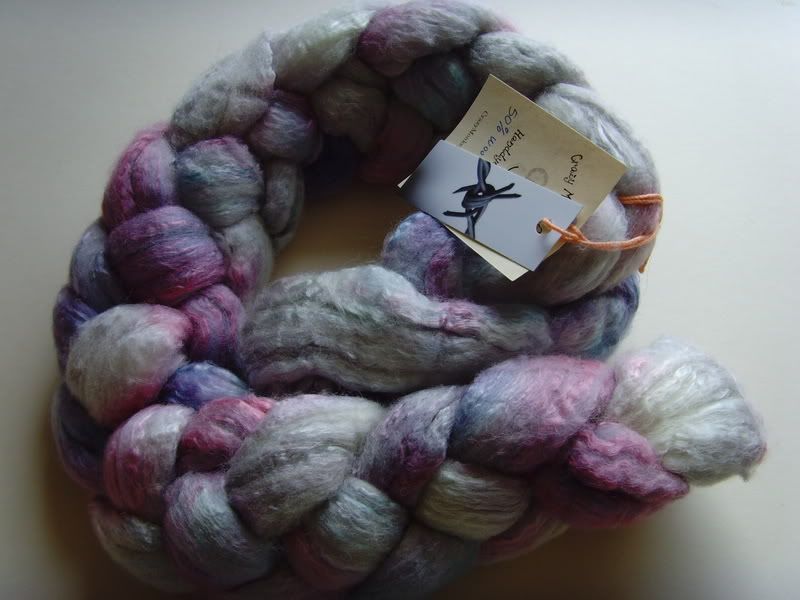 Colinette Point 5. What a good idea! I love the colour, and there's loads of great small projects I want to do with it!
Handmaiden!! Woo! The colour is totally perfect, the yarn is SO squishy... *drooooooool* what more can I say!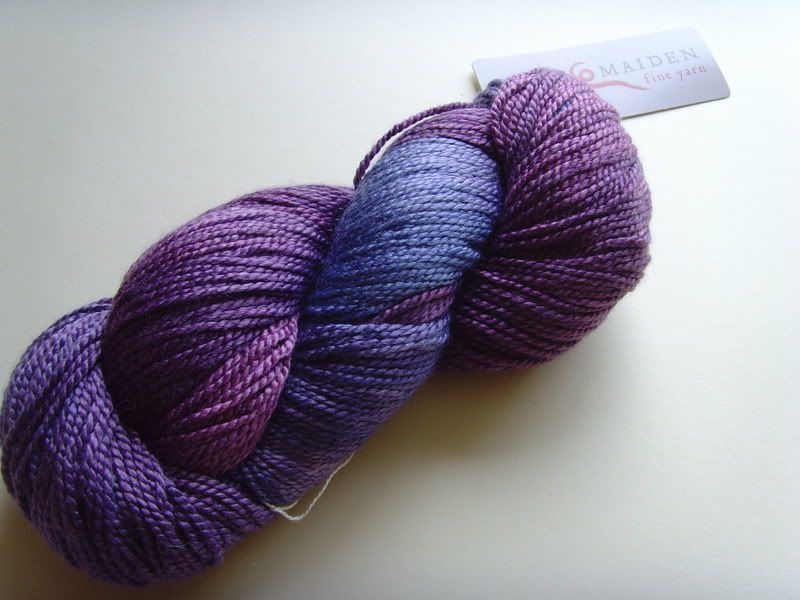 This is the highly coveted Manos del Uruguay yarn, it's just stunning!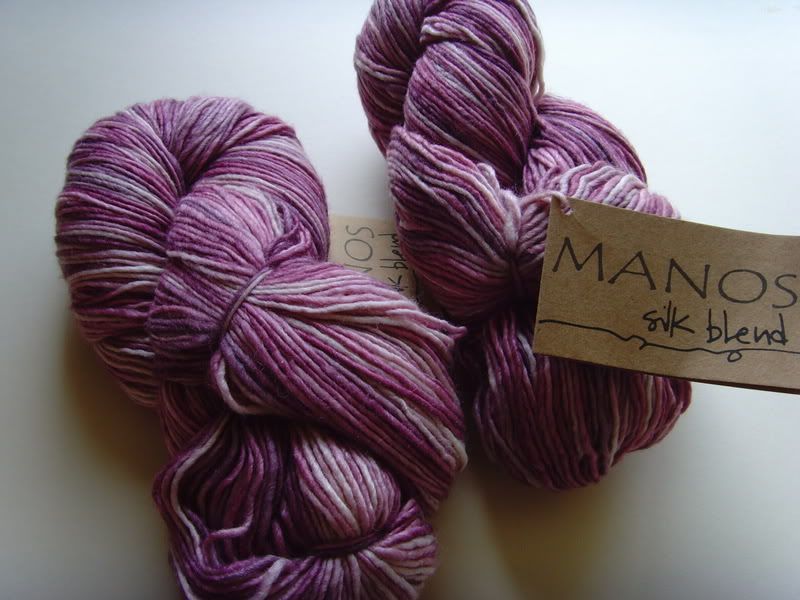 And this is undyed laceweight, it's an unusual mix of 70% kamull and 30% tussahsilk.. however it's made in Finland so I need to do some research about it as my Finnish isn't too great!! It's very soft, shiny and lustrous anyway :)
This is a piccie of all the booty :) So I really want to say a really huge thankyou to my spoiler, who is also a mind reader, and an awesome person. *THANKYOUUUUUU!*

Also, as promised, here are my finished WIPs, a skiing hat for OH, and my blue socks which are already well worn!