I'm going through a real sock obsession at the mo. I'm stashbusting and socks have really got me addicted. I think it's cause I can take them everywhere, they're ace to wear and are quick and easy to knit.
So in my obsession I started the
2008 Sockalong Sockathon
on the
AY forum
. I've got loads of patterened socks to try out and it seems loads of folks have as well, so we're going to aim for 100 pairs of socks between us :D we'll see how long it takes.
We have a
flickr group
too where you can see the photos of the finished socks. So far we have 5/100 pairs :D
I've been at OH's house in Manchester a lot recently, we're watching
Rome Series 1
with great obsession. We've both become really attached to the characters, in particular Vorenus and Pullo. I've got lots of sock knitting done while watching it :)
We're also obsessed with watching
Whose Line Is It Anyway?
which is hilarious. It's an improvisation thingy with four comedians if you've not seen it. I'd recommend you watch it if you have the catch up on demand service!
Anyway.. WIPs. The horseshoe lace stole (well scarf really) is still coming on slowly but surely. I didn't think it had grown, but comparing it to my previous post it has grown a bit. I'm very happy with it though!
I finished the tiger socks. They weren't 100% successful, because when I dyed the yarn I made it mottled rather than stripey, and regretted it. So when I finished them I added stripes, but of course they are a little clumsy!
I got a parcel from the
Border Tart
last week, comtaining hand made tags, cards and hand spun yarn which is dreamy :) I used a tag for OH's Tiger Socks, isn't it cute!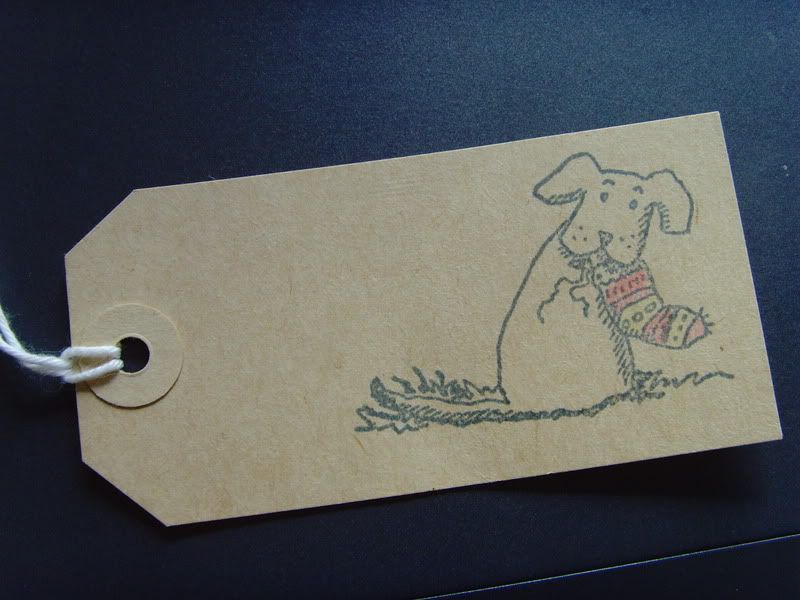 Here are the socks drying. I had to wrap them so I got two logs and the poker and hung them in front of the fire :) they soon dried!


As you can see the darker one isn't as good, but I like the lighter one. OH really likes them :)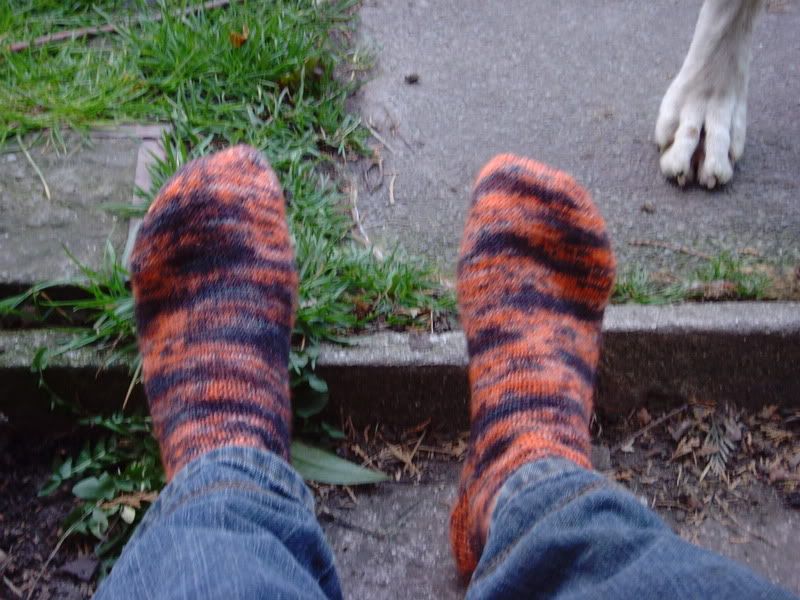 Benson, OH's clown hound loves them too ;)




Isn't he handsome!






I did this painting for OH some years ago, and thought you might be interested to see it. It's done in acrylics. The photo isn't great as OH's room is really dark :( but the flash made the colours look washed out.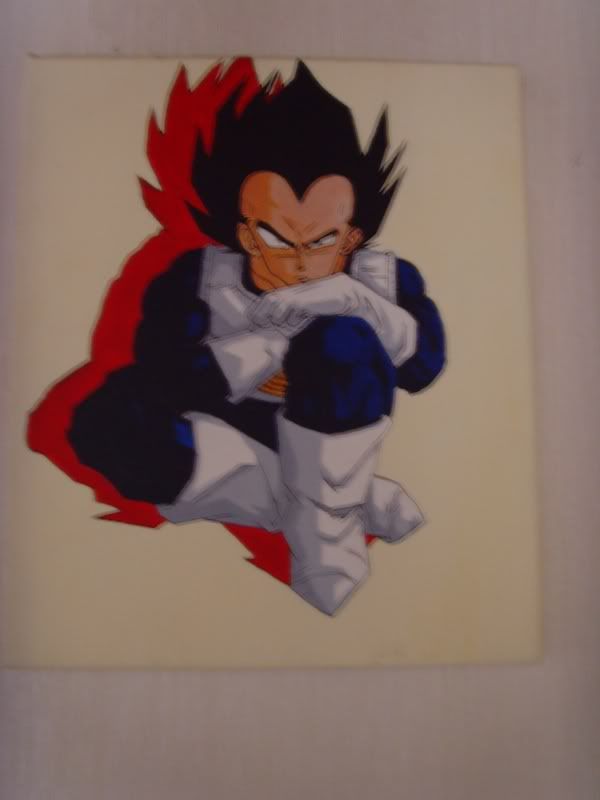 And I have some *shop news*! I'm running a wee competiton to win yarn! All you have to do to enter is send me a wee email. Details are all there in the shop -
http://wildfirefibres.etsy.com
it's basically in the name of research!

I've been up to my dyeing shenanigans as usual.
Had a wee foray into pastels. I found it really hard to leave the colours looking weak! It was a real challenge, and is a little brighter than I was aiming for.
It's called Dream Time :)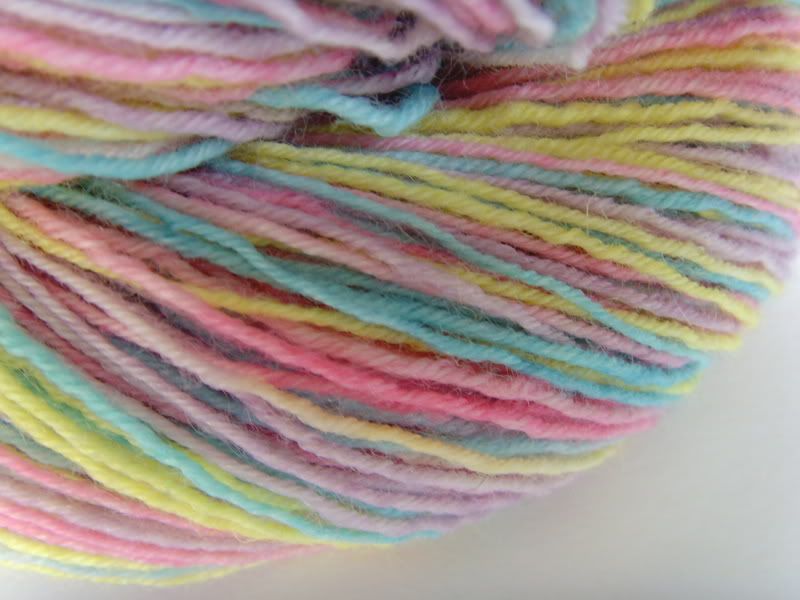 This is Beach Party: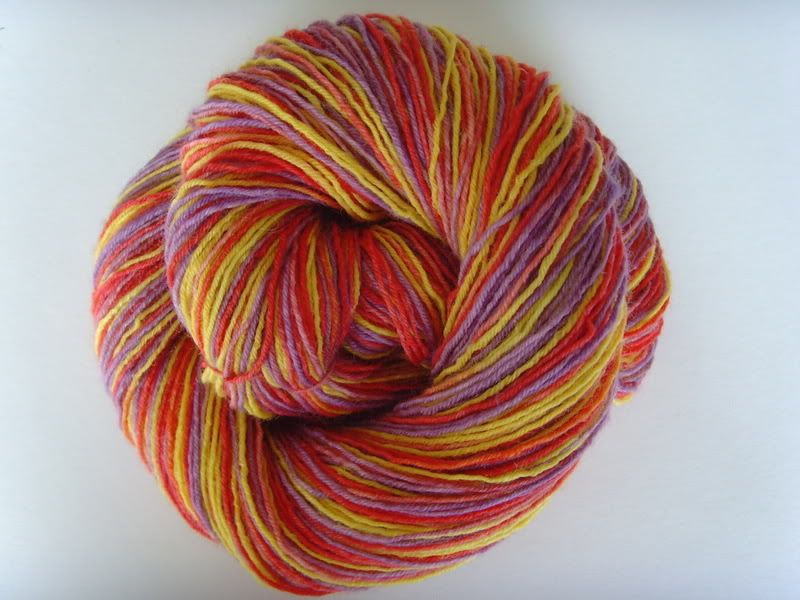 Wild Forest:



Strawberry Dreams:




Riverside:



You may recognise this, it's Giddyhop! I decided that as noone had bought it I'd change it. So I added a lovely rich blue and I'm really pleased with how it looks.




Blueberry Muffin (un reskeined):




Sea Spray (again, un reskeined):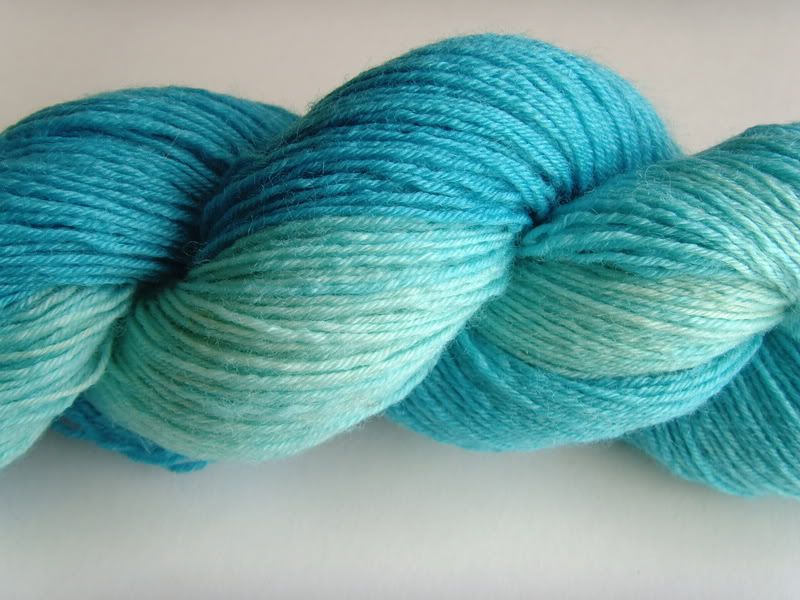 And you may recognise this - it's Wild Tiger. It was mottled like the skein I used, but I decided to make it stripey. So it's orange and black stripes, and the orange bits have mottling too :) much better!


I've got a load of different bases coming too soon. Including BFL in 4 ply, DK and Aran, laceweight (2 ply) alpaca/merino, and hopefully in a couple of weeks I'll get some merino/tencel sock yarn too :) I'm really excited to delve into different yarn weights.
I'm knitting a pair of stripey socks too, I'm on the second one so once I finish I can get started on some patterned socks. Maybe jaywalkers, or something I got from
CookieA
that my lovely uk swap partner paid for me to get a pattern from.
Talking of my swap partner, I've not hear from her for a while and if she reads this I hope she's ok, I'm still dying to know she is!
I've done some spinning this weekend too, it's just blue and yellow merino on my drop spindle. The drop spindle is wonderfully portable but it's a little tedious I have to admit!
I'm starting work at
Hobbycraft
on Tuesday. It's interesting and inspiring, but boring at the same time. I'm working 10am-6pm Tues-Fri, and going to the gym every night after that, so it's going to be long days for the next few months. I really need to start getting my huge overdraft (both of them!) paid off!
That's enough rambling from me, hope you enjoyed the photos folks, and remember to check out the competition in my shop ;) I'm enjoying being an evil enabler! :p