Woolfest was
awesome
! I had a lovely time, met quite a few Ravelers and then afterwards we had fish n chips in Keswick, and a dog walk in the rain around the lake. It was a lovely day!
We didn't get there til 1pm, so first we scouted around checking it all out (we being me and mum). I loved seeing the animals. Some of my favourites were the Wensleydale sheep, angora bunny, and the alpacas. I seem to have a thing for animals with funny hair/flecces.
These guys, the Wensleydales, are the cool kids of the animal world. Look how chilled they are. They almost look stoned. (All my pics are enlargable btw - I recommend zooming in at the hair)
Check out this bunny! Isn't he cute, and rockin and tufty!

And look at the alpacas - definitely punks of the animal world. I like the ones that are black and have white bits in the tufts on the top of their heads, but there weren't any here. These are just as cool though. The hair do's kind of a bit 80's, specially with the clipped body.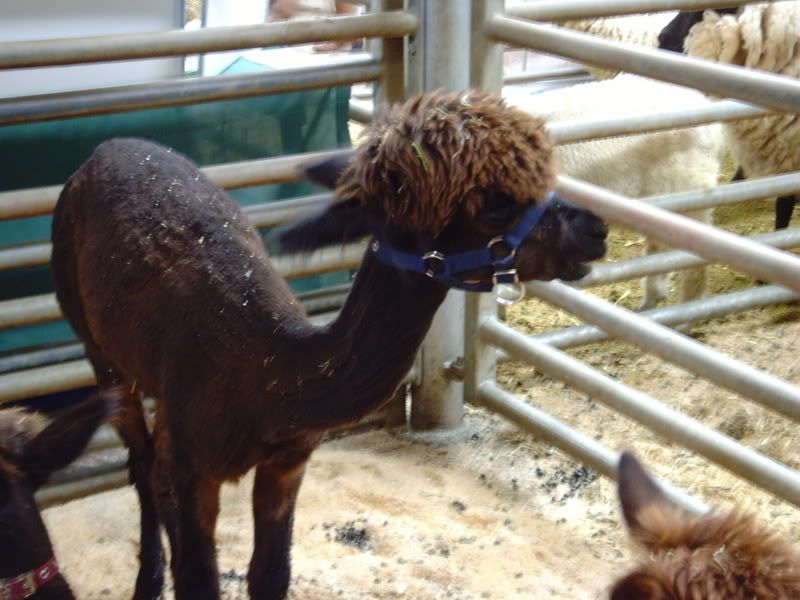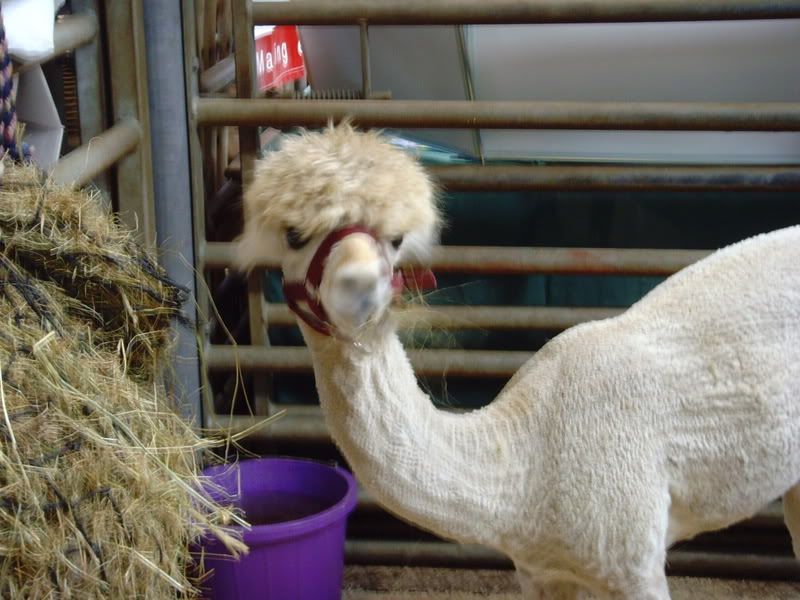 Ok, enough of the animals, now to the shopping. I've been stashbusting for 6 months, as I've proudly told just about everybody. And saving up for a few months too.
So I started with... buttons! I love buttons, beads and little bits and bobs that are interesting.
I got horn ones, slate ones, pretty ones, geometric style ones..
I got some fibre, it's merino/silk from Wigham wool work. It's actually bright purple in real life, but I can't get my camera to pick up purple today, annoyingly.
This is from DT Craft & Design - it's 50% angora, 50% kid mohair, it's a DK weight, I'm going to use it for a lace project - possibly Ice Queen. Oh I'll probably dye it first though.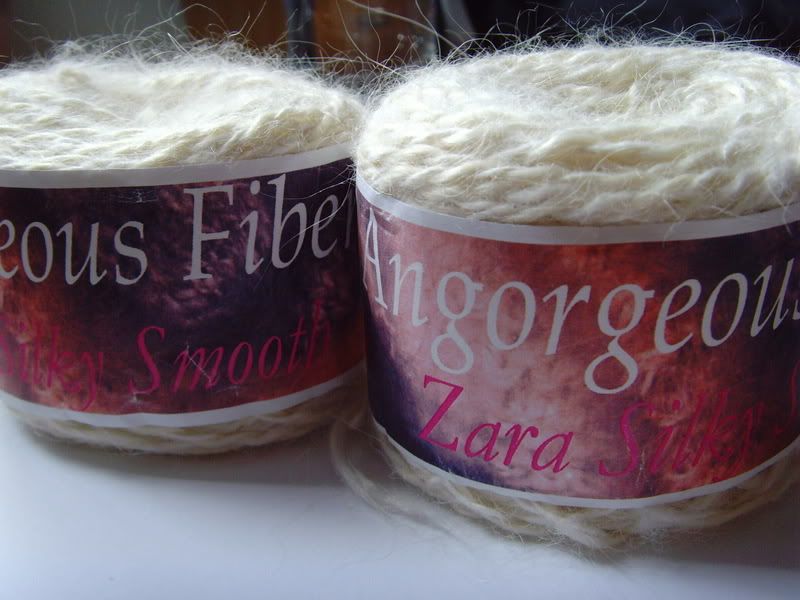 This is lana grossa cotton blend sock yarn. It's remarkably similar (but not as bright) as my Kelp! Anyway, I thought I'd give it a try.

I got these from the chorley market lady who was there. She had lots of rowan kidsilk haze/night, and I really wanted to get loads as it was half price, but I just got these two. They're kind of dark plum coloured. I was a little peeved that she sneaked in some acrylic nasties (I do have acrylic, but Woolfest isn't really the place I don't think). And her hubby was kind of touting for business which was annoying (I ignored him). But I got a bargain anyway so can't complain!!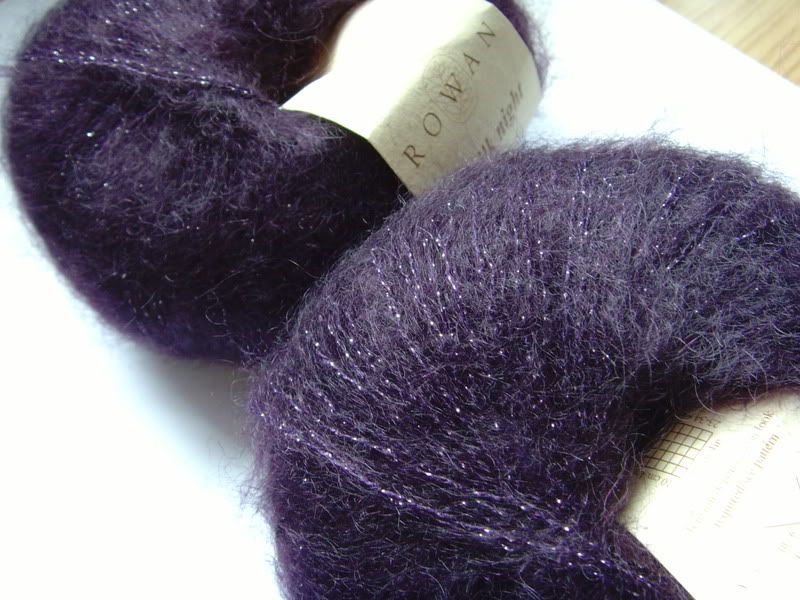 Ok, more fro DT Craft & Design, who were really friendly and had loads of good stuff. This one is laceweight, handspun silk and goat down. It's a bit weird actually. It's quite hard and very shiny. It makes a gorgeous shawl though, there's 500 yards so I'll dye it and make something nice :)
This is Natural Dye Studio laceweight alpaca - it's SO lush. Again, I think there's about 600 yards (from memory - could be wrong) - so I'll make something really nice with it :)
I met Amanda and her hubby and they were really friendly and interesting to talk to.


I also met Jen, of fyberspates fame. She was really lovely and her yarns were so delicious. I liked the casual lay out of her stall, and the shawls she'd knitted from her yarns which gave me a good idea of what I could do with a skein or two.
I got this laceweight silk, which I'm hoping to use for my first doily. I can't remember how many yards she said are in it, so I'll have to check.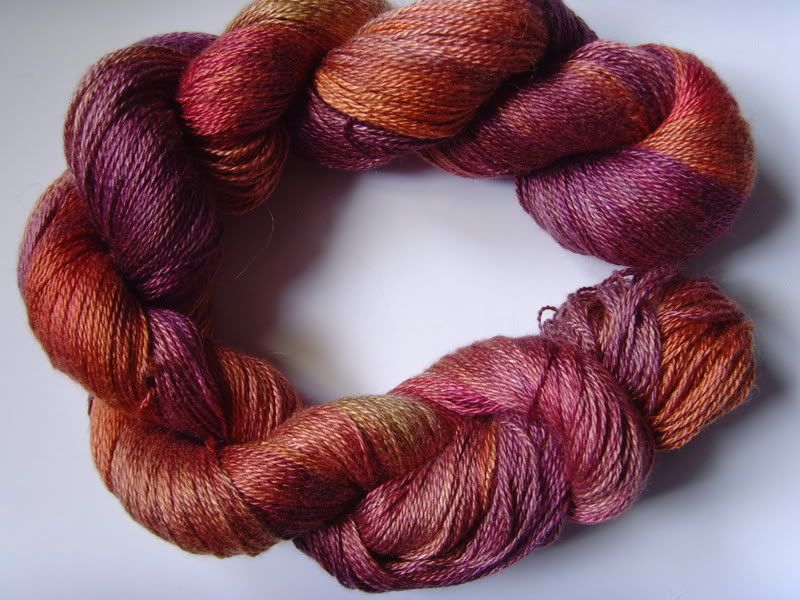 It was intersting how Amanda (NDS), Jen (Fyberspates) and me (plus a few others you'll know of!) all use the same supplier for our base yarns (we have some different but the main ones are hte same), and our styles of dyeing are so different. That's really cool.
I got this from Jen too, it's DK weight silk, with good yardage (again, I've forgotton how much). Im' not sure what I'll do with it. Maybe save it til I can afford another skein then make something.


I got this - Colinette Jitterbug - how cool is the pink!
It says easy care, but in small print says hand wash - argh! So I don't know if I can put it in on a 30 degree wash or not.
I got colinette point 5 too, to go with my other skein, which is plum coloured. I'm thinking of saving up for one more skein and doing a felted bag.
That's all from Woolfest for this year! It'll keep me busy for months anyway :)
If you've never been to Woolfest, I can't recommend it enough. It's traditional but has fashion too, and is really down to earth.
Now onto WIPs and stuff! I crocheted this last week - it's a shoulder bag. I made it up as I went along, hence the dodgy shape. I do like it though, and need to line it.
I crocheted this small bowl using DB SoHo too. The rocks you see in the top and on the left on top are actually both pieces of
lava
from Iceland, which I picked up (I'm sad like that).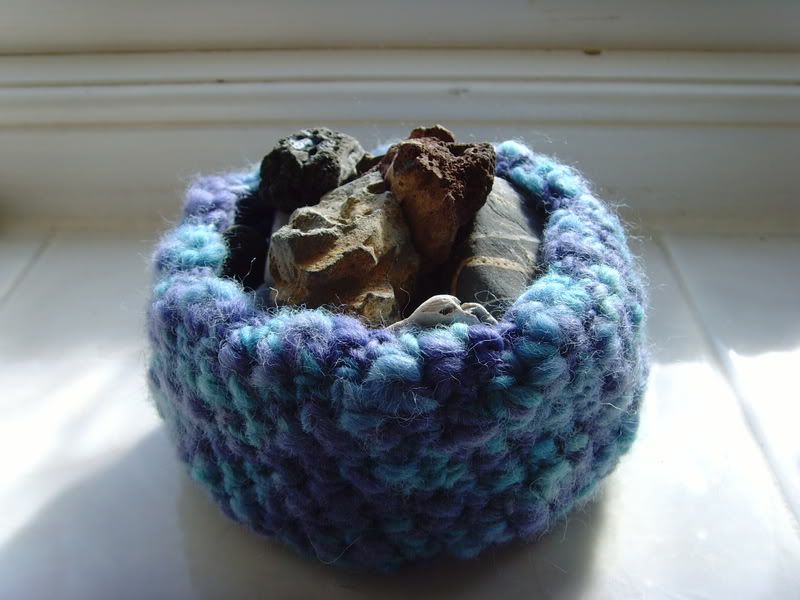 This is my TV knitting - it's bright purple in real life! It's going slowly seeing as I rarely watch TV, but I'm on the second one anyway.
Here's my Upstairs Stole - it's a quick, simple knit, and I like it! It's not a challenge, so quite relaxing. It's Rowan kidsilk haze in natural - I'm wondering if I should dye it pale lilac, but I might leave it.
And Here's my Lotus Lace socks, from Kai - a great pattern, it's easy to follow, simple enough to do while mid conversation, but complicated enough to keep you interested. It's going fast because I'm one of those peeple who likes to do a whole repeat at a time, and each repeat's 10 rows, so it's coming on quickly!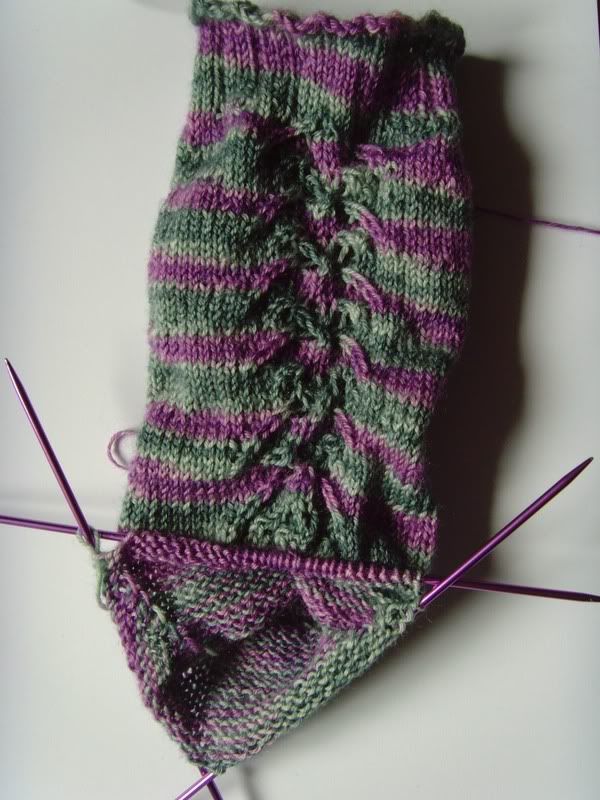 I'm really pleased with Delle, which is my own yarn. It's been spiral striping, then on the heel I got little stripes, and now I think it's going to pool down the foot. I'm going to try and match the second one the same. It's a bit lighter than the pics actually.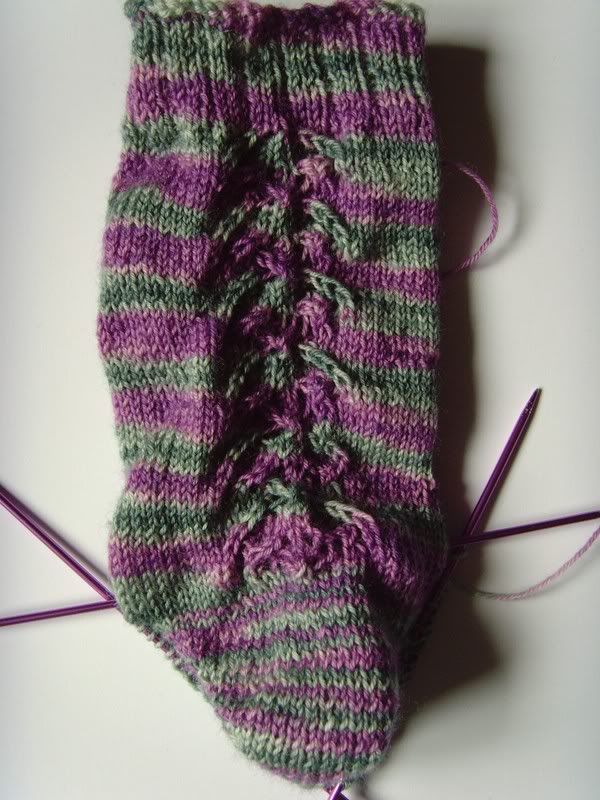 And that's all for now! I'm crocheting coasters using the remaining ball of SoHo, for my MIL to be. My stash shelf, though pitiful compared to some may be *nudges Kate*, is stuffed full of yummy yarn again :)
OH I nearly forgot - at woolfest I picked up some great yarn from my supplier! I got a kilo each of alpaca sock yarn, bamboo blend sock yarn, and the usual (but so soft!) BFL sock yarn. I also got bamboo fibre, milk fibre and silk hankies :) so will be busy dyeing next week.